NU COUNTRY TV WINTER PREMIERE
SERIES #20 PREMIERE - JUNE 8

Nu Country TV returns to C 31 for its 20th series premiere on Saturday June 8 at 9.30 p m.

We celebrate more than a decade on the revamped digital channel with our show repeats to be announced soon.

We're indebted to new editor - Lakeview Senior College Media studies graduate Blaize Warden who picked up the reigns for the 19th series from his teacher Ashley Hall who edited the previous three seasons.

Keilor based Blaize is completing a Bachelor Of Film at SAE in South Melbourne and works with cameramen Laith Graham and Elias Allanby.

His predecessor Ashley won 2007 Australian Media Teacher of The Year Award.
Hall also worked as editor and cameraman on Azaria Media's 10 part series Fringe Lane and New Age Wrestling - both on C 31.

His other credits include his own film 3 Minutes and Ann-ihilation.

We thank previous editors Peter Staubli, Kerry Richardson, Sofie B, Kris Walker, Sean Tierney and show creator Peter Hosking.

The Nu Country TV show has been added to the C 31 streaming list.

Just follow this link on your computer or mobile phone -
http://www.c31.org.au/program/view/program/nu-country-tv
SERIES FESTIVALS
Alan Jackson

Nu Country is one of the C 31's most popular music magnets with many of our volunteer TV show staffers veterans of our seven-year radio era.

We preview major Australian winter and spring festivals and concerts with latest music by artists performing.

The festivals start with CMC Rocks North Queensland at Townsville on Saturday September 28 and the 15th Deniliquin Ute Muster on Saturday October 5.

Georgian superstar Alan Jackson and Missouri born singer Sara Evans headline both festivals with Canadian Corb Lund.

They also play Rod Laver Arena in Melbourne on Friday October 4 with Novocastrian Morgan Evans and two concerts in Brisbane and one in Sydney.

Jackson, 53 and father of three daughters, attracted large crowds on his 2011 tour - almost three decades after being discovered by expat Australasian manager and publisher Barry Coburn.

More artists and concerts will be announced later.

We'll feature new video clips by all touring artists including former middle weight boxing champion Paul Thorn who plays Northcote Social Club on June 23 and Hallam Hotel on June 25.

And we also have new video clips by many other roots country artists.

Stay tuned by visiting our Diary each week for TV show updates, interviews and CD reviews.
PISTOL ANNIES MIRANDA LAMBERT AND
ASHLEY MONROE ON PREMIERE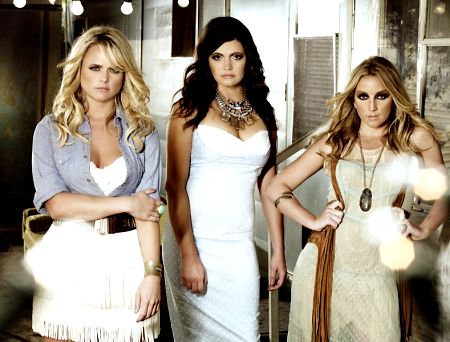 Pistol Annies
Riveting trio Pistol Annies return to Nu Country TV with key members Miranda Lambert and Ashley Monroe headlining our premiere hosted by Mid Pacific Bob Olson featuring his hot new recipes after a return to his California home.

Retired academic and mathematics lecture Bob filmed his sizzling new recipes and hostings in his Beer Can Hill delta retreat.

We also feature Texans Ray Wylie Hubbard, Radney Foster, Rodney Crowell, Willie Nelson, Lee Ann Womack, Reckless Kelly, Cross Canadian Ragweed, Josh Abbott and singing actor Lyle Lovett in our popular Behind Bars segments.

Georgian March tourist Zac Brown Band, Kenny Chesney, Blake Shelton, Brad Paisley, Eric Church, Darius Rucker and Toby Keith return to the series featuring the debut of West Australian Jonny Taylor, Texan Kacey Musgraves, Will Hoge and country satirists Tim Wilson and Rodney Carrington.

Local artists Lee Kernaghan, Novocastrian Catherine Britt, Blue Mountains belle Jayne Denham, Hunter Valley singer Kirsty Akers, Troy Cassar-Daley and Alan Caswell return with new video clip.

We also welcome back Victorian performers including Jordie Lane, Chris Altman, Sunraysia raised singer Paul Costa, Adam Toms and many more.

New Jersey trio Red Molly and fellow 37th Port Fairy folk festival artists The Bostocks from Queensland also appear.
SPONSORS THANKS
Nu Country TV covers the national festival and touring circuit during winter and spring.

We thank all members, renewing members, sponsors, record companies, tour promoters, festival organisers, bands and artists for their support.

Nu Country TV is indebted to promoters Michael Chugg Entertainment and Rob Potts Entertainment Edge for their generous sponsorship.

They promoted the Rascal Flatts-Band Perry St Kilda Palais concert in Series #19 and return to sponsor the October concert by Georgian superstar Alan Jackson and Sara Evans.

Potts and Chugg also sponsored Nu Country TV with Melbourne concerts by superstars Tim McGraw and singing spouse Faith Hill, the Texan Eli Young Band, Dierks Bentley and Lee Kernaghan.

Bentley, who toured here with Brooks & Dunn, returned for CMC Rocks The Hunter Festival and intimate concert with Aussie country king Lee Kernaghan at the St Kilda Palais on Tuesday March 13, 2012.

McGraw, Hill and Eli Young Band played Rod Laver Arena on Tuesday March 20, 2012 after headlining CMC Rocks The Hunter.

Sponsorship is appreciated as we receive no government or Arts funding.

If you want to be a sponsor please email us at music@nucountry.com.au

We're completely reliant on sponsorship and loyalty of members - some have been with Nu Country since its radio birth in 1994.

We broadcast as part of Yarra Access television group.
LADY ANTEBELLUM DVD PRIZES
We have exciting news for our Series #19 premiere.

We have copies of the hot new DVD by recent Grammy Award winners
Lady Antebellum for both new members and renewing members of Nu Country.

The 18-track Own The Night World Tour DVD has five bonus songs with exclusive vision of Black Water featuring Darius Rucker and Thompson Square.

There's also intimate backstage footage of the band, road crew and fans on a tour that included two concerts at the famed St Kilda Palais.

The 124-minute DVD features the band performing its many hits live in Little Rock, Arkansas, and documentary footage of band members and song sources.
We thank Shock Records Vision marketing manager Charlie Baylis for his generous donation of the Lady Antebellum DVDs.

All you have to do to win Own The Night is be a member of Nu Country TV or renew membership.

It costs just $20.

Please send a cheque or money order made out to Nu Country Music to us at P O Box 625 - Northcote - 3070.

We also have electronic banking for membership payment and renewal.

But email us first at music@nucountry.com.au as stocks are limited.

CLICK HERE for our membership page for details of all our prizes.
OUR HISTORY

Singing actor Peter Hosking created Nu Country TV in 2002 after a long stint as a DJ on our radio station during its seven-year era at Beer Can Hill, Northcote, and Harley House at the Paris, Texas, end of Collins St in the CBD.

The aspirant radio station began at Bundoora in 1994 with the late former Preston mayor Bill Corrie as its embryonic president.

Hosking recruited fellow Nu Country FM DJS as hosts, filmed concerts and produced-edited the first four series.

The voiceover maestro, now living in exile in Prague, handed the reigns to Sofie Blichfeldt for Series #5.

Sofie then produced her own show Alone With Everybody for C 31 before graduating to Rockwiz on SBS-TV.

ABC-TV 2 has picked up Alone With Everybody and commissioned a new series - she might find time during sleep to film celebrity hosting roles for Nu Country TV.

Her workload, including long running Ten Network soapie Neighbours, prompted her to be succeeded by Kerry Richardson who edited Series #6, #7 and #8.

Richardson filmed concerts while Kris Walker edited Series #9.

Kris's successor Sean Tierney carried a hefty workload as he took over the filming and editing of Series #10.

Sean filmed several Nu Country TV concerts including the international showcase by Nashville singing satirist Kacey Jones and Oklahoma stone country star Becky Hobbs.

The famed show at the Noise Bar in Brunswick on February 1, 2008, was a nominee in the Antennas - the national community TV awards.

Kerry Richardson returned to editing Series #11 and #12 of Nu Country before handing the role to Peter Staubli for Series #13, #14, #15.

Ashley Hall then edited Series #16, #17 and #18.

MORE VIDEO CLIPS NEEDED

We have been inundated with creative new video clips by the cream of Australian artists - both mainstream and independent.

The growth of video - as a surrogate in the unlucky radio country - has been a boon for Pay TV country channel CMC and Nu Country.

But we still also need more videos of international and local artists to blend in with the concert footage and interviews.

The show is screened in Victoria, Queensland, South Australia and New Zealand.

For editing purposes we prefer video clips in digital format, either via a
data disc, or via download.

Our postal address is P O Box 625, Northcote - 3070.




© nu country 2003
contact:music@nucountry.com.au