MID PACIFIC BOB'S RECIPE OF THE WEEK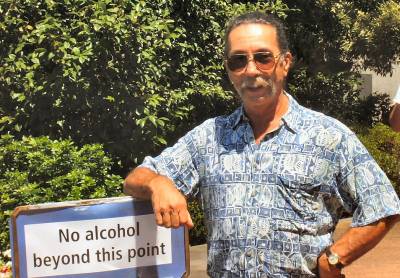 Bob Olsen aka Mid Pacific Bob
Series 1 Recipes
Salsa Fresca & Guacamole
Arizona Style Rice
Mole Sauce

Series 2 Recipes
Uncle Jimmy's Roast Capsicum Delights
BBQ Corned Beef
Vic's Patio SauceMango-Chile Whipped Cream
Mango-Chile Whipped Cream

Series 3 Recipes
Manhattan Clam Chowder
Seviche
Spinach Salad with Orange-Chile Glazed Prawns
Artichoke and Chile Bruschetta
Series 4 Recipes
Pumpkin Pie
Chicken Breasts Rosado
Bob's Ribs

Series 5 Recipes
Eggplant with Chile
Series 6 Recipes

Bean and Chorizo Chilli


Series 1
3-4 medium sized tomatoes, sliced then chopped
1/2 red onion, chopped
1 clove garlic, minced
fresh chiles (to taste)
3-4 "plants" from a bunch of fresh corriander , chopped
juice of 1/2 lime
Mix together in a bowl. Will last 2 days refrigerated.

Guacamole:
1-2 Ripe avocados, peeled and mashed with a fork
4-6 Tblsp of salsa


Arizona Style Rice

1 quantity of Rice
2 quantities of water
1 clove garlic, sliced
2 slices red onion, finely chopped
1 tsp tomato paste
Put the rice in a dry cast iron skillet, and dry fry it, stirring constantly so it doesn't burn, until the rice turns a milky colour. At the same time put everything else in a saucepan and bring liquid to a boil. Add the rice carefully, turn down the heat (use a heat dispersion pad), cover tightly for 15 minutes.

Vicenta's Mole Sauce

Ingredients

1 Tblsp olive oil
1 small onion, chopped
2 Ancho Chiles, 2 Guajillo Chiles, (Optional : Chipotle Chiles) Roughly chopped
4 cloves garlic, minced
1 tsp cinnamon
½ tsp ground cloves
½ tsp fennel or anise seeds
1 large tomato, seeded and chopped
1/3 cup raisins or sultanas
1 large ripe banana, cut in small pieces
2-3 slices fresh pineapple, cut in small pieces
1 apple, peeled cored and cut in small pieces
1 corn or flour tortilla or 1 slice of bread, torn in small pieces
2 cups (salt reduced) chicken broth
30g semi-sweet chocolate
¼ cup slivered almonds
2 Tblsp sesame seeds

In a dry cast iron skillet, put almonds over medium heat. Cook stirring often 4-5 minutes. Put in small bowl. Do the same with the sesame seeds. Add to the almonds.

Heat oil over medium heat. Saute onion 5 minutes. Add chiles, garlic cinnamon, cloves and anise/fennel seeds. Stir about 3 minutes until mixture is dry and somewhat darker. Add the tomatoes and raisins. Cover and cook 3-5 minutes until the tomato is tender.
Put mixture in blender with almonds and sesame seeds, banana, pineapple, apple, tortilla/bread, and ½ cup of broth. Blend. Return mix to skillet and bring to a simmer. Add chocolate and stir until melted.

Add the rest of the broth and reduce heat to low. Cover and allow to simmer for 20 minutes, stirring occasionally.

Series 2
Uncle Jimmy's Roast Capsicum Delights
Ingredients:
Several red capsicum
12+ cloves of garlic - minced
Bunch of parsley - chopped
Fillets of anchovy
Extra Virgin Olive Oil
Basalmic Vinegar
Method:
Top and tail the capsicum and trim out any bits of seed and membrane. Lay out flat and grill either on the BBQ or in the stove until the tough outer skin has charred. Place on damp tea towel and roll up. Set aside to sweat.
Put the minced garlic and parsley in a bottle and add the oil and vinegar in your favoured proportions as per a salad dressing.
When the capsicum has cooled, peel the charred skin off and cut into 3 -4 cm squares.
Put a fillet of anchovy on each square of capsicum and then cover with the oil, vinegar, garlic and parsley dressing. Let sit overnight, then slip onto a slice of good crusty French bread.
The left over dressing makes a good base for a hefty little salad dressing

2-3 kg Corned Brisket of Beef
Set up your Weber for Indirect cooking. Tightly cover the corned beef with aluminium foil, place on grill, cover and cook for 3 hours.
Turn ½ way through.
During last 10 minutes remove the foil. Brush with Vic's Patio Sauce and grill on each side for ~5 minutes.

1 cup of red wine vinegar
1 cup of oil
4 tsp mustard
Fresh Rosemary, Oregano, Thyme and Basil, chopped
1 cup catsup (tomato sauce)
2 Tblsp ground pepper
12 cloves crushed garlic
pinch of salt
Combine all ingredients and store in a jar in the fridge.

Mango-Chile Whipped Cream
Sweet and hot is a combination that sounds odd, but quickly becomes addictive. This sweet and hot whipped cream goes exceptionally well with chocolate.

1/4 cup dry white wine
1/4 cup sugar
1 ripe mango peeled and pitted
1/2 Fresh hot chile chile seeded
l-1/2 cups whipping cream

In a small saucepan, combine the wine and sugar and bring to a boil, stirring to dissolve the sugar. Reduce the heat to low and simmer for 3 minutes to form a syrupy consistency. Remove from the heat and let cool.
In a blender, combine the mango pulp, chile, and wine syrup and blend until smooth. Transfer to a bowl, cover, and refrigerate until well chilled
In a chilled bowl, whip the cream until stiff peaks form. Fold the cream into the chilled mango mixture. Use immediately.

Series 3
1 onion, chopped
4 rashers of bacon, cut in small strips
3 Tblsp flour
2 cans clams, drained and liquid reserved
3 cups reserved liquid plus water
4 medium-sized potatoes, peeled and diced
4 cups of milk
1 Bay leaf
In your soup pot, slowly simmer bacon, covered, ~5 minutes. Add onion and saute until soft. Sift in flour, 1 Tblsp at a time, stirring constantly and adding a bit of the liquid so it doesn't go all lumpy. Stir in the rest of the liquid. Add potato, clams and Bay leaf and simmer until potato is cooked, about 20 minutes.
Add milk, and bring to serving temperature, do not boil.
If you can, make it the day before, it's so much better the second day.

Seviche

½ kg red snapper, cut into small cubes
1 cup lime juice
½ white onion, thinly sliced and separated into rings
1 tomato, peeled and diced
1-2 jalepeno chiles, seeded and chopped
½ tblsp olive oil
2 tblsp vinegar
2-3 tblsp chopped cilantro (coriander leaf)
lettuce as needed
sliced avocado (optional)
Place fish in a glass or porcelain bowl. Pour lime juice over fish, using enough to just cover. Marinate at least 4 hours (overnight in the fridge). Stir occasionally.
Add other ingredients and refrigerate another 2 hours.
Place lettuce leaves on a plate , arrange seviche on top and garnish with avocado.

Spinach Salad with Orange-Chile Glazed Prawns
2 tsp sesame seeds
¼ cup orange juice
1 tblsp vinegar
1 clove garlic, minced
1 tsp grated orange peel
1 tsp olive oil
½ tsp honey
½ tsp (+) minced chile
1 mango, sliced or diced
young spinach leaves - enough for a bowl of salad
½ cup crumbled feta
Orange-Chile Glazed Prawns
Heat a small, non-stick frypan over medium heat. Add sesame seeds, toast lightly until golden. Pour out into bowl. Add orange juice, vinegar, garlic, orange peel, oil, honey and chile. Stir to combine, then set aside.
De-stem, wash and dry spinach and put in a large bowl. Toss with the dressing from the small frypan, then top with mango slices feta and Prawns.

½ cup orange juice
4 cloves garlic, minced
1 tsp minced chile
10-12 Green Prawns, peeled and deveined
Combine juice, garlic and chile in a large non-stick frypan. Bring to a boil over a high heat until mixture reduces. Reduce heat to medium and add prawns. Cook 2-3 minutes until prawns are done and juice mixture coats prawns.

Artichoke and Chile Bruschetta
1 cup artichoke hearts - fresh cooked is best, tinned in water is ok
2 cloves garlic, minced
cilantro (coriander leaf), chopped
1 tblsp chopped dried chile (Poblano, negro, or New Mexico)
salt
pepper
juice of 1 lime
extra-virgin olive oil
Mash artichoke hearts, add other ingredients and mix. Then stir in a few splashes of olive oil. Serve on slices of crusty bread.


Series 4
1 ½ cups cooked pumpkin
1 ½ cups undiluted evaporated milk or pure cream
½ cup brown sugar
¼ cup white sugar
½ tsp salt
1 tsp cinnamon
½ tsp finely chopped fresh ginger
1/8 tsp crushed/powdered clove
4 slightly beaten eggs
Cut pumpkin (if whole) and bake with skin on in 180 C oven for 1 hour + until very tender. Don't use any oil.
Mash and put in double boiler with all the other ingredients and cook until mixture thickens, stirring constantly.
Cool slightly and add
1 tsp vanilla
2 Tblsp brandy or rum
Pour into a baked pie shell and let cool.
Serve with whipped cream.

1tsp olive oil
4 boneless, skinless chicken breasts soaked for a few minutes in salt water
1 cup plain, non-fat yoghurt
½ cup pink grapefruit juice
1 tsp crushed arbol or pequin chile
1 tsp ground cumin
1 Tblsp chopped fresh corriander leaf
½ tsp salt
½ tsp ground white pepper
GARNISH: 1/3 cup sliced almonds
Preheat oven to 180 C
Coat baking pan with oil. Put chicken breasts in pan and bake for 20 minutes. Mix all other ingredients together and pour over chicken and cook for 15 minutes more or until chicken is done.
Serve with rice.

Racks of Pork Spare ribs (As many as needed)
BBQ sauce (commercial)
American Mustard
Sweet Chile Sauce
Fish Sauce
Juice of 1 Lime
Fresh Herb minced
This marinade is a bit "free form". In a bowl, put equal quantities of BBQ Sauce and Sweet Chile Sauce, Mustard and Fish sauce are there to provide the "salt" and an underlying flavour. Add in Lime and fresh herb and mix.
(Use fresh chiles or a hot chile sauce to add a bit of a hit.)
Coat the ribs well and let stand for an hour
BBQ over hot coals (cover if using a Weber) for 5-10 minutes each side, depending on the temperature of the coals.
Spread a bit more marinade on the cooked side and turn and cook for another 2-3 minutes on each side.
Cut into individual ribs and serve.
(Please note: I take no responsibility for stained linen and/or garments. We give everyone dampened wash cloths instead of serviettes)

Series 5
1 medium sized Eggplant
½ cup Chicken Stock
2 cloves garlic minced
3 - 4 Green Onions, chopped
2 ribs Celery, chopped
2 tblsp Fresh parsley, chopped
1 tsp Fresh cilantro, chopped
2 firm ripe tomatoes, peeled and chopped
1 (dried) Chlie Negro, chopped
(good) splash white wine
¼ cup sliced Kalamata Olives
½ tsp Allspice
Fresh Ground salt, Pepper
Cut the stem end off the eggplant, pierce the other end. Nuke fo 10 minutes on High, or until the eggplant starts to collapse. After it has cooled, peel, then cut flesh into 1 cm cubes.
Simmer the garlic, celery and onion in the stock for 3-4 minutes Add all the rest of the ingredients, cover and cook over a low heat untilwarmed through.
Serve warm as an antipasto with fresh tortillas or your favourite bread or serve cold the next day. Nicely accompanied by thin slices of (Felino) salami and Provolone Cheese.

Series 6
1 tblsp Olive Oil
1 medium sized onion chopped
1 medium sized red Capsicum, seeds and membranes removed,
chopped
2-3 Chorizo sausages, sliced
2 clove garlic, minced
2 medium sized red potatoes, peeled and diced
Tin of beans (red, kidney, pinto) or 2-3 cups of cooked Black Beans
Fresh chiles (to taste), minced
Juice of 1 lime
2 tblsp cilantro, chopped
3-4 cups chicken stock
Heat oil in a large skillet, sauté the onion and capsicum 3-4 minutes. Stir in the chorizo and cook until lightly browned. (Drain off any excess fat). Add the rest of the ingredients, cover and bring to a boil, Reduce heat and simmer for 30 minutes.
Serve with rice and/or salad for lunch or dinner or with scrambled eggs for breakfast.