DAVE'S DIARY - 23/1/13 - PREVIEW OF EPISODE 7 - SERIES 19
MOONSHINER'S DAUGHTER HEADLINES NU COUNTRY TV
Moonshiner's daughter Elizabeth Cook headlines Nu Country TV this Saturday January 26 on the eve of her Northcote Social Club debut.

Cook showcases her creative new video on the Channel 31 show at 10.30 p m.

The show, edited by Blaize Warden and filmed by Laith Graham, is repeated on Monday at 2.30 pm and midnight.

Texans Kristen Kelly and Kevin Fowler also debut on the show featuring Joey & Rory in our Behind Bars segment.

Perth born, Wallington and Colac raised singer-songwriter Adam Brand returns with his video for I Was Here - his tribute to the Salvation Army's support of the homeless.
COOK - WESTERN MOVIES AND WELDING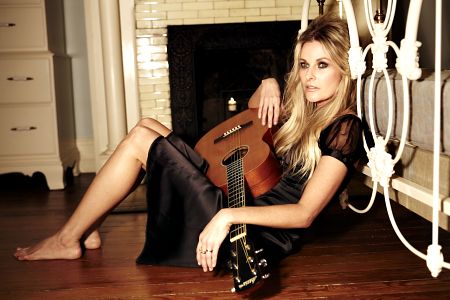 Florida-born Elizabeth Cook debuts with her video All The Time featuring scenes from old Western movies.

Cook, 40, played the 41st Tamworth Country Music Festival with Jim Lauderdale and follows Texan Hayes Carll into Northcote Social Club on February 1 to promote her fifth album Welder.

Elizabeth's octogenarian dad Tom wrote songs and learned upright bass guitar, serving 10 years in jail for moonshining.

Tom, now 88, formed the Medicare duo with late wife Joyce after Elizabeth - one of his 11 children - wed fellow singer Tim Carroll.

Cook's bassist is Bones Hillman of Midnight Oil.

Elizabeth collaborated with former Nu Country TV host and recording stage star Melinda Schneider, now 40, to write the title track of her fourth album Balls.

They both recorded their co-writes Some Times It Takes Balls To Be A Woman and Rest Your Weary Mind on recent albums.

Elizabeth and Melinda co-wrote more than a dozen songs including I Like Men in Trucks on Melinda's fourth album Stronger.

Melinda also wrote songs about late father - Sgt Keith Bean - a policeman.

Keith and Tom didn't meet at a still but Melinda's mum - famed yodeller Mary Schneider - sang with Tom and Joyce backstage at the Grand Ole Opry during one of Cook's many dates there.

CLICK HERE for a Cook interview in the Diary on November 9, 2008.
CLICK HERE for a Schneider interview in the Diary on August 9, 2006.

KEVIN FOWLER - BEER, BAIT & AMMO
"She pulled out that Red Headed Stranger/ I stood up and said, 'Don't touch my Willie/I don't know you that well/Help yourself to some Haggard or some Jones or anybody else/I don't know what you heard/I ain't that kind of guy/Yeah, so don't touch my Willie/We'll get along just fine.'" - Don't Touch My Willie - Kevin Fowler.
Amarillo-born Kevin Fowler puts his thirst on his bar - he recruited famous friends from the honky tonks for his video of Hell Yeah, I Like Beer.

They included fellow Texans including western swing king - Asleep At The Wheel leader Ray Benson, Wade Bowen and Australian tourists Jack Ingram and Dierks Bentley.

Boston Red Sox pitcher Josh Beckett also appeared during spring training on the video on Kevin's seventh album Chipping Away - his first in four years.

Although he recorded satirical Don't Touch My Willie about the Red Headed Stranger's drug busts the singing actor didn't join the cast.

Fowler recently released sardonic sibling Santa Got Busted By The Border Patrol with a Benson cameo.
Kevin and beer are synonymous - songs include The Lord Loves a Drinking Man, Beer Season, Long Neckin' (Makes for Short Memories), Drinking Days, Ain't Drinking No More, Beer Money, All The Tequila in Tijuana and Beer, Bait & Ammo.

Louisiana gubernatorial candidate Sammy Kershaw and fellow Texans George Jones and Mark Chesnutt recorded the latter song - the title track of his 2000 album.

Chesnutt also cut Fowler song The Lord Loves A Drinking Man.

Fowler, 46 and father of three daughters, is excused for feeling jinxed - his last three labels closed shortly after releasing his albums.

In 2010 when Kevin signed with Disney subsidiary Lyric Street Records he was on a roll but eight weeks after release of his single Pound Sign they folded.

Fowler broke the streak after signing to Colt Ford's label, Average Joe's Entertainment.

He and Colt collaborated on the Ford hit Hip Hop In A Honky Tonk for 2010 Ford album Chicken & Biscuits.

Fowler also wrote Long Line Of Losers for Montgomery Gentry and earned some serious "mailbox money."

He also recorded a duet with The Possum - Me and the Boys - on a previous album.

Fowler sources songs driving his pickup at his ranch near Junction where he lives with his family.

Fowler calls these songs "presents from the song gods."

"Those seem to be the best ones," he said of songs including Cheaper To Keep Her.

"My ranch is a really good place for me to write, somewhere where you can really get into your head and forget everything going on around you. I just think of a lot of stuff driving. I just sort of space out and get into that little zone."

He also penned Ain't Dead Yet and Now You're Talkin' with March tourist David Lee Murphy.

Others include I Pulled a Hank Last Night - a strong drinking-man's anthem - and Honky Tonk Junkie is a clever tribute to genre icons.

"I get to Jonesin' for Jones/I got a hanker for Hank".

Fowler grew up on Merle Haggard and Johnny Cash but his diet included AC/DC.

"I'm almost a heavy-metal fan," said Fowler, who joined hard rocking Dangerous Toys in the early 1990s before founding Southern rockers Thunderfoot and returning to country in the late 1990s.

Further info - www.kevinfowler.com
KRISTEN KELLY - EX OLD MAN FROM WACO
Waco wench Kristen Kelly disposed of her ex husband and his girlfriend in one hit in her new video for Ex Old Man.
Kristen, a college music graduate, threw back the ring and left town in an open top car.
Life imitated art for Kelly - she left her ex-husband in Waco when she left for Nashville and cut her debut EP.

"Ex-Old Man is a song that I had no intentions of writing," Kelly revealed.

"Personally, it was old news for me. I was writing with Paul Overstreet, and we were working on another song - I don't even remember which song. In passing, I mentioned that I had an ex-husband and an ex-best girlfriend and he said, 'Wait a minute! Tell me more about that.' So in telling him what happened, we ended up writing the song, it became the lead-off single and here I am."
The song from her debut Arista EP reached Top 30.

"Yeah! Life happens, and I believe when life gives you lemons, make lemonade, add vodka and have a good time," Kelly said of another song Feeling Nothing.

"It's one of those songs we wrote rather quickly. You know, it's three chords and the truth.

I had a song idea that I had held onto for a couple of years. It was about seeing my ex-husband for the first time and feeling nothing - and how great that felt. We're both from the same small town, so every time I would run into him after we got divorced, a little part of me would fall apart all over again. So to finally reach a point where I could see him and not fall apart was a really powerful moment for me. I had the lines: "There stands a man I used to love/His hands, my skin, they used to touch."

"So as I was telling Overstreet the experience of seeing my ex-husband and feeling nothing, I'm walking around the room talking, and he's got a Sharpie and a piece of paper. As the words were coming out of my mouth, he was writing the same thing about how feeling nothing never felt so good. We just looked at each other and knew it was one of those special moments where we tapped into an emotion and an idea that would work.
Kelly was signed to Arista after playing Texas honky tonks with her band Modern Day Drifters who released indie album The Highway Is My Home.

Kirsten, whose grandfather Sterling Kelly was a Texas singer-songwriter, began writing songs in rural area Lorena near Waco.

Legendary honky tonk hero Billy Joe Shaver, now 73, hangs his hat in Waco but was arrested for shooting Billy Bryant Coker outside Papa Joe's Texas Saloon in Lorena on March 31, 2007.

The assault acquittal created his song Wacko from Waco - a co-write with Shotgun Willie Nelson.

"Yeah, I started writing poetry in middle school and I guess it was within the last 10 years that I started taking some of that poetry and putting it to music and writing songs," Kelly recalled.

"I actually co-wrote a song in May 2004. I guess that was probably the first song that I have co-written."

Further info - kristenkellymusic.com
JOEY & RORY BEHIND BARS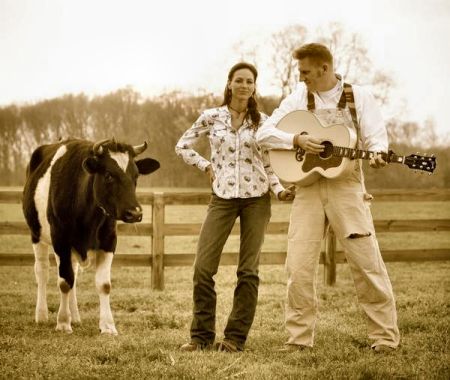 Nashville husband and wife duo Joey & Rory return to Nu Country in our Behind Bars segment with a couple of hit videos.

They loosen up the audience in A Bible And A Belt in concert with an older audience that includes famed singer songwriter Whispering Bill Anderson.

The song is on their fourth album His & Hers.

The duo also performs the video for That's Important To Me from second disc - Album No 2.

They washed their dog in the family bath and showcased some home cooking in their own restaurant - Marcy Joes in Pottsville.

They drive their car with Cheater Number plates - named after early hit Cheater, Cheater - down the road from their farm south of Nashville.

Former Marine Rory Lee Feek and Joey Martin scored a deal after finishing third in 2008 TV show Can You Duet?

Rory, a prolific writer, is son of a country singing railroad man from Atchison, Kansas,
Feek, 48, has written hits for Blake Shelton, Collin Raye, Clay Walker, Kenny Chesney, Randy Travis, Reba McEntire, Terri Clark, Lorrie Morgan, Jimmy Wayne and the late Waylon Jennings and Buck Owen.

Rory and Novocastrian Catherine Britt both recorded their co-write Sweet Emmylou.

Joey, third of five children of a guitar slinging Vietnam veteran Jack and gospel singing farm girl June, grew up in Alexandria, Indiana, cut an ill-fated solo CD for Sony in 2001.

In 2005 she cut a solo CD Strong Enough To Cry, released in 2008 on Rory's Giantslayer label.

Their debut duets album The Life Of A Song featured satiric tune Play The Song and Cheater, Cheater.

They have won two Academy Of Country Music Awards for new vocal duo in 2010 and best duo in 2011.

CLICK HERE for a Joey & Rory feature in the Diary on August 30, 2009.
ADAM BRAND BATS FOR SALVOES
Adam Brand performs his new video for I Was Here from his ninth album - There Will Be Love.

The clip features Salvation Army volunteers at work on the mean streets of Australian cities.

The Salvoes used Adam's heartfelt song about homeless and disadvantaged to promote their Xmas appeal.

Adam also helped behind the scenes after Black Saturday bushfires and played benefits.

Thrice wed Adam, now living in Nashville, plays CMC Rocks The Hunter in March with Chris Young, Rascal Flatts, The Band Perry, Big & Rich, Love & Theft, Billy Ray Cyrus, Jack Ingram, The Farm and David Lee Murphy.

Adam turns 42 on January 27 after 41st Australian Country Music Awards in Tamworth while touring here to promote his new album released in August.
The prolific Golden Guitarist has made the finals of the best male vocal and album of the year.

CLICK HERE for an Adam Brand interview in the Diary on March 31, 2009.
LADY ANTEBELLUM DVD PRIZES
We have copies of the hot new DVD by recent Grammy Award winners and Australian tourists Lady Antebellum for new members and renewing members of Nu Country.

The 18-track Own The Night World Tour DVD has five bonus songs with exclusive version of Black Water featuring Darius Rucker and Thompson Square.

There's also intimate backstage footage of the band, road crew and fans on a tour that included two concerts at the famed St Kilda Palais.

The 124-minute DVD features the band performing its many hits live in Little Rock, Arkansas, and documentary footage of band members and song sources.

Click Here for our membership page for details of all prizes.