DAVE'S DIARY - 30 AUGUST 2009 - RORY & JOEY
RORY AND JOEY PLAY THEIR SONG
AS A PARODY - THEIR WAY
"It's too Garth, too George Strait/ too right down the centre, too left of the plate/ the hook's too weak or the subject matter's way too strong, whatever/ yeah and it's too bad they don't just." - Play The Song - Rory Feek.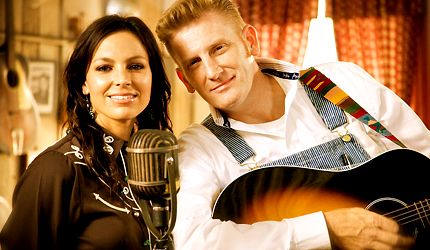 Former Marine Rory Lee Feek leads with both his left and right when he nails targets in his social comment songs.

So, it's sweet solace Play The Song - Feek's parody of Nashville's pedantic power brokers - is a big video hit.

Not as vitriolic as Larry Cordle-Larry Shell tune Murder On Music Row but just as relevant a decade down the Lost Highway.

It wasn't the first underground hit for dynamic duo Joey & Rory but it will have legs long after the fairy dust fades on careers of some peers.

Feek and Martin are reminiscent of eighties duo Bell & Shore whose humorous peak was I Want A Mower Like The One George Jones Rode To Town.

But this is a new battle in the old war by country artists trying to win creative control of their music - not to be mistaken for refried rockers seeking a soft place to fall.

It's no surprise one of their sweetest songs is Feek's collaboration with Newcastle singer Catherine Britt's whose pure country wings were burned by fame flames in Guitar Town.

But more of Sweet Emmylou later in this brief trip down the memory lane of the duo who debut on Nu Country TV with Play The Song.

The single, accompanied by equally vibrant video, is torn from recent back pages of Martin who recorded an unreleased solo album in 2005 titled Strong Enough to Cry.

The couple merged careers to compete on the CMT cable TV series Can You Duet? in 2008 and came third.

They then signed with Sugar Hill/Vanguard Records for debut disc The Life Of A Song, released in Australia by Shock seven years after they wed.
NOT IN KANSAS OR DALLAS ANYMORE
"It's too fast, it's too slow/ it's too country, too rock and roll/ it's too happy, to sad, to short, or it's way too long/ yeah and it's too bad they don't just" - Play The Song - Rory Feek
Feek was raised in Atchison in northeast Kansas.

Rory, 44, says his father, Robert, was a railroad worker who moonlighted as a country singer.

"He used to, when I was very, very young, like play in clubs and stuff like that, and my uncle had a band but my dad, especially played just in his bedroom, singing Merle Haggard songs and Jim Reeves and Hank Thompson, things like that," Feek recalled in a recent Nashville interview.

At the age of about 15, Feek taught himself to play guitar and began filling up 90-minute cassettes with songs taped off the radio.

"I'd write every lyric out and figure out what the chords were. I think that's how I ended up writing songs, was when you're breaking all those songs down and you're writing the lyrics out with a pencil and a piece of paper you start looking at how it goes together, and it makes you start doing the same thing. That first year I started playing I was writing songs already, and that ended up being what I would consider my real gift."

Feek moved to Nashville with two daughters in 1995 after an eight-year stretch in the Marines.

While serving in Japan the singer, an avionics technician, played in a country band that toured American military bases.

He performed solo after he left the Marines and settled in Dallas before heading east to Nashville as a writer in his 1956 Chevy.
HARLAN HOWARD
"You broke his arm in Houston, his rib in Santa Fe/ then you drug him through the dirt in San Antone/ and last year out in Vegas you almost took him all the way/ then you sent him broke and busted right back home/ no matter how hard you throw him/ he just gets back on again/ Oh I'll never understand this crazy hold you have on him." - Rodeo - Rory Feek-Joey Martin-Cory Batten.


Rory broke into the business by "stalking" late legend Harlan Howard.

"A friend told me Harlan was going to be at Sunset Grill at such-and-such time," Feek recalled.

"So I went over there and sat down on a barstool and waited."

An hour later, Howard came in, took a seat beside Feek and they talked songwriting for hours.

Howard invited Feek to visit him at his office and play some songs he'd written.
Several months later Howard signed Feek to a songwriting deal and he stayed with the company for five years.

"It was all I could hope that it would be," Feek revealed.
"I'm one of those guys that I've always been drawn to the legends and to the people who have blazed this trail long before I was even born, and so when I got the chance to meet Harlan. I was thrilled, but even more so when I got to write for him and be in his company for five years and sort of study under him. He was a master craftsman at what we do, and he had a lot of wisdom not just for songwriting, but for life too. In that part of his life, he was always sharing it with me and everyone else around him. It was just an extraordinary time and I think it's one of the things that's made me a much better writer."

Feek scored in 1998 with Texan Collin Raye's hit of his song, Someone You Used to Know - it was his first cut and peaked at #3 on Billboard.

The following year he scored when another Texan Clay Walker had a smash with his tune Chain of Love.

He also had cuts for Kenny Chesney, Randy Travis, Charley Pride, Reba McEntire, Terri Clark, Lorrie Morgan, the late Waylon Jennings and Buck Owens and others.

Oklahoma singer Blake Shelton - latter day partner of Miranda Lambert - cracked #1 in 2004 with Feek song Some Beach.

He also produced Blaine Larsen's album that year and co-wrote Larsen's biggest hit, How Do You Get That Lonely?

After Howard died at 74 in 2002, Rory wrote for Texan singer and former record label owner Clint Black before co-founding Giantslayer Publishing with friend and partner Tim Johnson
JOEY - INDIANA EMBRYO
"Ten minutes later he was in the air/ she dropped the kids at school and headed home/ walked in and turned the front room TV on/ she could tell that there was something wrong/ every channel had the same thing on/ now seven years have come and gone away/ but she's still hurting like its yesterday." - Loved The Hell - Rory Feek-Joey Martin-Wynn Varble.
Martin, now 34 and third of five children of a guitar slinging Vietnam veteran and gospel singing farm girl, grew up with her family's music in Alexandria Indiana.

"When I was a little girl, my mom and dad and I would travel around to local venues and perform for different functions," she revealed recently.

Later on, she joined a band that "really wasn't on a professional level" but at least enabled her to perform occasionally.

She sang with her parents Jack and June, high school sweethearts who married on his return from Vietnam.

"We were kind of like The Judds, mom would sing harmony with me and some leads, and I knew at a really young age that's what I wanted to do," Joey recalled.

"And that's all I wanted to do, be a singer and move people, or try to anyway. I grew up listening to Dolly Parton and Patty Loveless, and later Emmylou Harris."
But the post high school trip out of Indiana found her competing with cowboys and cowgirl singers.

"I moved to Nashville to be a singer," Martin said.

"I wasn't into songwriting at all. I didn't understand the concept of it. At one of the songwriters' nights I went to, Rory was playing. I was just really, really moved by him in particular - the way he wrote and what he wrote about. I think it was then and there that I understood how important songwriting is."

At first, she supported herself by working for a veterinarian clinic that specialised in treating horses. She still loves horses and the cowboy lore that goes with them.

In 2001, Sony signed Martin to a recording contract - veteran producers Paul Worley and Billy Crain oversaw her first and last album for the label.

"I had been in Nashville about two years and knew nothing about music industry," Martin confesses.

"I really never found all the great songs for the album I was hoping to," she added.

"Halfway through making the record, Rory and I met, and we got married probably within four months of meeting."

The album was completed in 2002 but never released nor were any singles from it.

"Looking back, it's nothing I would record today," Martin says. "But at the time, I was really proud of it."

BLUEBIRDS AND THING CALLED LOVE
"He swore the one thing he'd never do/ is sit here beside me in this pew/ so I just smiled and said amen/ this mornin' when he walked in." - Loved The Hell - Rory Feek-Joey Martin-Wynn Varble
Martin originally gazed at Feek from the audience at the famed Bluebird Cafe - locale for the movie Thing Called Love.

"I didn't know who Rory was but one of the songs Rory sang was The Chain of Love," Martin recalled in an interview with Cindy Watts in The Tennessean.

"I just sat in the room and listened to Rory play these songs. I was like, 'Oh my gosh, this is the man I would like to spend the rest of my life with.' "

A few songs later, Feek introduced his daughters to the audience.

Martin assumed he was married and wrote off any chance of a relationship.

But two years later her boss invited her to another songwriter's night where Feek was playing.

Then Martin learned Feek was single and knew she had to find out if her feelings for him were still as strong.

"That night, I showed up at this little songwriter's place, and I go running up the steps and my feet land and there stands Rory right in front of me," Martin said.

"And I thought to myself, 'It's over. I'm in so much trouble.' "

But it was still some time before they became a couple. Feek thought Martin didn't like him, but when a friend indicated otherwise, he called and left her a message. When Martin called him back she explained how strong her feelings were but that she was in a serious relationship.

"She said, 'I just want you to know if things were different I think you and I should be together,' " Feek says. "I had never heard anything like that before. No one had ever said that to me. I had written songs about that kind of love at first sight, but had never experienced it."

A few months later, Martin's relationship ended and she called Feek to see if he was interested in getting to know her better.

This time he was in a relationship, but he called his girlfriend and broke it off. He and Martin were engaged two months later and were married two months after that.
BAKING A SONG OR TWO
"Leave the horses and cattle/ and the ranch far behind/ they've had you all week." -
Tonight Cowboy You're Mine - Rory Feek-Joey Martin-Heidi Feek.
Martin didn't starve in the fallow years after her first CD hit the cutting room floor.

Joey is co-owner of Marcy Jo's Mealhouse - a restaurant in an 1890s mercantile store near Joey and Rory's farm in Pottsville, Tennessee.

"We opened it two and a half years ago and it's doing really well," says Joey.

"For the first year, I was hands-on completely. Marcy is Rory's sister, so it's been a family venture having this restaurant together. It was just Marcy and I for the first year, and then Rory and I got cast on Can You Duet? and I had to leave for about six weeks while the taping was taking place. Once the taping was over, I came back and continued working and then the show aired on TV and all of a sudden, people started finding out more about Marcy Jo's. So now, Marcy Jo's has really exploded. We have people that come from everywhere. When we are home for a couple of days, I go down and still make biscuits and help with the breads and throw an apron on, serve coffee and take people's orders."
"We never really thought about us being a duo, I continued to try to go on and be a solo artist. We recorded an independent record Strong Enough To Cry on myself, Rory produced it and wrote for it. That never really came out in stores, nothing with radio.
CHEATER, CHEATER
"Now I'm not one to judge someone that I ain't never met/ but to lay your hands on a married man's bout as low as a gal can get/ hey I wish her well and she rots in hell and you can tell her I said so/ cheater, cheater where'd you meet that no good white trash ho." - Cheater, Cheater - Rory Feek-Joey Martin-Kristy Osmunson-Wynn Varble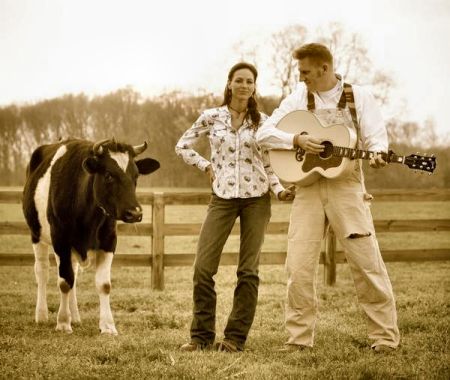 It's poetic that the duo's breakthrough hit touched on cheating - the staple of roots country - but sanitised on modern radio.

The song, like the Sugarland hit Stay, is written from the perspective of the cheated.

But, unlike Stay, it drips with vitriol akin to the David Allan Coe school of revenge through song.

It's a far cry from Dolly Parton's Jolene where the victim begs the other woman to go away.

"This song is the real world, where the woman wronged tells them both to take a hike," Feek explained.

"The majority of how I like to write a song is sort of from a first line, not knowing necessarily what the title's gonna be, and definitely not knowing where the song's gonna go or what the story's gonna say - letting the song tell us. And this was one of
those - just 'Cheater, cheater, where'd you meet her? Down at Ernie's Bar', and the story was unfolding."

Feek is proud the song - especially the hook - is "not politically correct."

"When that song told us, 'Did you think I wouldn't know? Where'd you meet that no-good white trash ho'?', I was laughing just like everybody else, I was knocked out. I brought it home to Joey, and I thought it was hilarious. She didn't think it was hilarious, she thought it was a smash. It's what everyone's thinking. It's what every girl would say. Even Joey, she's very strong in her faith, in her marriage, in her morals and everything else, but she's human and she gets riled up, and that's what she would say in that moment, and I think that's why people are reacting to it. We were doing a show in Sacramento three nights ago, and it was absolute insanity, people were screaming it back to us, huge clubs filled with people, and it was the first time we had experienced it. But Joey had already known it from the first time she heard it in the house here, she knew that was gonna happen."
THE VIDEO
Shock Records roots music executive Dave Laing sourced the Joey & Rory video of Play The Song for Nu Country TV.

It appears on C 31 in Victoria, Queensland and South Australia.

Directed by Peter Zavidil, the clip depicts Joey encouraged by executives to dress in blue hair and spangles and Rory with facial piercings.

It spoofs Nashville's obsession with imaging, resulting in artists being represented in a manner that doesn't feel entirely real to them.

"The video isn't much of a stretch from our own personal experience in the music industry," Rory says.

"Joey had meetings like this as a solo artist, and I, as a songwriter, have often had the 'pleasure' of songs being picked apart by Music Row executives."
CATHERINE BRITT AND EMMYLOU
Sweet Emmylou, I blew the dust off you/ you're the only one who knows what I'm going through and/ like the hickory wind, he's gone again." - Sweet Emmylou - Rory Feek-Catherine Britt.
Feek details on their CD liner notes how he wrote Sweet Emmylou with Newcastle singer-songwriter Catherine Britt in the kitchen of an office on Music Row when she was recording for BMG in Nashville.
Britt, whose song Lucky Girl appeared on Nashville star Kellie Pickler's self-titled second disc, wrote the song during her Nashville era.

"She was a big Emmylou fan like my wife Joey is," Feek wrote.

"I think I started singing the opening line and melody and it all just fell out from there. We wrote the whole song together pretty fast. I had hope that Catherine would cut it one of her records at the time. I thing Joey was secretly hoping she wouldn't so she could record it some day but unfortunately and luckily it didn't happen. The track on this is really gorgeous in my opinion. Joey and I probably sing this song more often than any other. A lot of people tell Joey she sounds like Emmylou, what an amazing compliment."
TO SAY GOODBYE
"Ten minutes later he was in the air/ she dropped the kids at school and headed home/ walked in and turned the front room TV on/ she could tell that there was something wrong/ every channel had the same thing on/ now seven years have come and gone away/ but she's still hurting like its yesterday." - To Say Goodbye - Rory Feek-Joey Martin-Jamie Teachenor.
Feek and Martin are belatedly enjoying success but have compassion for those who die too young or leave partners behind.

"We're not kidding when we say we're in awe of it all, especially to be together as a husband and wife, that's a pretty extraordinary opportunity, and we're having a great time, and we're getting a chance to go out and promote music that we believe in," Feek says.

"I was a single dad for about 12 years," Feek added.

"Last winter was the very first time we were by ourselves, Joey and me. I've never been by myself. I've always had the kids."

Feek's daughters, now 20 and 22, decamped the family farm for the bright lights of Nashville.

But it was another family tragedy - the death of a loved one without being able to say goodbye - that inspired their song To Say Goodbye and video on its own web page.

In July 1994, Joey's only brother, Justin, was in a car accident about a mile from their farmhouse in Indiana.

He was 17 and on his way to the county fair.

Joey and Justin were a year apart in age and the best of friends.

A nearby neighbour ran from the scene to the house to get Joey and her mom.

On the side of the road that night they held Justin's hand. They cried, and they prayed with him. Several days later, he passed away. He never regained consciousness, so Joey never got the chance to tell him her feelings.
NURSING HOME
"He sits beside her in the nursing home/ through her silver hair he runs a comb/ he hangs their wedding picture on the wall/ she don't remember who he is at all/ he tells her stories about the life they've lived/ from their first kiss to their last grandkids/ for seven months now she just sits and stares/ but if she wakes up he's gonna be right there." - To Say Goodbye - Rory Feek-Joey Martin-Jamie Teachenor
Over the last few months, Joey & Rory received hundreds of emails from people around the country who bought their album and heard the song.
In their emails, they said the song helped them to realize that one of the reasons their pain was still so deep was because they'd never had the chance to say goodbye to the loved ones that they lost.

Joey & Rory created the web site as on online community where people could share their personal stories and potentially say goodbye to the loved ones even after they're gone.

On June 15, Justin's birthday (and Joey and Rory's anniversary), in the den of their farmhouse, Joey recorded her own personal goodbye to her brother Justin.
The duo showcased their originals early on a disc that also featured covers of Shawn Camp-Mark D Sanders song Tune Of A Twenty Dollar Bill, former Derailers lead singer and latter day preacher Tony Villaneuva-Dan Demay tune and footwear fetish Boots.

But it was a movie audition that prompted a waltz version of historic Lynyrd Skynyrd hit Free Bird.

Feek revealed in the liner notes Martin was asked to sing the song at an audition for a movie Paper Wings.

"They were looking for a female lead that could play an aspiring country singer," Rory wrote.

"We read the script and loved the story. It was part of the story line. It was a great script, hope the movie comes out soon."

They finished their disc with the Patrick Jason Matthews-Rebecca Lynn Howard title track.

Grammy-winner Carl Jackson produced The Life Of A Song - he added his banjo and harmonies with Bradley Walker.

Fiddler Aubrey Haynie also added mandolin on a disc featuring Rob Ickes on lap steel and dobro, pedal steel guitarist Mike Johnson, drummer Tony Creasman and bassist Kevin Grant.
Feek, Bryan Sutton and Ilya Toshinsky also play acoustic guitar - pianist Catherine Marx added synthesised strings.

The Life Of A Song is one of the freshest discs unleashed - a new millennia advance on The Woodys and Bell & Shore with country comment enriching the melodic roots.
http://www.braindumps.com/70-417.htm
http://www.test-king.com/exams/1Y0-300.htm
http://www.bu.edu/
http://www.bgsp.edu/
http://www.actualtests.com/exam-98-365.htm
http://www.certkiller.com/exam-NS0-155.htm
http://www.comptia.org/