WELCOME TO NU COUNTRY TV

TEXANS HEADLINE NU COUNTRY TV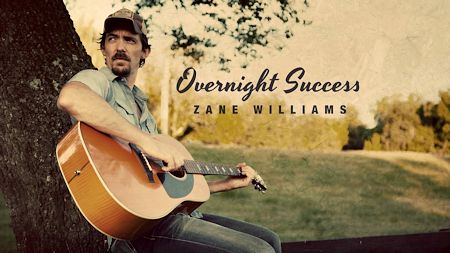 Texan troubadour Zane Williams provides satirical career advice when he headlines Nu Country TV on Channel 31/Digital 44 on Saturday December 10 at 9.30 p.m.
Fellow Texan Dixie Chicks also return to show hosted by Mid Pacific Bob Olson and repeated on Monday at 2.30 a.m.
Sydney musician Michael Carpenter and expat Englishman Allan Caswell, celebrating 50 years in Australia, and Ohio singer-songwriter Margo Price enjoy time travel in the program filmed and edited by Laith Graham.
Former Victorian farm boy Tobias returns to Point Lonsdale to record his new album and Hunter Valley singer Travis Collins celebrates being a finalist for six Golden Guitars in Tamworth in January.
Nu Country TV is a highlight of C 31 streaming list on Digital 44.
Just follow this link on your computer or mobile phone - http://www.c31.org.au/series/487
CLICK HERE to read the full preview of Episode 12 - Series 31
MO PITNEY PURE COUNTRY DEBUT
KINKY FRIEDMAN FINDS MEMO IN ST KILDA
NU COUNTRY TV HOST TROY RECALLS JOINTS
WITH WILLIE AND MERLE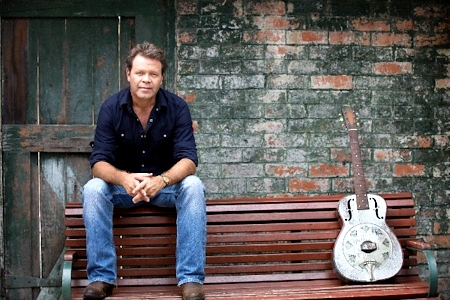 Troy Cassar-Daley has revealed he had joints with Octogenarian Willie Nelson and Merle Haggard on his acclaimed 10th album Things I Carry Around .
The Nu Country TV host performs Smoked With Willie And Merle on the disc but, sadly, there's no video of the song.
Instead we feature Troy's video of the title track in Series #31 that premieres Saturday September 25 at 9.30 pm on Channel 31, Digital 44.
At 46 the celebrated singer-songwriter is well qualified to reveal feats with the legendary duo on their down under sojourns.
Troy, father of two, inhaled like many peers but few could boast of exhaling by teaching the Red Headed Stranger, now 83 , to play didgeridoo.
It all happened when Troy shared stages with The Highwaymen and childhood mentor Merle, who died on his 79th birthday - April 6.
NU COUNTRY TV HOST AND BENEFACTOR KACEY JONES RIP AT 66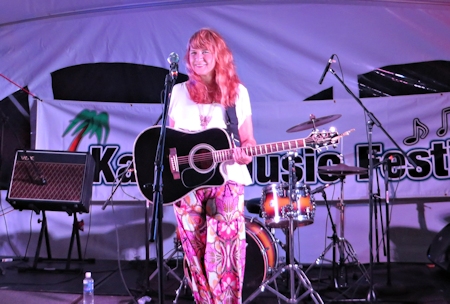 Acclaimed singer-songwriter, comedienne, producer, Nu Country TV host and showcase headliner Kacey Jones has died at 66 on the first day of spring in Nashville.
In 2014 Kacey was diagnosed with Stage 3 colorectal cancer - instead of chemo, radiation and surgery she opted for alternative, holistic therapies.
She launched a Go-Fund-Me account to pay for these and entered hospice care early in August.
Despite chronic pain she was well enough in 2015 to compete on TV's America's Got Talent where she performed her timely parody Donald Trump's Hair - title track of her 2009 album - that we also featured on Nu Country TV .
Kacey and fellow singer-songwriter Becky Hobbs performed our showcase at the Noise Bar at the historic Railway Hotel , in Brunswick on February 1, 2008, with local artists the Bona Fide Travellers .
Their concert was featured on Nu Country TV just two years after she hosted our TV show from Austin, Texas, in 2006 while performing the annual Mickey Newbury festival with singing actor Waylon Payne.
NU COUNTRY TV SERIES #31 PREMIERE ON CHANNEL 31
SATURDAY SEPTEMBER 24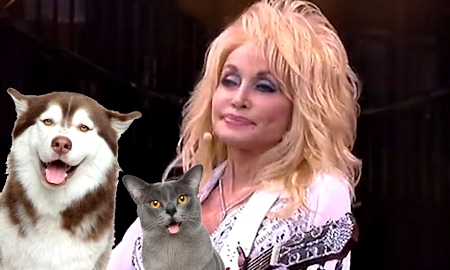 Nu Country TV Series #31 returns to Channel 31/Digital 44 for our premiere on Saturday September 24 in the prime time slot of 9.30 pm.
We preview the premiere this week with a feature on singing actor Dolly Parton's 43 rd album Pure & Simple that was #1 on debut on the prestigious Billboard charts.
Dolly's double CD of 12 new originals and 10 classic hits is her first chart-topping collection in 25 years - her last was Eagle When She Flies in 1991.
CLICK HERE for Dolly's Pure & Simple CD feature in The Diary.
KINKY FRIEDMAN SPRING RETURN TOUR
NATIONAL PRESS CLUB DEBUT
DIERKS BENTLEY CANINE TRIBUTE ON NU COUNTRY TV SERIES #31
KEITH URBAN PATERNAL PRAISE ON ALBUM AND TOUR
Expatriate Australasian superstar Keith Urban's appearance with John Mellencamp at the 49th CMA Awards in Nashville on November 4 last year was tinged with sadness.

It was just a month before his major musical influence - his father Robert - died on December 5 after a long battle with cancer while he was making his 10th album Ripcord .

The Urban patriarch, who died at Mountain Creek near Caloundra on Queensland's Sunshine Coast, moved to Australia from Whangarei in New Zealand with his wife Marienne and their two sons Shane and Keith and settled in Caboolture.

"My dad is the catalyst for me living in America," revealed Urban, 48, who honoured his dad in new song Blue Ain't Your Colour.

< Keith & Bob Urban

Keith will perform the song from Ripcord when he headlines the Deni Ute Muster on September 30 and returns in December for a national tour with Carrie Underwood.

CLICK HERE for a Keith Ripcord CD feature in The Diary.
MARK LUCAS DEAD SET FOR NU COUNTRY TV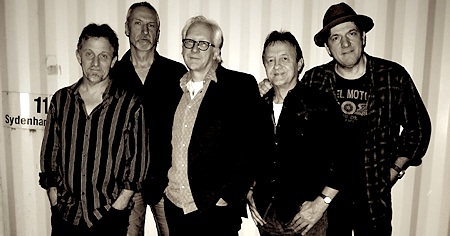 Expat South Londoner Mark Lucas & The Dead Setters return to Nu Country TV during Series #33 that returns to Channel 31/ Digital 44 in spring.
Lucas has release his seventh album The Continental Drift that features a hefty dose of social comment tunes about adoptive home city Sydney and way beyond.
CLICK HERE for a new Lucas feature in The Diary.
COLE SWINDELL HONOURS LATE FATHER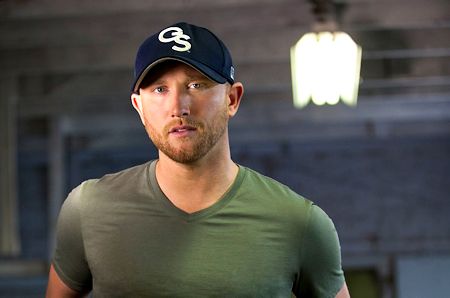 Cole Swindell
Bentley, 40, also appears on Georgian singer-songwriter Cole Swindell's second album You Should Be Here .
Swindell, now 32, wrote the title track about his father who died tragically at 65 in a freak accident on the eve of his success.
CLICK HERE for a feature on Swindell's new CD in The Diary.
BRANDY ON TOP SHELF FOR NU COUNTRY TV SERIES #31 IN SPRING
HOW TO VIEW NU COUNTRY TV SERIES #30
ON YOUR COMPUTER OR PHONE
GUY CLARK RIP @ 74
Guy Clark
When Texan troubadour Guy Clark died of lymphatic cancer at 74 on May 17 his death was felt deeply in Newcastle and the hallowed halls of the Melbourne judiciary and top rating radio station 3AW.
Clark, famed as a mentor to younger peers, wrote a song with Catherine Britt in 2003 when she arrived in Nashville as an 18-year-old after cutting her debut EP here with Bill Chambers.
Britt, now 31, included Poor Man's Pride that also featured Jerry Salley as a co-writer on her 2006 album Too Far Gone produced by Keith Stegall and Chambers.
We featured the video for Poor Man's Pride on Nu Country TV Series #4 finale episode on October 1, 2005.
Guy's 1989 Australian tour was memorable as latter day 3AW breakfast hosts Ross Stevenson and John Burns became avid Clark fans then hosting Lawyers, Guns & Money on 3RRR-FM with Dennis Donohue.
So avid that Ross phoned in his review of Guy's Lancefield Winery concert to country show High In The Saddle on the Sabbath.
But it didn't stop there - the trio and fellow Clark buff Judge John Bowman - hosted a dinner for the singer, promoter Keith Glass and this writer at the famed Flower Drum restaurant in Melbourne CBD.
Clark was also interviewed by PBS-FM Acid Country host David Heard on his Cold Coffee Morning show on Nu Country FM at our Beer Can Hill studio in Northcote on his 1995 tour.
CLICK HERE for our obituary in The Diary.
COBB AND CO RETURN COUNTRY TO ITS SOUTHERN ROOTS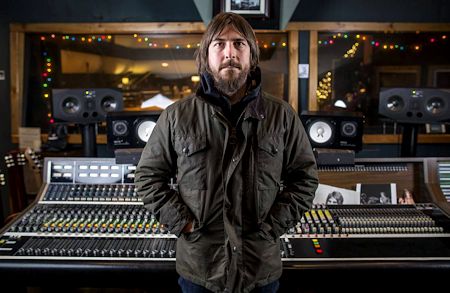 Dave Cobb
Grammy winning Georgian producer Dave Cobb is spearheading the return of nouveau country to its earthy roots with his Low Country Sound label.
His concept album Southern Family features a reborn posse headed by prolific award winner and chart topper - Kentucky Coalminer's son Chris Stapleton and singing spouse Morgane, Shooter Jennings, Zac Brown, Jamey Johnson, Brandy Clark, Jason Isbell, Miranda Lambert, Anderson East, Holly Williams and peers.
Cobb produced his 12 track album at the historic Nashville RCA A studio - also home to artists diverse as the late Waylon Jennings and Dolly Parton.
Three time Australian tourist Mary Chapin Carpenter also utilised Cobb's talents as producer of her 14th album The Things That We Are Made Of.
CLICK HERE for an exclusive feature on Cobb's career and acclaimed Southern Family album in The Diary.
CLICK HER for our new interview with Mary Chapin Carpenter in The Diary.
OCTOGENARIANS LORETTA LYNN AND SHOTGUN WILLIE
MAKE MUSIC TOGETHER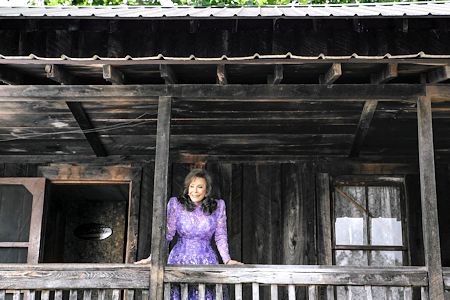 Loretta Lynn
Octogenarians Loretta Lynn and Shotgun Willie Nelson have released historic new autumnal albums to celebrate their roots and longevity.
Lynn's aptly titled album Full Circle was her highest Billboard Top 200 all genre debut at #19 and her 40th to make the Top 10 on the country charts.
Loretta, 84, is also joined by Willie, 83 on April 29, on a duet on the album finale song Lay Me Down.
Elvis Costello also adds his vocals to the Todd Snider-Loretta penned tune Everything It Takes recorded at John Carter Cash's Cash Cabin studio at Nashville suburb Hendersonville.
Willie also duetted with younger women Cyndi Lauper, 62, and Sheryl Crow, 54, on his album Summertime - Willie Nelson Sings Gershwin - that topped Billboard jazz charts on its debut.
CLICK HERE to read a feature on Loretta Lynn's career and new album in The Diary.
CLICK HERE to read a feature on Willie's new album in The Diary.
MERLE HAGGARD - LONESOME FUGITIVE - DIED ON 79TH BIRTHDAY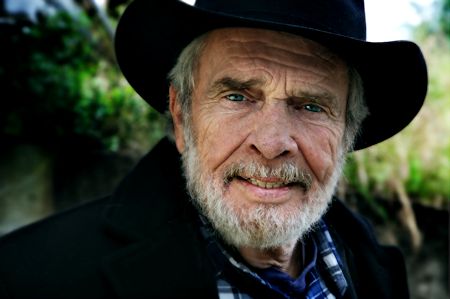 When former Californian convict and country legend Merle Haggard toured here in 1996 it was manna from heaven for aspirant radio broadcaster Nu Country FM .
Haggard's current hit was Beer Can Hill so we had a perfect theme tune for our station adjacent to the rustic Peacock Inn watering hole on Rucker's Hill in inner northern Melbourne suburb Northcote.
Merle recorded personalised station IDS in an exclusive Nu Country FM interview before headlining an all-star concert at Myer Music Bowl .
Haggard performed with his veteran band The Strangers featuring Bonnie Owens - former singing spouse of both the late Buck Owens and Merle.
The concert attracted an enthusiastic audience but touring costs - including hiring an extra smoking carriage on the train to Adelaide - were no financial pleasure for promoter Wally Bishop who also toured Texan Red Steagall and the Coleman County Cowboys here in the late seventies.
Sadly, 20 years down the Lost Highway, Merle fulfilled his own prediction when he died on his 79 th birthday on April 6 at his Lake Shasta family ranch near Redding in Palo Cedro, California.
We have frequently featured video clips by Merle and duet partner Shotgun Willie Nelson, who turns 83 on April 29, on Nu Country TV.
We'll run another Merle tribute when Nu Country TV returns to Channel 31/ Digital 44 in winter.
CLICK HERE for our Merle obituary and exclusive 1996 interview extracts in The Diary.
DOUG BRUCE AND KEV BLOODY WILSON
HONOUR LATE TEXAN BUDDY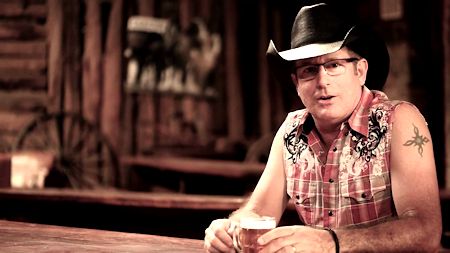 Expatriate Texan Doug Bruce enlisted country comic Kev Bloody Wilson to act in the video for The Tears to honour his late uncle Buddy Bruce.
Doug filmed the clip for the first single from his sixth album Unsung - A Tribute To The Songs of Buddy Bruce at The Tin Shed at the Toolleen Hotel between Heathcote and Echuca in the northern Victorian wine belt.
He honoured his uncle Buddy, a prolific Texan songwriter who died of cancer in his early sixties, with the album recorded at his Shoo Fly studio at Heathcote.
Buddy, unlike Doug's bassist dad Dale who performed with the late Johnny Duncan and toured here in the seventies with Red Steagall & The Coleman County Cowboys , never made it to Australia.
But Doug emulated fellow expat Texan ABC-TV-radio host Lucky Oceans by moving to Australia with wives they met in Nashville.
Doug met Jodie Doyle in Nashville in 2005 and they moved to Heathcote in the historic gold mining district near Bendigo.
Bruce's video for The Tears will feature in Series #30 of Nu Country TV in winter.
CLICK HERE for our review of Unsung in The Diary.
CLICK HERE for a Doug Bruce interview in The Diary on September 8, 2014.
LEGENDARY SINGER-SONGWRITER STEVE YOUNG DIES AT 73
Iconic Georgian born singer-songwriter Steve Young has died at 73 after a long stay in a Nashville hospital after a severe fall on October 23.
Young, who toured Australia five times, also survived a drive-by shooting by bandits at 17 near a Port Arthur bayside bordello in Texas when a steel-jacket bullet tore through his chest and severed an artery behind his heart.
The singer-songwriter wrote The Eagles huge hit Seven Bridges Road , Waylon Jennings 1973 Lonesome, On'ry and Mean
1979 album title track and Hank Williams Jr hits Long Way To Hollywood and Montgomery In The Rain.
Young was discovered by Cowboy Jack Clement at 17 and recorded an album with his band Stoned Country in 1967 before cutting his solo debut Rock, Salt & Nails in 1968 with James Burton, Gram Parsons, Tim Hardin and members of the Byrds and Flying Burrito Brothers.
The singer made his first Australian tour in 1989 after being interviewed for 3RRR-FM country show High In the Saddle in Nashville in 1988.
Young's debut Australian tour included a pit-stop on the Shipwreck Coast at Warrnambool before a gig at the quaintly named Camp Hotel in historic gold mining city Ballarat.
CLICK HERE for a short obituary in The Diary.
CLICK HERE for a 1999 interview with Steve in The Diary on December 14, 2006.
JASON ALDEAN AND FLORIDA GEORGIA LINE
MELBOURNE CONCERT REVIEW
WIN JASON'S CD AND DVD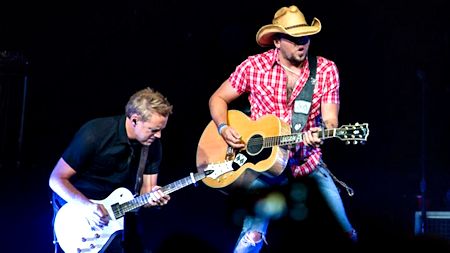 Georgian star Jason Aldean and Florida Georgia Line performed to an enthusiastic capacity crowd at Margaret Court Arena on Tuesday March 8 before headlining CMC Rocks Queensland in Ipswich.
The visitors delivered an energetic 32 song concert to fans enjoying relief inside the arena from the autumnal heat that reached up to 40 degrees in parts of Victoria.
Aldean and Florida Georgia Line later performed Ipswich with Lee Brice, Brantley Gilbert, Kip Moore, Tyler Farr, Blackjack Billy , Kelsea Ballerini, Chase Rice, Cadillac Three , Drake White and The Big Fire , The Hillbenders and Canadians Road Hammers and Tim Hicks.
To celebrate Aldean's Australian debut tour we have a special giveaway of his sixth album Old Boots, New Dirt and his live concert DVD Night Train To Georgia .
CLICK HERE for our membership page to win his CD and DVD.
CLICK HERE for our exclusive Aldean interview in The Diary on March 30, 2015.
CLICK HERE for our Jason Aldean and Florida Georgia Line live review on our Concerts page.
DEAD LIVERS BASSIST MICHAEL SCHACK LIVER TRANSPLANT
Dead Livers bassist and Nu Country TV 42 nd Willie Nelson July 4 picnic diarist Michael Schack is recovering after being the second member of the veteran outlaw band to have a successful liver transplant.

Schack, 65, was released from the Austin Hospital in March just before another of his bands Lost In Suburbia performed his Dead Livers song Star Of The West at the 40th Port Fairy Folk Festival.

The song, a tribute to the band's musical soirees at the famed Port Fairy Hotel once owned by former Collingwood football star Ronnie Wearmouth, is on the Dead Livers debut CD Greatest Misses .

"Ironically I'm the second member of The Dead Livers to have a liver transplant," Schack revealed as pedal steel guitarist Brendan Mitchell celebrated 16 years with his new liver that he received on the eve of the band's release of its second CD Reaching To The Western Sky.

Mitchell wrote the band's epic Ballad Of A Dead Liver , also on their Greatest Misses CD.

"I'm very disappointed I'm not playing at Port Fairy but you can't have everything," Schack joked about the festival he has played many times near his home in the Koroit satellite suburb Yarpturk.

The veteran musician and librarian is now in post-operative rehab in Melbourne.

CLICK HERE to buy the Dead Livers CDS on our Nu Country TV Record label page.

CLICK HERE for full photographic and literary details of Schack's magical mystery Texan tour in our Concerts Section.
CHASE RICE IGNITES CMC ROCKS QUEENSLAND AT IPSWICH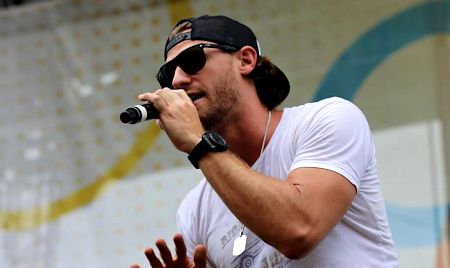 Chase Rice
Florida born, North Carolina raised country singer-songwriter Chase Rice is one of the headliners at CMC Rocks Queensland at Ipswich from March 11-13.
Rice, 29, is touring here to promote his third album Ignite The Night , his latest single Whisper and sports clothing apparel.
The singer shares the bill with Georgian star Jason Aldean, Lee Brice, Brantley Gilbert, Kip Moore, Kelsea Ballerini, Florida Georgia Line and other major artists.
Jason and Florida Georgia Line also play Margaret Court Arena in Melbourne - Tuesday March 8.
Rice co-wrote Florida Georgia Line's breakthrough hit Cruise with band member Brian Kelley with whom he also wrote three of his own chart songs.
CLICK HERE to read our exclusive interview with Rice in The Diary.
NU COUNTRY TV THREE MONTH HIATUS
WHILE EDITOR LAITH GRAHAM ENJOYS PARENTHOOD
CATHERINE BRITT PREDICTED CHRIS STAPLETON
SUCCESS FIVE YEARS AGO
WIN NEW CARRIE UNDERWOOD CD STORYTELLER
Oklahoma singing actress Carrie Underwood has released her acclaimed fifth album Storyteller after appearing on Australian TV in the movie Soul Surfer .

Carrie, 32, and Nashville Predators hockey star husband Mike Fisher, recently became parents of a son Isaiah.

The singer, who hosted the CMA Awards with Brad Paisley, sang about motherhood on Storyteller .

Carrie played St Kilda Palais in June, 2012, and also sings of domestic violence victims delivering fatal summary justice, nouveau outlaws fleeing to Mexico and triumphs of assertive women.

CLICK HERE for a Storyteller feature in The Diary.

CLICK HERE to win the CD on our membership page.
AUDREY AULD MEZERA FOUGHT FINAL BATTLE IN CALIFORNIA
Audrey Auld Mezera
Tasmania 's best known country music export Audrey Auld-Mezera died at the age of 51 on August 9 from cancer in her adoptive Californian home town.
The revered singer-songwriter, a frequent guest on Nu Country FM in our radio era and Nu Country TV , moved from Nashville to Stinson Beach in 2014 after being diagnosed with a melanoma.
Auld and husband Mez chose the beach so she could spend her final days in one of her favourite locales.
For several years Auld conducted song-writing workshops with inmates at San Quentin State Prison as part of her involvement with the non-profit organization Bread and Roses.
Before she left Nashville for California , she recorded her final album, Hey Warden , released earlier this year.
It was a collection of eight songs that Auld wrote with inmates and released through her own label, Reckless Records .
She also filmed one last video I Am Not What I Have Done - a song whose title came from an inmate's letter.
Audrey released eleven albums and three EPs on her Reckless Records label and recorded with musicians diverse as Bill Chambers, Kieran Kane, Fred Eaglesmith, Mary Gauthier, Dale Watson, Kasey Chambers and Carrie Rodriguez.
Her songs appeared on the FX TV shows Justified, Longmire, NCIS: New Orleans and The Good Guys .
Texas country singer Sunny Sweeney recorded her satirical tune Next Big Nothing.
CLICK HERE for an Audrey interview in The Diary on April 11, 2011.
DOUG ROWE RIP AT 69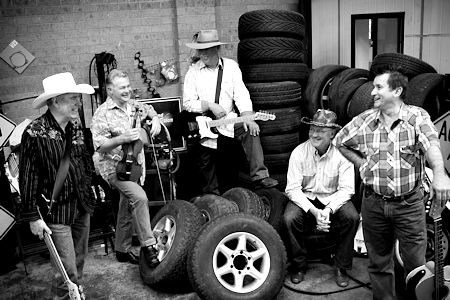 Doug Rowe (Centre) & Grand Junction
Former Flying Circus and Grand Junction guitarist and singer-songwriter Doug Rowe also died suddenly of a heart attack in Bathurst at the age of 69.
The expat New Zealander and one time Sydney Morning Herald cadet journalist, first scored chart success here with Flying Circus in the late sixties with Hayride , La-La and Run, Run, Run.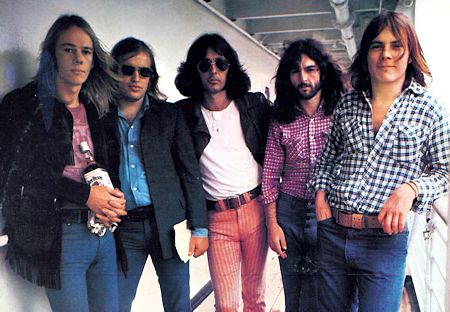 Flying Circus - Doug Rowe (second from left)
The band released five albums here and in Canada where Rowe, Sam See and other members lived between Australian forays including the 1973 Sunbury pop festival.
Rowe started his own recording studio in Toronto before he returned and joined Sydney band Grand Junction who won 1982 Golden Guitar with Married Women .
Grand Junction beat Melbourne outlaw band The Dead Livers in the Tamworth Starmaker final more than a decade before they both opened for Leon Russell and The Amazing Rhythm Aces at St Kilda Palais in 2000.
Doug later released solo albums - Havannah Street Blues and Hometown Lights - with Rob Breese and was a member of The Woodpickers with Broderick Smith.
CLICK HERE for Grand Junction 's debut on Nu Country TV on February 17, 2009.
WIN ALAN JACKSON CD ANGELS AND ALCOHOL
We have great news to warm up your winter - thanks to Sony Music country promotions chief Gary English.

You can win Georgian superstar Alan Jackson's huge selling 20th album Angels And Alcohol that debuted at #1 on Billboard charts in July.

Jackson , 56, and originally managed by expat Australasian promoter and publisher Barry Coburn, won a huge following on his two Australian tour for Rob Potts and Michael Chugg.

The singer wrote seven of the songs on his new album that is rooted in the traditional honky tonk sounds of the south with a nod to bluegrass.

They included his latest hit Jim And Jack And Hank from a disc that also name-checks Tom Sawyer and famed Beat generation novelist Jack Kerouac.

Jackson recorded the album with Texas born fellow singer-songwriter Keith Stegall - his long-time producer, also instrumental in the careers of John Anderson, Zac Brown Band, Clay Walker and the late George Jones.

CLICK HERE to read Alan's CD review in the Diary.

CLICK HERE to win Angels And Alcohol on our Membership page.
A.P. JOHNSON TRIBUTE SHOW REVIEW AND NEW CD OFFER
WILLIE NELSON 42ND JULY 4 PICNIC ODYSSEY
EMMYLOU HARRIS AND RODNEY CROWELL
ON THE DOCK OF THE BAY
TROY CASSAR-DALEY SWINGS AT CASINO PALMS
KASEY CHAMBERS TAKES HARRY HOOKEY TO THE FORUM
ZAC BROWN BAND INVADE PALAIS ON THE DOCK OF THE BAY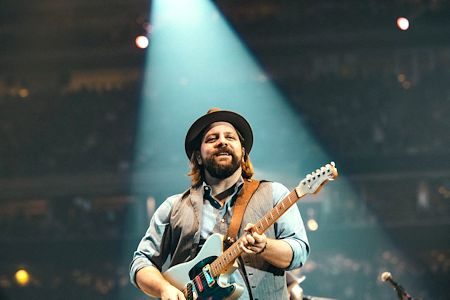 Treble Grammy winning Georgians - The Zac Brown Band - played a sold-out show at the St Kilda Palais on their second Australian tour.
The Dixie octet showcased new songs from its seventh album Jekyll & Hyde , released here later this month.
CLICK HERE for our review in our Concerts section.
LADY ANTEBELLUM, KRISTIAN BUSH & MADDIE & TAE
CONCERT REVIEW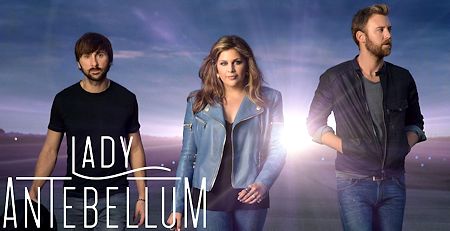 Seven time Grammy winners Lady Antebellum performed at Rod Laver Arena on their second Australian tour after playing CMC Rocks Queensland in Ipswich.
Former Sugarland singer Kristian Bush and teenage duo Maddie & Tae also played on the marathon concert that kicked off at 7 p.m.
CLICK HERE for our review in our Concerts section.
BIG & RICH, COWBOY TROY AND CHRIS YOUNG REVIEW
Chart topping duo Big & Rich , Cowboy Troy and Tennessean Chris Young invaded Melbourne for a memorable mid-week concert at 170 Russell St , nee The Billboard on the eve of their return to CMC Rocks Queensland in Ipswich .

It was a cosmic collision of country, rap, dub and scratch music in the cavernous clip that also hosted Taylor Swift in 2009 before she became a superstar after CMC Rocks The Snowys at Thredbo.

< photo by Carol Taylor

Big & Rich were joined on stage by giant Texan African American rural rapper Cowboy Troy and an even bigger dancer in a kilt and tee shirt emblazoned with one of their hits Save A Horse, Ride A Cowboy .

CLICK HERE for our concert section for our review and Carol Taylor's photos.
THE KINKSTER'S RETURN TO CARAVAN CLUB & OAKLEIGH POKIES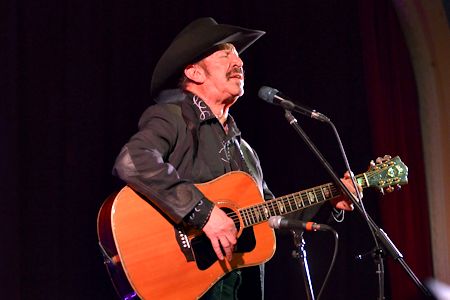 Kinky Friedman live at Caravan Music Club - photo by John "Kip" Karpik
Singing Texan crime novelist Kinky Friedman performed to capacity crowds at the Caravan Club in Oakleigh on the Australia Day weekend during his hit and run invasions of local pokies palace The LeighOak Club.
The Kinkster , 70, and Tel Aviv tour manager Zoe broke the bank when they won more than $4,000 on the machines.
An armed security van was sent from the city with cash for Friedman and his frau when the club did not have the loot on site.
The big win was sharp contrast to his loss when he was returned to the private sector after running for Texas Agricultural Commissioner in the 2014 Lone Star State election.
Kinky promised to legalise marijuana as a cash crop for medicinal purposes - a campaign that suffered a similar fate to his run for JP at Kerrville in 1986 and Texas Governor in 2006.
The defeat freed Friedman up to finish new novel The Detective In The Hard Boiled Computer, now at the printers, but not on sale for his Journey In Time tour.
Instead the Kinkster, who runs the Utopia animal shelter on his Echo Hill ranch in the Texan hill country, toured to promote three recording relics, now available on CD.
"But anyway, politics' loss has been literature's gain, and I'm back to writing again for the first time in about eight years," the legend revealed after autographing previous book Heroes of A Texas Childhood for ABC-TV comedian Brian Dawe.
The other weekend loser was The Kinkster's favourite photographer Kip Karpik who was separated from his wallet at the Caravan Club on Friday night but reunited with it the next morning - the Jewish Sabbath - on the mean streets of Brunswick.
CLICK HERE for Kip's Kinky photos in our Caravan Club review in our Concerts section.
CLICK HERE for more of Kip's photos from Kinky's Caravan Club debut on November 28, 2013.
CLICK HERE for our feature on the Kinky-Van Dyke Parks tour in the Diary on June 28, 2011.
CLICK HERE for our exclusive Kinky interview in The Diary on May 18, 2011.
CLICK HERE for On The Road With The Kinkster and Billy Joe Shaver feature in the Diary on March 24, 2002.
MAVERICKS, GARY ALLAN AND BLACKJACK BILLY
PALAIS CONCERT REVIEW
MIRANDA LAMBERT LEADS GAL PAL POSSE TO CHART TOPS
Texan Miranda Lambert debuted at #1 on the all genre Billboard Top 200 chart with her sixth album Platinum.

We have an exclusive feature on the Pistol Annies creator in our Diary this week as she surrenders her chart top to Jack White who produced Van Lear Rose - the 2004 album by Loretta Lynn who is still performing at the ripe young age of 82.

Lambert and Missouri born star Sheryl Crow honoured Kentucky born Loretta by performing with her on her video and song for her 2010 tribute disc.

Coal Miner's Daughter: A Tribute to Loretta Lynn also featured Kid Rock, Reba McEntire, Alan Jackson, Gretchen Wilson, The White Stripes , Martina McBride, Paramore , Steve Earle and Faith Hill.

Sissy Spacek played Loretta, Tommy Lee Jones was cast as her late husband Mooney, Beverly D'Angelo portrayed Patsy Cline and the late Levon Helm portrayed her father Ted in 1980 movie Coal Miner's Daughter , based on her 1976 autobiography.

We also have features on other female icons Crow, Carlene Carter, Sydney chanteuse Christie Lamb and diverse male peers in our Diary.

CLICK HERE for a Miranda Lambert CD Feature in The Diary.
CLICK HERE for a Davidson Brothers CD review in The Diary.
CLICK HERE for a Jared Porter CD review in The Diary.
CLICK HERE for an exclusive Adam Brand interview in The Diary.
CLICK HERE for a historic Charlie Daniels interview in The Diary.
CLICK HERE for a feature on Kansas singer Jerrod Niemann in The Diary on April 6.
CLICK HERE for a new Harmony James CD review in the Diary.
CLICK HERE for The Mastersons CD review in the Diary.
CLICK HERE for a Sheryl Crow CD Review in The Diary on June 16.
CLICK HERE for a Joe Ely CD Review in the Diary on July 7.
CLICK HERE for a CD feature on Willie's 69th album Band Of Brothers in the Diary CLICK HERE for a Christie Lamb CD review in The Diary.
CLICK HERE for a Carlene Carter CD review in The Diary
CLICK HERE for Luke O'Shea's new CD review feature in The Diary.
CLICK HERE for Rodney Crowell's new CD Review feature in The Diary.
CLICK HERE for an exclusive interview with Nashville band Blackjack Billy in the Diary.
CLICK HERE for a review of new Johnny Cash CD - Out Among The Stars
CLICK HERE for a Rod Balch CD Review
CLICK HERE for a feature on Arizona bluegrass and country star Dierks Bentley in the Diary.
CLICK HERE for a feature on Kansas singer Jerrod Niemann in The Diary.
TOBY KEITH-KELLIE PICKLER-ELI YOUNG BAND CONCERT REVIEW
GRETCHEN WILSON FORUM CONCERT REVIEW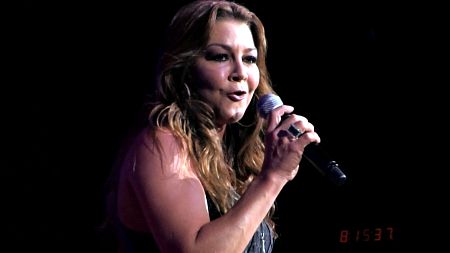 A funny thing happened on the way to The Forum.

The gig by Redneck Woman Gretchen Wilson and Novocastrian Morgan Evans was transferred from the St Kilda Palais to the even more historic Forum in the shadows of Federation Square and The Duke Of Wellington where drinkers can have an ale with the whale - Brian Roberts.

It may be a few long seasons since The Whale pulled on the boots for Richmond and South Melbourne but his legend looms large in the Flinders St watering hole.

But Gretchen, 40, and Evans, 28, sampled an ale from James Boag & Son in Van Diemen's Land at the Forum.

CLICK HERE for our Gretchen Wilson-Morgan Evans concert review.
CLICK HERE for an exclusive Gretchen Wilson interview in The Diary.
WIN TOBY KEITH CD DRINKS AFTER WORK
Oklahoma superstar Toby Keith is making his debut Australian tour in March and we have his 19th CD Drinks After Work for new members and renewing members.

Universal Music promotions chief Jordan Wiggins has provided copies of the huge selling disc to help promote the multi-millionaire's tour.

Keith, 53, and father of three including singer daughter Krystal, headlines the 7th CMC Rocks The Hunter festival from March 14-16.

He also plays Rod Laver Arena with Kellie Pickler and the Texan Eli Young Band on March 19.
Drinks After Work is dedicated to Keith's late bass player-bandleader Chuck Goff, who died in a Cleveland County car accident in February, and features the emotional anthem Chuckie's Gone.

It was déjà vu - on March 24, 2001 (Keith's 17th wedding anniversary), his father was killed in a car accident on Interstate 35.

That event and the September 11 attacks in 2001 prompted Keith to write Courtesy of the Red, White, & Blue - a song about his father's patriotism and faith in the United States.

Chuckie's Gone leads off with lyrics about his fellow Oklahoman Chuck not being around for the spring tornadoes that defined so much of 2013 for multi-millionaire Keith and his home state.

You can win Drinks After Work by becoming a Nu Country TV member or renewing your membership.

CLICK HERE for our Membership Page for full details.
CLICK HERE for a Toby Keith feature in our Diary.
KINKY FRIEDMAN BI-POLAR TOUR
CARAVAN CLUB CONCERT REVIEW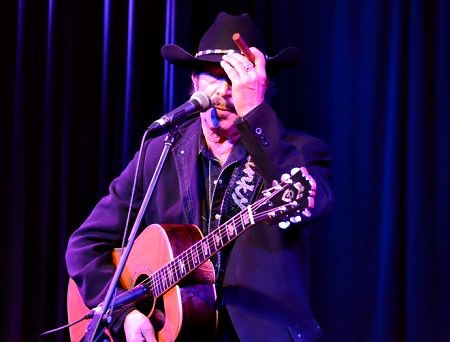 Kinky Friedman live at Caravan Music Club 28/11/13 - photo by Kip Karpik
Singing Texan crime novelist Kinky Friedman performed two Melbourne concerts on his 10th Australian tour in November.

This time The Kinkster left 2011 touring partner Van Dyke Parks at home and performed solo.

Our photographer to the stars and former Nu Country FM treasurer Kip Karpik was stage side at The Toff In The Town at Curtin House.

And our TV show producer David Dawson was lured from his sick bed by the Kinkster, now 69 and holding, to analyse his new jokes at the user friendly Caravan Club in Oakleigh.

CLICK HERE for our concerts page to inspect their collateral damage.
ALAN JACKSON - SARA EVANS MELBOURNE CONCERT REVIEW
TOBY KEITH 2014 AUSTRALIAN TOUR CAPITAL CITY DATES
WIN HIS CD HOPE ON THE ROCKS
Oklahoma country star Toby Keith makes his debut Australian tour when he headlines the 2014 CMC Rocks The Hunter festival in NSW from March 14-16.

Former Mississippi boxing champion Paul Thorn and Texan Eli Young Band are also to return here and join Keith, 51 and father of singer Krystal, at the three day festival.

U.S. Dancing With The Stars winner Kellie Pickler, duet partner of Melbourne singer Jasmine Rae, also plays the festival that features return of U.S. artists Love & Theft and Craig Campbell.


Keith, Pickler and the Eli Young Band also play concerts in Brisbane and Sydney before ending the tour at Rod Laver Arena in Melbourne on Wednesday March 19.

Tickets go on sale Friday October 4 for all capital city concerts.

Other acts announced for CMC Rocks The Hunter include expatriate Australian bluegrass trio The Greencards, Aussie country king Lee Kernaghan, The Flood, Morgan Evans, Adam Eckersley Band, Luke O'Shea, Kaylens Rain and New Zealand singer Jody Direen.

You can win a copy of Toby's 18th CD Hope On The Rocks by becoming a member of Nu Country TV or renewing your membership before our 21st series in December.

CLICK HERE for details on our Membership page.
CLICK HERE for our Hope On The Rocks feature in the Diary on July 2.
CLICK HERE for the CMC Rocks The Hunter 2014 line-up in Tonkgirl's Gig Guide.
CLICK HERE for our Paul Thorn feature in the Diary on June 10.
CLICK HERE for an exclusive new interview with Sara Evans in The Diary on
August 6.
CELEBRATE AND WIN 40 YEARS OF CHARLEY PRIDE DOUBLE CD
When Charley Pride released his first single The Snakes Crawl At Night in 1965 it went to radio with no accompanying photo.

It scored major airplay and in 1967 Pride became only the second African American to appear on the Grand Ol Opry.

Charley's song launched his career celebrated on his 17th Australian tour in November with a 40 song double CD 40 Years Of Pride on Sony Music.

It includes his first single and 39 other classics that began with debut #1 hit - All I Have to Offer You (Is Me).
The album also includes Kiss An Angel Good Morning - a million-selling hit that helped Pride win CMA Entertainer of the Year in 1971 and Top Male Vocalist in 1971 and 1972.

Other memorable Pride standards included are Is Anybody Goin' To San Antone, Mississippi Cotton Picking Delta Town, Roll On Mississippi, I'm So Afraid of Losing You Again, Someone Loves You Honey, When I Stop Leaving I'll Be Gone, Does My Ring Hurt Your Finger, Burgers and Fries and You're So Good When You're Bad.

You can help us return to Channel 31 for our 21st series over the summer festival season by becoming a member of Nu Country TV or renewing your membership.

CLICK HERE for our Membership Page for details on how to win 40 Years Of Pride.
CLICK HERE for our exclusive Charley Pride interviews in the Diary.
WIN WILLIE NELSON TOO
Singing actor Shotgun Willie Nelson celebrated his 80th birthday by donating proceeds from a star studded concert to the Fire Fighters and Emergency Services volunteers who perished in the West fertiliser plant explosion.

Funds go to the fire department at West - five miles from neighbouring town Abbott where Willie and elder sister-pianist Bobbie were raised more than 80 years ago.

Willie's record company Sony has extended his generosity to Nu Country TV that returns to air on
C 31 from June-September for our 20th Series.

You can help keep Nu Country TV on air by becoming members - we will reward you with a copy of Willie's acclaimed 61st studio album Let's Face The Music And Dance.

Willie and survivors of his Family Band released the album on the eve of his 80th birthday - April 30.

Loyal members can also win the CD and other prizes - including DVDS - by renewing your memberships.

We also have video clips by Willie and other artists that we will feature in our winter series.

CLICK HERE for our membership page for details of how you can win and help us survive

CLICK HERE for a new Willie Nelson feature in The Diary.
WIN BRAD PAISLEY CD
We have West Virginia superstar Brad Paisley's huge selling ninth album Wheelhouse that topped charts on debut with sales of 100,000 plus.

Paisley's sensational 21 track album explores racism, religious extremism, domestic abuse and pitfalls of cyber cheating on Facebook.

We also have singing actor Tim McGraw's 12th album Two Lanes Of Freedom and others announced as we count down the days to our return.

You can win the album by visiting our membership and Facebook pages.


CLICK HERE for an exclusive new feature on Brad in our Diary.

CLICK HERE for our Membership Page to see how you can win Wheelhouse.
WIN GARY ALLAN CHART TOPPING CD
SERIES #19 GRAND FINALE OFFER
NU COUNTRY ON CATCH UP TV ON CHANNEL 31
If you miss Nu Country TV live on C 31 Saturday 10.30 pm or Monday 2.30 pm and midnight and Thursday at midnight there is another way to see the show at your leisure.

Visit the Channel 31 programs web page and Click on the Nu Country logo and follow the link to Catch-Up TV.

Here is the Channel 31 web page address - http://www.c31.org.au/program
DWIGHT YOAKAM PALAIS REVIEW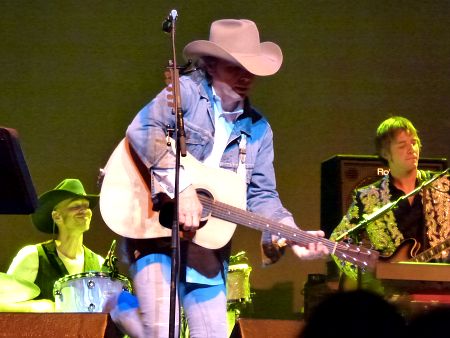 Nu Country TV membership officer Peter O'Keefe and gig guide collator Annie Christophers have combined their literary and photographic skills.

They combined on their review of the acclaimed Dwight Yoakam-Lee Kernaghan concert at St Kilda Palais.

Peter - former host of Lubbock Or Leave It on Nu Country FM - wrote the review and Annie took the photos that are also on our Facebook Page.

It was Kentucky born Californian singing actor Dwight's third Australian tour.

Dwight, 56, was promoting his 20th album 3 Pears on Warner Music.

Lee, 48 and father of two, showcased his 10th album Beautiful Noise six months after his previous Palais concert with Dierks Bentley in March.

We will feature their latest video clips in Series #19 of Nu Country TV - stay tuned here.

Click Here for our exclusive review in our concerts section.
FACEBOOK DEBUT
You can also follow Nu Country TV on Facebook - courtesy of gig guide collator Annie Christophers and our loyal public officer Denise Kuhl.

They will post photos of their overseas festival tours and local concerts they attend.
You can interact live with them at Facebook - http://www.facebook.com/NuCountryTV
The Nu Country TV show has been added to the C 31 streaming list.

Just follow this link on your computer or mobile phone when we return -
http://www.c31.org.au/program/view/program/nu-country-tv

Nu Country TV also returned to C 31 - Digital 44 - in South Australia on Thursday October 11.

The far-reaching Adelaide station screens Series #18 at 9.30 pm each Thursday.
OUR THANKS - HOW TO WIN TIM MCGRAW CDS
WIN DIERKS BENTLEY NEW CD
WIN ERIC CHURCH CHIEF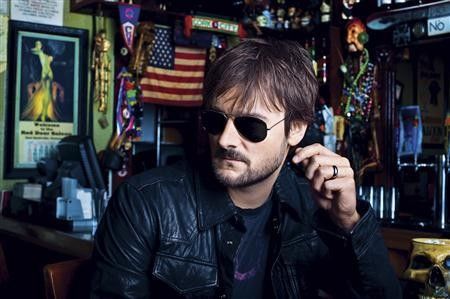 Eric Church
EMI Records Promotions ace Bianca O'Neill has donated copies of the hot albums by North Carolina young gun Eric Church.

Eric, 37, topped the all genre Billboard Top 200 on debut with his third album Chief and 5th album The Outsiders that we feature in Series #25 of Nu Country TV .

You can help Nu Country TV survive and triumph on C 31 and win the Chief CD as a token of our appreciation

CLICK HERE for our membership page to check out your latest rewards for keeping our flame burning bright.

CLICK HERE for an exclusive Eric Church feature in our Diary.
HOW TO WATCH NU COUNTRY TV LIVE ON THE WEB
We have more good news for Nu Country TV fans here and overseas.

Select episodes of the show are now available online at the digital web page of the Victorian mother ship C 31.

That's a bonus for Peter Hosking - our founder and executive producer-in-exile in
Prague - and international artists touring Australia in 2011.

The episodes available for viewing online are the latest episodes of Series 15,
2011.

Visit : www.c31.org.au/program
And Click on Nu Country TV

MORE VIDEO CLIPS NEEDED
Nu Country TV beams into Phillip Island, West Gippsland, Geelong & the Surf Coast, Bellarine Peninsula, north to Mt Macedon and east to the Dandenongs.
We're also featured on C 31 in South Australia - home state of expatriate Greencards multi-instrumentalist Kym Warner and Nashville recording artist Jedd Hughes.
Golden Guitar winner Beccy Cole, Jake Nickolai and 2000 Star Maker winner Cat Southern also earned their stripes in home state South Australia.
This means 750,000 viewers plus for videos, interviews and live gig footage weekly.
Please send your video clips in mini-DV or DVD-R format to Nu Country - 45 Ferndale Rd, Glen Iris 3146
We'll keep you up to date on country music through our concert reviews, features in our Diary and tours in TonkGirl's Gig Guide.
CLICK HERE for our Gig Guide.
And CLICK HERE for our live concert reviews.
©nu country 2003
contact:music@nucountry.com.au



Last update
5 December 2016

Nu Country TV
C31 VICTORIA
SERIES 31
starts on
24 September 2016
Time: 9.30pm
REPEATED
Mon 2.30 am


VIEW SELECTED
SHOWS ONLINE
ON C31

DIG COUNTRY RADIO
The ABC has added Dig Country to its on-line jazz and roots radio stations.

Adelaide bluegrass and roots country expert Richard Porteous and peers have created a joyous sound that is reminiscent of Nu Country FM in its halcyon days.

Tune in by visiting Dig Country.
LOCAL COMMUNITY RADIO
Other radio avenues include -

David Heard's Acid Country on PBS
106.7 FM
Thursday 3-5.30 PM
Now streaming live

Denise Hylands Twang on RRR 102.7 FM Saturday 2-4 PM
Now streaming live


Midweek Country INRFM 96.5FM Wednesday between 7pm & 9pm.
The presenters alternate each week, they are Mike Pealing & John Worth.
Now streaming live

COLIN WEIDNER
Texas Time Travellin North West FM Glenroy 98.9 Saturday
6 p m - 8 p m

FRANK MCHUGH
That's Country
North West FM Glenroy 98.9 Sunday
12pm - 3 p m
IAN EDWARDS
playing a mix of Oz, US, Bluegrass Western swing & everything in between, on the Double Clutchin Weasel Show On 88.6FM
Wednesday night
@ 10.00PM - 12.00pm
GEELONG COUNTRY 89.3 FM - 24 hours non-stop country
Stereo 974 FM - Bob Taylor 9 am - 6 pm week days.
Truck Stop Country Rod Boyd - midnight to dawn.
Now streaming live

BIG PETE WINDLE
FRIDAY
3MDR 97.1FM
9.30 pm to midnight
[full on country]
Now streaming live
5 Foot High And Rising with Myles O'Neil Shaw PBS - 106.7 FM - Monday 1-3 p m.

3RPP Mornington Peninsula Radio

Monday 7-9pm
Country Mix with Ken Brown
Saturday 7-9pm
Kool Country
Barbara Kuhl
Tuesday & Thursday Breakfast 6-9am
Wild Western Swing and Wicked Wacky
Country - Steve Burley
Sunday 4am-7am
BJs Country Music John Burrows
2AIR FM 107.9 COFFS
HARBOUR/INTERNET RADIO/PLAY
Graham Bell
8PM TO 10PM EVERY THURSDAY NIGHT