DAVE'S DIARY - 23 SEPTEMBER 2012 - ROO ARCUS CD REVIEW
2012 CD REVIEW
ROO ARCUS
THIS HERE COWBOY (CORE-SONY)
CITY GIRL SAYS HOOROO TO ARCUS
"Pretty city girl liked my country charm/ traded city ways for life down on the farm/ didn't take too long, guess the novelty wore thin/ big city lights called her back again/ and she left me cold." - Stretching Wire - Roo Arcus.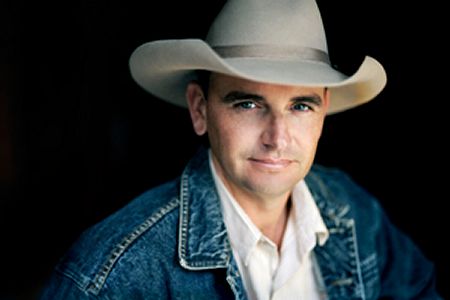 Cattle farmer Roo Arcus struck gold early when late bush balladeer Slim Dusty recorded his tune Ringers, Rigs and Drivers for his trucking album Making A Mile.

The song - written about a traffic jam when 13 road trains pulled into the Arcus family farm - also landed the singer-songwriter a 12-month stint as Slim's touring partner.

Touring tutelage with Dusty and bandleader - former New Zealand dairy farmer Rod Coe - enabled Arcus to cut his 2000 debut album Station Boy.

It earned the singer two 2001 Golden Guitar nominations and predictions of a creative career that began on his graduation from the inaugural 1997 Australian College of Country Music.

But that was more than a decade ago and a double disaster knocked the Goulburn gaucho out of the saddle.

Arcus's mother was diagnosed with leukemia in 2004 and a protracted drought decimated farms - including their Southern Tablelands family property.

The drought - throughout the west of NSW and Queensland and way beyond - aggravated the Arcus family pain.

And, unlike city slickers who switch jobs at the drop of a hat, the Arcus clan toughed it out.

That was then and now, after exiting the heartbreak highway, Arcus is making a comeback with second album This Here Cowboy on Core.

Label boss Rod McCormack has produced an even dozen songs at his Music Cellar studio with the local A-session team.

Arcus wrote five songs on the disc including one with McCormack.

Song sequencing ensures three of those tunes are saved for the album finale.

This seems to be a marketing strategy for Arcus and fellow bush boy Luke Dickens.

Arcus exploits a winter wind wire metaphor for a ruptured romance in his song Stretching Wire - a timeless tale of a country boy-city girl calamity.

It's a credible tale that resonates with the listener - especially community radio and regional Pay TV audiences.
CHURCH ON THE HILL
"You may not fit in your old wedding dress/ my hair, well there ain't much of it left/ over the years it's been put to the test/ but my love's as strong as the day that we met." - Church On The Hill - Roos Arcus.
The character in album finale Church On The Hill is a complete contrast to the femme fatale who decamps back to the city in Stretching Wire.
Maybe there's a moral in the tail of the tale and album for those rural marriages that survive the storms of life.

The preceding Arcus original Out On The Farm is a homespun homily extolling the virtues of bush camaraderie and family triumphing over fad driven competitive cyber cities.

It's a bucolic bliss that often takes a lifetime to appreciate and shares the value of deals honoured by the shake of a hand - a philosophy praised in an Adam Harvey staple.

The first Arcus original to surface here is Bluecollarville - another tune praising the stoic spouse who stands by her man far from those mythical mansions on the hill.

It's a paean to the working family whose grunt work may not generate the fame and fortune of the big city high fliers who often crash and burn.

But, like the pioneers, it has the virtue of longevity.

The title hints that perhaps this album is being pitched at a big market far away from the narrow confines of the unlucky radio country.
This Here Cowboy is trying to break into the wide-open spaces of the lucrative gold - strip-mined by Texan George Strait and Georgian Alan Jackson.

The other original is collaboration with McCormack on Little By Little where the sinner tries to rebuild trust by chipping away at the walls and moats erected by the victim.

It's a subject with universal appeal and shares title but not theme with the James House 1995 hit on his Days Gone By album.

So is the album's hedonistic entree title track where the character breaks the mould of cowboys who ride off into the sunset leaving dusty trails of broken hearts.

It's not surprising to learn one of the writers is Ben Hayslip of the prolific Peach Pickers hit team.

Other writers earning royalties from Arcus include Boy Howdy refugee Jeffrey Steele and chart magnets Tim Nichols, Tony Martin, Mark Nesler, Rick Bowles, Larry Boone, Josh Leo and frequent Aussie tourist Jerry Salley.

It's a safety net of sorts to propel the album at Music Row gatekeepers ever on the alert for Horses Of Troy they can't saddle up on their own terms or turf.
THE COVERS CAVEAT
"Deals are made with the shake of a hand/ man lives by the law of the land/ and his words as strong as the sky is blue." - Out On The Farm - Roo Arcus.
Arcus explained his song choice this way in a recent interview.

"We just made the whole thing about the strength of the song," Arcus said.

"When I first went to Rod I said, 'There's no secret formula for success, so what is our best chance of success with this album?'

And, he said, 'It has to be about the strength of the song. Nobody is going to care if you wrote it or somebody else did.'

"People are going to like a song or they aren't. There is nothing worse than buying an album just to find out that the two songs that made you buy it are the only good ones and rest are just fillers so we just wanted to make an album of 12 great songs and we had so many to choose from.
"Even on the day before we went into the studio I was still sitting on 18 songs going: how do I whittle this down to 12? So, it was a nice problem to have."

Arcus, who became a father in his hiatus, had plenty of time to plot his return.

"Things just compounded and made it very difficult to get back to my music, almost to the point where I never thought I would get back to it," Arcus revealed.

"It helped being able to sit on the other side of the fence for so long and think about what I wanted to do. This album is just 100 % me. It is the album I wanted to record, they are the songs I want to sing, I haven't chosen them for any particular reason - because one group of people would like this song and another would like that one - it is really just 12 songs that I like."

Arcus proves a master of swing and maybe mood swings as he delivers his highly accessible pure country music with the ease of Texans Strait and old Shotgun Willie Nelson.

Hopefully this will leap the moat into the mainstream and give the singer the confidence to fill his next album with his originals - and maybe a few co-writes.