DAVE'S DIARY - 1 MARCH 2005 - PREVIEW EPISODE 9 -SERIES 3
NU COUNTRY ARTS CENTRE CONCERT ON TV
Davidson Brothers - Arts Centre 30/1/05
Photo by Andrew Wuttke

We have good news about the most under-represented musical genre in Australia.

Thanks to our benefactors at the Arts Centre we present highlights of our exclusive Nu Country TV concert on Sunday January 30.

All artists are featured on Nu Country TV - at 8 p m on Saturday March 5 - on C 31 - and again on Tuesday March 8.

The free Arts Centre lawn matinee showcases hot young artists on the cutting edge of the genre.

They include free spirits destined to follow their dreams beyond concrete corrals of their nation's cities to the biggest challenge - overseas success.

Artists willing to chance their hearts, soul and talent on a long winding highway that made a huge superstar of expatriate Australasian Keith Urban who played to capacity houses on his triumphant return tour in February.

Urban, 38, spent more than 12 years perfecting his art in the most competitive music market in the world.
And, despite hitting horrific hurdles on the journey and airplay boycott on Australian commercial radio, he has triumphed.

The garrulous guitar slinger has won a brace of major awards, performed live on the Grammy Awards show and now returns in May for the Logies.

It's a fitting reward and comment on TV as the surrogate radio in the greatest nation in the world with the narrowest music formats.

Expatriate artists Sherrie Austin, Jamie O'Neal, Catherine Britt, Jedd Hughes, Audrey Auld Mezera and The Greencards are now earning their stripes on the world country stage.

Others such as Kasey Chambers and Adam Harvey have retained their homeland as a base for regular invasions of the U.S. and Canada.
THE NEW AUSSIE POSSE
Arts Centre producer Sue Bailey honoured Nu Country TV by choosing it as a key player in the Summertime Grooves season.

The concert, more than six months in planning, was a huge success with many music lovers flocking to the lush lawn for our big day out.

Other live songs will be featured in future Nu Country TV episodes during Series #3 and #4.

The show, hosted by interviewer and videographer Heather Rutherford, will be also repeated during winter as our enthusiastic volunteers recharge their batteries.

Unencumbered by sound and lighting problems that plague rock gigs and pub shows the Arts Centre sound crew mixed the vocals and instruments with clarity.

This enabled our highly professional volunteer camera crew - director-producer Peter Hosking, editor Michael Wormald and host Heather - to capture highlights.

Our technician and soundman Rodger Delfos ensured the aural results complimented the visual presentation.

Corrina Steel
Arts Centre 30/1/05
Photograph by Andrew Wuttke
And our web mistress Anne Sydenham and Arts Centre photographer Andrew Wuttke have combined their talents for a visual treat on our web page.

New generation artists The Davidson Brothers, Jake Nickolai, Kim MacKenzie and Corrina Steel presented a mix of their original material and crowd favourites.

Seasoned Sunraysia reared roots country band The T-Bones and bluegrass beaus and belles Barnlaid provided the experience of their years.


DAVIDSON BROTHERS - HOME TOWN HEROES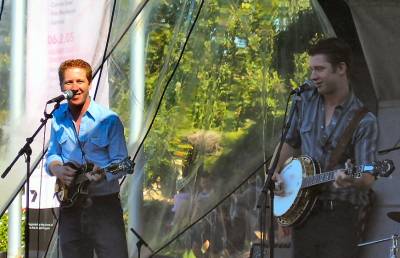 Davidson Brothers - Arts Centre 30/1/05
Photo by Anne Sydenham
Gippsland born and bred bluegrass band The Davidson Brothers headline the Nu Country TV Arts Centre concert on C 31 this Saturday - March 5 - at 8 p m.

The duo, fresh from trips to Kentucky, Tennessee and Tamworth, rarely play in their adoptive hometown Melbourne.

But on this occasion Lachlan and Hamish enlisted A team guitarist Sam Leman and bassist Paul Gadsby to flesh out their sound.

The duo joined former Nu Country TV DJ and songbird Leslie Avril after dark on the Sabbath beyond the city limits in another gig.

Director Peter Hosking chose their version of the Tommy Duncan western swing song Stay All Night Stay A Little Longer as their entrée.

The song was a staple in the diet of Duncan's famed band The Texas Playboys headed by the late Bob Wills.

Wills is also being honoured this weekend in Austin, Texas, with a stage show A Ride With Bob: From Austin to Tulsa.

It co-stars Ray Benson and his famous band, Asleep at the Wheel who have honoured Wills with a brace of tribute discs.

The show opens on Thursday and ends on Sunday - the 100th anniversary of the birth of Wills who died at 70 on May 13, 1975.

The Duncan song was also a favourite for septuagenarian Texan singing actor Willie Nelson who was forced to cancel his Australian tour at the 11th hour because of acute laryngitis.

So it was timely the Davidson Brothers joined Lee Kernaghan as he replaced Willie at the Mulwala Yarrawonga music festival last weekend.

Lachlan also attended the Myer Music Bowl for the Tsunami concert that Willie had been booked to headline.

Davidson, unlike most rock writers, arrived in time to catch international headliners Michael Franti and Redneck Woman show stealer Gretchen Wilson - only Grammy Winner on the bill.

CLICK HERE for a Davidson Brothers story from the Diary on January 12, 2005.

JAKE NICKOLAI FROM WHYALLA TO VICTORIA
Hotshot Whyalla born guitarist and singer-songwriter Jake Nickolai was joined on stage by harmony singer Kylee Ellis.
The duo, living in harmony on the Mornington Peninsula, performed Three Days Driving - penned by Nashville hit writer Vern Rust and Aussie singer Mark O'Shea.
Kylie, who won many fans at the concert, also appears in the video for Jake's song Think About You from his new EP.
Nickolai, 20, is about to release the EP as a sequel to ABC Music single Faster that has been a popular video on Nu Country TV.

Jake Nicholai & Kylee Ellis 30/1/05

Photo by Andrew Wuttke
Jake and Kylee Ellis were among the capacity crowd who enjoyed Keith Urban's exciting concert at the St Kilda Palais on Saturday night.

He met Urban backstage and had two guitars autographed by his superstar mentor.

Nickolai is also featured on acclaimed ABC album Crossing The Tracks with a countrified version of Daniel Johns penned Silverchair hit Miss You Love.

Check out Jake at - www.jakenickolai.com
KIM MACKENZIE - BUFFALO WOMAN
Teenage Toowoomba troubadour Kim MacKenzie has finished recording her debut CD with Flood singer-songwriter and guitarist Kevin Bennett.

Kim, the unsung heroine of the concert, amazed the sound crew and impartial critics with a stunning performance.

She showcased Buffalo Woman - one of several collaborations with producer Bennett.

Young Melbourne guitarist Lachlan Robinson supported Kim during her stellar debut in the Garden state.

Meanwhile The Flood won a plum role as support on the national tour by the Neville
Brothers; the Louisiana band is promoting new CD Walking In The Shade Of Life.

Stay tuned here for a Kim update.


< Kim McKenzie - 30/1/05
Photo by Andrew Wuttke
CORINNA STEEL - BEHIND MIKE TO FRONT
Former Nu Country FM DJ Corinna Steel also won fans with her performance with her band.

Corrina performed original tune Turn On The Lights from debut disc Wayward on her indie label Snakebite distributed by Shock.

The Camden chanteuse and slide guitarist Jeremy Edwards made the journey from the mean streets of Sydney.

CLICK HERE for a Corrina story from the Diary on November 14, 2004.
T-BONES SIZZLE FOR THEIR ART
T-Bones - 30/1/05

Photo by Andrew Wuttke

Sunraysia reared roots country band The T-Bones closed our concert but here they bookend this episode with their riveting tunes Country Boy and Melbourne Town.

The band could have played all night and provided a hard edge to the organic music of their younger peers.

Singer Andrew Pupillo's song Country Boy is from the band's 1997 disc 5 Days Gone - a staple on Nu Country FM in its halcyon days.
So was his tune Melbourne Town - a highlight of their 1993 disc Red Dust Rain.
In the latter tune Pupillo's AFL team Richmond "got done by 93" at the MCG.

And, with Tigers rover David Rodan and ruckman Jay Schulz already wounded by injury, they face a daunting task against Geelong at the same venue in the opening round on Sunday March 27.

CLICK HERE for a T-Bones story from the Diary on January 9, 2005.

BARNLAID - LOST HIGHWAY OF PAIN
Barnlaid - Arts Centre 30/1/05 - Photo by Andrew Wuttke
Melbourne bluegrass band Barnlaid has been a popular act at Nu Country Christmas parties at the famed Bush Inn in West Toorak.

So the band was a logical choice to open the concert with a dash of its radio friendly repertoire.

It chose a revamp of Glenn Russel Dauphin song Highway Of Pain, made famous by award winning bluegrass star Del McCoury and also recorded by Seldom Scene.

Barnlaid, renowned for colourful costumes and stage show, was manna from heaven for the videographers.

CLICK HERE for a BARNLAID story from the Diary on November 10, 2004.