DAVE'S DIARY - 28 OCTOBER 2003 - ROSEY NIX ADAMS OBIT
ANOTHER LIMB LOPPED FROM CARTER FAMILY TREE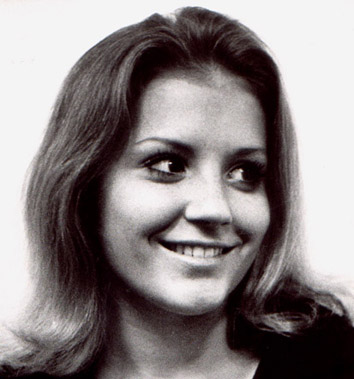 Rosey Nix Adams
Photo by Carl-Gustaf Edhardt
Death dealt the Cash-Carter country dynasty its third blow in five months when Rosey Nix Adams died mysteriously on Friday October 24.

Rosey, 45 and younger daughter of June Carter Cash and Richard "Rip" Nix was found dead in a bus near Clarksville in Tennessee.

Also dead was fiddler Jimmy Campbell, 40, a regular member of Nashville band, The Sidemen.

Campbell also performed with bluegrass great Bill Monroe and Jim and Jesse.
LAST BUS TO CLARKSVILLE
The bodies of the two musicians were found in a converted school bus behind a house at 4416 Ashland City Road in the Fredonia community of Montgomery County, according to a police report.

Officials have termed the recent deaths suspicious, but the two may have died of carbon monoxide poisoning from propane or kerosene heaters on the bus.

Montgomery County Sheriff's Department officials emergency medical personnel found needles, pipes and other drug paraphernalia on the bus near the bodies.
Autopsies are planned.
ROSEY JOINS JUNE, HELEN, ANITA AND JOHNNY

Rosey's mother June Carter Cash died at 73 at 5.04 p m on May 15 after having heart surgery.

She left behind husband Johnny and elder daughter Carlene, now 48.

And, of course, her son John Carter Cash Jr who produced her 1999 album, Press On, and
2003 disc Wildwood Flower.

Both have just been released in Australia by Shock Records.

June's sisters Helen died at 70 on June 2, 1998, and Anita at 66 on July, 29, 1999.

Rosey's stepfather and June's third husband, Johnny Cash, died six weeks earlier at 71 on September 12 after suffering pneumonia during protracted health battles.

Cash developed new illnesses long after recovering from quadruple heart by-pass surgery in 1988.

ROSEY REACHED OUT

Friends of Rosey Nix Adams and Campbell said that both appeared to be struggling in the months before their deaths.

Rosey Adams, also known as Rosey Nix, had one of the greatest pedigrees in country music history:

Daughter of June Carter Cash, stepdaughter of Johnny Cash, granddaughter of ''Mother'' Maybelle Carter, half-sister of singer Carlene Carter and stepsister of singer Rosanne Cash.
She worked as a songwriter and sang backup with her family on several albums and on Johnny Cash's 1969-71 television show, but she never gained the fame or iconic status of some of her family members.
MERLE KILGORE REMEMBERS
Merle Kilgore, who had known Rosey Adams most of her life, remembered Adams as an ''excellent musician'' who had written ''some pretty good little songs.''

However, he said, he had encouraged her to concentrate on one aspect of her career instead of trying to distinguish herself though singing, songwriting and guitar playing all at once.

Kilgore, manager of Hank Williams Jr, wrote the Cash hit Ring Of Fire with June Carter Cash, and supported Rosey's writing.

Shortly before her mother died, Kilgore said, Adams came to his Nashville office and sang Cry Baby Holler. ''I said, 'Rosey, that's the best you have ever sung,' '' Kilgore said from his home in Paris, Tennessee.

''It is truly amazing. I sure hope I have a copy of it at the office.''

Kilgore said he knew that Rosey had been having some personal difficulties, but ''she always seemed cheery when she came by my office. She never came in with a bad luck story or saying, 'Woe is me.' ''
ROSEY RECORDED IN CLARKSVILLE
''She had not charted on her own that I know of,'' said Clarksville musician Bobby Keel, a friend of both Adams and Campbell. ''I think the initiative and drive - I guess she just didn't feel like she had to make that commitment. But we lost a lot of talent. It's really sad that the world had to lose them.''

Rosey performed live not long ago in Clarksville and recorded songs with Campbell in Cheatham County for a new musical project, Keel said.
They had finished about four songs, one of which included Cry Baby Holler, which Kilgore wrote and recorded for Warner Bros. more than a decade ago.

Adams unexpectedly took the stage with the Ballistic Pintos in August at Clarksville's Front Page Deli.

Keel, the Pintos' guitarist and vocalist, said he has known Adams since the 1970s and urged her to sing with the group.

''She had gone for years not getting out and singing in public at all,'' Keel said.
''She was captivating.'' Adams had been recording with Campbell at a studio in Cheatham County, Keel said.

PILL SEARCHES IN HOUSE OF CASH
In a 2003 biography titled Johnny Cash: The Life of an American Icon, author Stephen
Miller wrote that Adams' father, Edwin ''Rip'' Nix, was an ex-football player, garage owner and police officer.

June Carter Cash married Nix in 1957 and later divorced him before she married Johnny Cash.

Miller also wrote that as a child, Adams sometimes was asked to help her mother search their house for Cash's stashes of pills and viewed it as a kind of treasure hunt.

Later, Johnny Cash, who died Sept. 12 at age 71, talked openly of his struggles with drugs and credited June Carter Cash with helping him overcome them.

June Carter Cash's mother, Maybelle Carter, who was Rosey Adams' grandmother, was one of the members of the original Carter Family, a trio from Maces Springs, Virginia, whose 1927 recordings are considered landmarks in the early history of country music.

Adams attended the recent funerals of her mother and of Johnny Cash. At June Carter Cash's service, she wept and comforted sister Carlene.

At Johnny Cash's funeral, however, she appeared distracted and confused, wandering through the sanctuary and moving people around in the congregation while others spoke and sang songs in tribute to her stepfather.

JIMMY CAMPBELL CAREER

Friends remembered Campbell, 40, as a talented fiddle player and kind-hearted man who struggled for years with alcohol and drugs. He left behind an 11-year-old son.

During his career, Campbell played with many bluegrass greats, including Jim and Jesse McReynolds and the father of the genre, Bill Monroe. He played with The Sidemen every Tuesday night at Nashville's Station Inn.

''He was really close to a lot of bluegrass greats,'' said Mike Bub, a member of the Del McCoury Band who has played with The Sidemen for 14 years.

''Jimmy was truly a genius,'' Keel said. Campbell had sometimes performed with Keel's band, the Ballistic Pintos. ''He had the sound and the tone. As soon as his bow hit the strings, you knew who it was. It was an honour to play with him. I looked forward to every time we took the stage with him.''

Campbell's former wife, Marcia Campbell, one of the Grand Ole Opry cloggers, said her former husband was a good man and a great musician. She said media reports of Jimmy Campbell's drug use have been painful to the family and are overshadowing his good qualities.

''He was a wonderful, talented man and a great musical teacher,'' she said. ''He taught his son music.''

She said she met Jimmy Campbell at the Opry in the early 1990s when he was playing with Bill Monroe and she was clogging.

While Campbell enjoyed success on the bluegrass scene, he struggled privately with
addiction, and checked himself into rehabilitation centers several times in an attempt to turn his life around. In recent months, Campbell appeared increasingly worn out by life, said Bub, The Sidemen's bass player.

''He always had some demons, and I guess they finally took him down,'' Bub said.
''He got clean several times, but he never could shake it. I only saw him on Tuesday
nights at the Station Inn, and I could see he was struggling with life.''
CASH CARTER FAMILY TREE ON NU COUNTRY TV

We feature the Cash-Carter Family tree in Episode 9 of Nu Country TV on Saturday November 29.

CLICK HERE for a sneak preview of the Cash-Carter dynasty in our Diary on September 23
http://www.braindumps.com/640-916.htm
http://www.test-king.com/exams/300-207.htm
http://www.brandeis.edu/
http://www.actualtests.com/exam-C4090-959.htm
http://www.certkiller.com/exam-70-336.htm
http://www.hp.com/