DAVE'S DIARY - 1 NOVEMBER 2006 - MARIJOHN WILKIN OBITUARY
MARIJOHN WILKIN RIP AT 86
BORN MARIJOHN MELSON - KEMP, TEXAS - JULY 14, 1920
DIED NASHVILLE - TENNESSEE - OCTOBER 28, 2006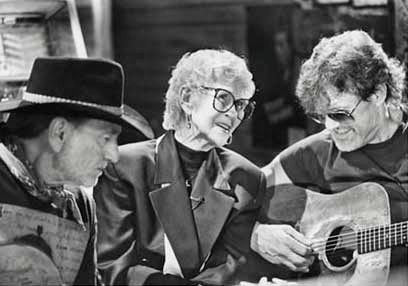 Marijohn Wilkin, Willie Nelson & Kris Kristofferson
Texas born minstrel Marijohn Wilkin was well qualified to write about the storms of life that fuelled her numerous hits in a career spanning six decades.

The seasoned songsmith clocked up four marriages and three divorces after losing her first husband in World War 11.

But equally importantly the singer was one of the first successful female publishers and songwriters in the male dominated domain.

So, it was no surprise she helped nurture the embryonic career of Rhodes Scholar Kris Kristofferson when he lobbed in Music City in the sixties.

By the early 1970s her publishing company Buckhorn was booming but Wilkin was deeply troubled.

Substance abuse, marital problems, deaths of her mother and business partner Hubert Long and two suicide attempts aggravated her prolonged depression.

But, like one of her songs, there was a timely spiritual re-awakening in the prayer that morphed into her oft-recorded hit One Day At A Time.

After Kristofferson helped her finish the song it became a hit for Marilyn Sellers in 1974.

One Day At A Time won a 1975 Dove Award from the Gospel Music Association and became a #1 country hit for Cristy Lane in 1980.
THE HAWKING BROTHERS
An Australian version by the late Hawking Brothers and other local peers was one of more than 200 versions of the song that earned lucrative royalties for Wilkin.

It was also featured in the Jonathan Demme 1986 movie Something Wild starring Jeff Daniels, Charles Driggs, Melanie Griffith and Ray Liotta.

Her clients included artists diverse as Johnny Cash, Rod Stewart, The Band, Beatles, Webb Pierce, Wanda Jackson, Lefty Frizzell, Joan Baez and Red Foley.

But last year Wilkin learned that her 2003 triple-bypass heart operation had failed and that she was not a candidate for another procedure.

"It's OK," she said.

"I have my faith. I am ready to go. Don't be sad for me."

Instead the songwriter requested that she be removed from life support systems and transferred from Vanderbilt University Medical Centre in Nashville to Alive Hospice at Saint Thomas.

She died on October 28 and was buried in the Woodlawn cemetery.
FROM TEXAS TO OKLAHOMA
Marijohn was the daughter of a church deacon and grandchild of a country fiddler.

She learned piano as a child in rural Texas but had little interest in the entertainment industry.

Wilkin turned down a movie contract with Monogram Studios in the 1930s, preferring an education and a husband to fame.

She attended Baylor and Hardin-Simmons universities and after graduation became a schoolteacher in Tulsa, Oklahoma.

There she began writing songs for her choir.

Wilkin's first husband was killed in World War II.

After marrying Art Wilkin Jr., Marijohn and her family moved in 1955 to Springfield, Missouri where The Ozark Jubilee was based.

Her second marriage to produced a son, John "Bucky" in 1946, but ended in divorce.

By the age of 8, Bucky was a gifted guitarist who was spotted by a talent scout from the Ozark Jubilee network TV show.

Bucky performed on its spin-off show Junior Jubilee, while his mother worked in a piano bar.
Marijohn made her own recording debut there with a song she co-wrote with James P. Coleman, Take This Heart.

Red Foley, Mitchell Torok, Wanda Jackson and other Jubilee stars began recording her songs.
This led to interest from Nashville where she moved in 1958 and took a job as a piano player in the Voo Doo Room speakeasy in Printers Alley.

Jim Denny signed her as a staff songwriter to his Cedarwood Publishing Company.

She scored her first major hit as a writer in 1959 when she and John D. Loudermilk penned Waterloo.

Stonewall Jackson's recording of the song topped both country and pop charts.
THE LONG BLACK VEIL


On the same day Wilkin and Danny Dill composed The Long Black Veil in March of 1959 she was scheduled to pitch songs to Lefty Frizzell.

He recorded it that night with a studio band including guitarists Harold Bradley and the late Grady Martin and Wilkin on piano.

The Long Black Veil was inspired by the real life murder of a New Jersey priest and newspaper accounts of a mystery woman in a black veil who often visited Rudolph Valentino's grave.

The lyrics, written by Opry veteran Danny Dill, tell the story of a man wrongfully convicted of murder who goes to the gallows rather than compromise his lover - his best friend's wife - in whose arms he lay when the crime was committed.
The song's central Gothic image is of the grieving adulteress walking the hills "in a long black veil," returning over and over to her hanged lover's grave.

Dill drew the tale from several sources, including stories he had read of the woman who supposedly haunted Rudolph Valentino's grave.

Dill and Wilkin created it like an old Appalachian ballad with the ghost as narrator.

The song has since become an evergreen, with recordings by Joan Baez, Johnny Cash, The Band on Music From The Big Pink, Kingston Trio, Country Gentlemen, Joe Sun, Burl Ives and many others.

Mick Jagger and The Chieftains collaborated on a later version in 1995.

JIMMY DEAN
Two Wilkin songs - P T 109 - an account of the 1943 sinking of John F. Kennedy's torpedo boat), hit number #3 for Jimmy Dean in 1962.

Dean also scored with another of her songs Big Bad John.

Other early hits included Grin and Bear It (Jimmy C. Newman, 1959), Fallen Star (Webb Pierce, 1960), Tra-le-la-le-la Triangle (Patsy Cline, 1962), Take Time (Webb Pierce, 1962), Old Showboat (Stonewall Jackson, 1963).

Rockabilly pioneer Eddie Cochran and country star Carl Smith - first husband of June Carter - recorded Cut Across Shorty.

English rocker Rod Stewart also cut it in 1970 and again in 1993.

An average of one Wilkin song was recorded every week during her Cedarwood era.

I Just Don't Understand was a pop hit for Ann-Margret in 1961 and appeared on The Beatles Live at the BBC in 1994.

Other artists who recorded her songs included Brenda Lee, Johnny Horton, Mel Tillis, Les Paul, the Fleetwoods, Chordettes and Debbie Reynolds.

SINGING CAREER
Wilkin had a parallel singing career with Columbia Records.

She released Country & Western Songs That Sold a Million (1960) and The Ballads of the Blue and the Gray (1961).

In 1967, billed as Romy Spain, she recorded The Soul of a Singer for Dot Records. She was also a prolific singer on songwriters' demonstration recordings.

Wilkin also formed The Marijohn Singers as a backup vocal group on recording sessions.

Marijohn & Brenda Lee
This led to an outpouring of gospel songs, which she recorded on a series of albums for the Myrrh and Day Spring labels in the 1970s.

Porter Wagoner sang I Thought of God 40 years ago then re-recorded it for his 2004 gospel album.
PUBLISHING AND KRISTOFFERSON
After Jim Denny's death in 1963, she formed her own song-publishing firm, Buckhorn Music.

Its first published song was 1964 teen surfing hit G.T.O., written and performed by son Bucky under the billing Ronny & the Daytonas.

Wilkin was a founder of the Nashville Songwriters Association and was dubbed "the den mother of Music Row" because of the songwriters she helped along the way.

Buckhorn Music soon became a haven for many Nashville's edgy fringe writers Kris Kristofferson, Johnny Duncan and Ed Bruce.

Kristofferson was in the Army stationed in Germany with one of her distant cousins.
So the aspiring songwriter sent some of his work to her at Buckhorn.

She became the first to publish his songs, notably For the Good Times.

In 1970 it became a massive pop and country hit for Ray Price.

Hundreds have since recorded it.
PATSY AND ED BRUCE
Patsy Bruce who managed then-husband Ed Bruce and co-wrote Don't Let Your Babies Grow Up To Be Cowboys with him was a long time admirer of Wilkin.

"She was that connector, that person at the centre of the business at that time," said Patsy Bruce, a songwriter and community activist.

"We met everybody through her that later on was important in our career and our life. What made her a great songwriter was she was a great observer of people and life. She could coin that phrase, as we used to say, as well as anybody I have ever known."

Wilkin was one of the first successful female songwriters in Nashville.

"We never talked about that she was the 'only' anything," Bruce said.

"I thought about that the other day. She really was the only one, but I don't remember talking about it. I think she thought it was normal, so she gave me that beacon of light to believe it would be normal for me to do whatever it was I wanted to do.

"I'm reminded at a time like this of Alex Haley, when he said, 'Every time an old person dies, it's like a library burning down.' With Marijohn, she was definitely that library."

Wilkin shared her good fortune with others at her Brentwood home.

"She would invite us to dinner on Easter Sunday and made sure our children had Easter baskets," Bruce added.

"She would make sure in one way or another there was candy at Halloween and whatever."

Veteran songwriter Bobby Braddock also recalled Wilkin fondly.

"She was a brilliant songwriter and an amazing person," said Braddock.

"I think The Long Black Veil is one of the best country songs ever written. It was the ultimate great story song."

She was inducted into Nashville Songwriters Hall of Fame in 1975 and in 1978 published her autobiography, Lord Let Me Leave a Song.