DAVE'S DIARY - 30 MAY 2009 - HUCKLEBERRY SWEDES
HUCKLEBERRY SWEDES - SURBURBAN DREAMING
"Although my heart beats like a train, will my heart stay on track, will it run out of steam." - Will My Heart Stay On Track - Troy Loakes-Mark Elberg
Troy Loakes is well qualified to be an international troubadour - even when he fronts an Adelaide roots country band.

The Huckleberry Swedes lifted part of their name from famed novelist Mark Twain's legendary 1880's Mississippi explorer Huck Finn.

But it was the Austrian Alps - not the delta - where Loakes and Mark Elberg sowed seeds of embryonic duo Canvas that morphed into their new century quintet.

There in a ski village, where the snow capped mountains kiss the sky, two kindred spirits soaked cutting edge country of faraway Texas in the winter of 1994.

"We were doing the troubadour thing playing each night and we met musicians from all over the world," Loakes told Nu Country on the eve of his band's Victorian tour.

"There were quite a few Texans who came through. It was when I first heard songs they performed by John Prine, Guy Clark and Townes Van Zandt. It was great stuff."

So Loakes, born in Northampton in the English midlands, bit the bullet and joined Elberg in Adelaide in 1996.

They toured and recorded as Canvas before expansion to Huckleberry Swedes on debut 2005 EP Hair Trigger.

Original bassist Paul Cartwright played on those sessions but was replaced by Sam Willoughby in late 2005.

The Huckleberry Swedes won wide acclaim while touring with The Flood and Bill Chambers but have a distinct style that soaks up their international influences.

It's an organic roots country hybrid that also draws equally from the scorched soul of Loakes adoptive homeland and its rich history and characters.

The band has been dubbed alt country by city critics but it's music should not be mistaken for the grunge guitar driven alt country practiced by vocally challenged refried rockers decamping the crowded crevices of the inner suburbs.

This is an accessible soundscape more akin to a local variety of Americana - but not the asinine Australiana delivered with a vintage nasal whine by bucolic bozos.

Ironically a song, dating back 15 years, was resurrected on their acclaimed album Suburban Dreaming.
BOSNIA BELLE
"Will My Heart Stay On Track dates back to then," Loakes said. "It was originally a demo song, we recorded it then and again on the album. When I was living in Copenhagen I had this brief relationship with a refugee from Bosnia. It was very short, just a couple of months. The song is quite personal. Our relationship was doomed. It was a clash of cultures. I was living a hedonistic life, pretty immature. I was living a party life and she was escaping war."

Dust Storms Falling was inspired by another war.

"It's about fragility of democracy," Loakes revealed.

"Government policies are like a storm on the horizon. It was written just after the latest Iraq invasion. It ties in with that - not just the war but the world getting smaller and how we're self absorbed."

Small Cage, Big Land came from hearing Paul Kelly tune From Little Things Big Things Grow.
"It's a journey song," Loakes explained.

"I started to learn more about Australian politics, history of the land and indigenous people."
KASEY AND BILL CHAMBERS
Wild Peach Pie grew from a joyous union but another female inspired Somewhere By Sundown.

"I originally had that in mind for a female to sing, not a Huckleberry song," Loakes added.

"It was more a song for Kasey Chambers. It was written from a girl's point of view. I had to rewrite it and changed it to a third person."

Although they included it on their album it found another home.

"It was done by an Adelaide band Mary Jane," Loakes added.
"They do a good version of it."

The album, cut in Adelaide and Sydney, features guest roles by producer Jim Moginie on keyboards-guitar and Bill Chambers on dobro and lap steel.

"We toured with Bill as the Huckleberry Swedes," Loakes said.
"We would do a set then back him up. We recorded most of the album in Adelaide. Then we went to Sydney with extra tracking at Jim Moginie's mum's house, in her back yard in her garage. Bill added dobro & lap steel in Jim's mum's backyard shed."

Loakes and Chambers also collaborated on a new song Diesel & Driftwood, designed for a Chambers seafaring disc.
FOGHORN LEGHORN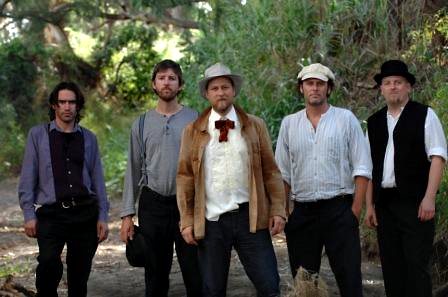 So far there's no video for Suburban Dreaming - nothing vivid as Loakes debut with his dad in his heavy metal band Foghorn Leghorn.

"My dad was a social worker and drummer," Loakes added.

"My brother and I were brought up by him in a one parent family. He played gigs to put food on the table. He was well known in the local scene. I was in his band with him when I was 16 - a heavy metal band Foghorn Leghorn. It was heavy rocking stuff. I have a video of us in my archives. It was filmed in a Hells Angels clubhouse, pretty scary when you look back as I was only 16."

Maybe hiring the Hells Angels in Adelaide for a Huckleberry Swedes video cameo would be a publicity bonanza with South Australian premier Mike Rann leading the outlaw posse.

Huckleberry Swedes feature drummer B J Barker, bassist Sam Willoughby, Richard Coates (keyboards/accordion,) Elberg on guitar/banjo/mandolin/vocals and guitarist-singer Troy Loakes.

The band has played Tamworth, Byron Bay, Apollo Bay, Gympie Music Muster and a bunch of towns and cities in between.

"We would love to do an overseas tour but we would to find a label to release our CD to make that happen," says Loakes.

"I have contacts in the UK but right now we're concentrating on Australia."

It's a far cry from when Loakes first decamped Northampton for the Continent.

"I left home with a band with a sax and drove down in the tunnel and ended up in an Austrian village," Lakes recalled.

"We were doing the troubadour kind of thing, playing four sets each night. It was a working holiday of sorts. We just earned enough money to go travelling again."

They play The Lomond, Brunswick - Friday June 5, Last Record Store Collingwood - Saturday afternoon June 6, The Retreat, Brunswick - Saturday night June 6 and The Standard, Fitzroy - Sunday June 7.