DAVE'S DIARY - 11 MAY 2009 - VERN GOSDIN OBITUARY
VERN GOSDIN - RIP AT 74
NOW CHISELLED IN STONE

BORN VERN GOSDIN- AUGUST 5, 1934, - WOODLAND, ALABAMA
DIED - NASHVILLE, TENNESSEE - APRIL 28, 2009.

THE DUDE
"You ran cryin' to the bedroom/ I ran off to the bar/ another piece of heaven gone to hell/ the words we spoke in anger/ just tore my world apart/ and I sat there feeling sorry for myself/ then that old man sat down beside me/ and looked me in the eye and said 'Son, I know what you're going through/ you ought to get down on your knees/ and thank your lucky stars that you got someone to go home to.'" - Chiselled In Stone - Vern Gosdin-Max D Barnes.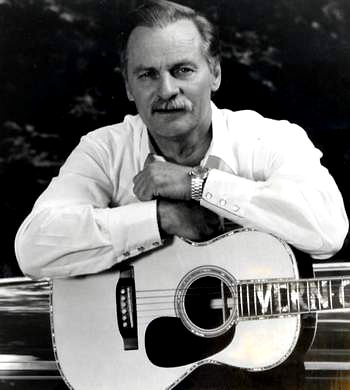 Vern Gosdin was sitting at the kitchen table at Dean Dillon's Nashville home while his host was frying him eggs and bacon.

They were discussing the recent departure of Vern's third wife, known affectionately as The Dude.

But the meal went cold when Gosdin told Dillon he said to his wife 'Dude, I guess I had your leaving coming.'

"Dean forgot all about my breakfast," Gosdin told me in a 1988 interview in Civil War town Franklin.

"He went to the living room and picked up two guitars and we wrote the song. I had my breakfast cold."

I Guess I Had Your Leaving Coming was one of many songs he retrieved from the wreckage of his three divorces.

Gosdin took a rich catalogue of songs to the grave when he died on April 28 at 74 in Nashville, three weeks after a stroke.

He previously had a stroke in 1995 and a quintuple coronary by-pass operation in October of 1990.

At the time of death he had 181 original songs listed on the BMI Publishing site.

The singer, known as The Voice, revealed many highlights of his life in a memorable interview on his bus en route to a gig at a NASCAR driver's dealership on October 15, 1988.

Our interview was organised by expatriate Australasian Barry Coburn - manager of yet to be Georgian superstar Alan Jackson - also at the concert.

Jackson was recording his first disc and Gosdin quit a time or two after record labels folded as he soared charts.

But it was The Dude, in absentia, he was keen to thank for hits tilled from the ashes of their ruptured romance.
DEAN DILLON
"We still share the same old bed/ we still lay there side by side/ love's either playin' dead/ or is no longer alive/ cause girl, it's been so long/ since we made love alive/ but there ain't nothin' wrong/ there just ain't nothin' right." There Ain't Nothing Wrong - Just Ain't Nothing Right - Vern Gosdin- Dean Dillon
Gosdin was a lucrative loser in love when he harvested hay from heartbreak.

"Out of everything bad, something good will come if you look hard enough - and I got 10 hits out of my last divorce," he said.

One was There Ain't Nothing Wrong - Just Ain't Nothing Right.

"This is how that song came about," Gosdin confessed.

"My wife and I were separated. She was in Atlanta, Georgia, and I was in Nashville. Dean Dillon had a lot of respect for me and hadn't said anything about it but finally he had to know about it. We called her the Dude and he said I've held back as long as I can, I want to know what's wrong with you and the dude. I said there ain't a lot wrong there ain't enough right. So we just sat down and wrote it."

Now, that might seem sweet solace but it was also a lucrative way to purge the pain of faded love.

The singer charted 41 singles and released eight albums from 1976-93.
A series of indie albums, greatest hits and compilations were released during his latter years before a definitive boxed set last year.

During our interview Vern frequently pushed his dreams to tour Australia.

Ironically, he finally made it here last year to record his second duet with expatriate American singer Kimber Sparks in Queensland.

It was the belated fulfilment of a dream that that reached back to childhood on a farm in Alabama.

Here's his story - except for a question he deleted about his former producer-gospel icon Gary S Paxton, renowned for Jesus Is My Lawyer In Heaven.

On December 29, 1980, Paxton was reportedly shot three times by hitmen hired by a country singer he was producing and took eight-year hiatus from music.
FROM WOODLAND TO PROMISED LAND
"I was born and raised in rural Alabama in a family of nine and started singing gospel music in church with my family and mother who played the piano when I was just a little lad," Gosdin told me.

"To get to the nearest neighbour's house it took two hours on foot. That's the one thing I really like about Australia - so many wide-open places. I guess it's because I was raised on a farm. I remember when nobody had a TV- then they were black and white. Now I live on about 50 acres. I can go into the woods with my dog and see nobody."

But it was down home music that fuelled Vern, brother Rex and another brother as teenagers on the Gosdin Family Gospel Show on Birmingham radio station WVOX.

In 1953 Vern, sixth of nine siblings, left his tiny hometown, population 200, for Atlanta.

Then in 1956 he moved again to Chicago where he ran a country music nightclub.

Meanwhile Rex had moved to California where Vern joined him in 1961 and worked as a welder by day and musician by night.

"I got into a gospel quartet for a long time, then into a bluegrass gospel group. It was a case of go west young man. I headed to the west coast in a bluegrass band and had a lot of fun. I was with Golden State Boys with brother Rex. I was playing mandolin. We needed another member of the group and Chris Hillman was our prime suspect but he played mandolin too. I said I'll play acoustic and you play mandolin and he fitted in right. We became The Hillmen."

It was shortly before The Gosdin Brothers reunited and became a part of the birth of country rock.
FLYING WITH THE BYRDS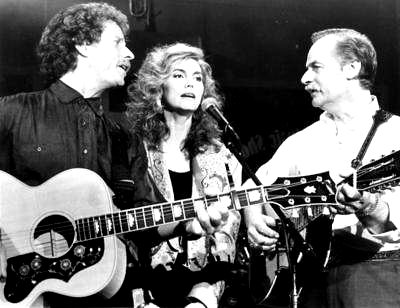 Chris Hillman, Emmylou Harris & Vern Gosdin
"Chris Hillman was a member of the old Byrds," Gosdin said.

"I then worked with the Byrds for a while. I sang on some of their later albums. They had problems like a lot of bands and didn't get on too good so my brother Rex and I went in and did harmonies on them. I don't remember song names. I spoke to Chris about it the other day. He remembers the songs but I've forgotten them. I've got a bad memory."

Gosdin landed his song Someone To Turn To on a Byrds album and 1969 Easy Rider movie soundtrack.

When The Hillmen broke up Vern and Rex recorded together as The Gosdin Brothers.

They had a #37 country hit Hanging On, produced by Gary S Paxton, in 1967 and released an album Sounds Of Goodbye on Capitol in 1968.

They sometimes opened shows for The Byrds.

"Rex and I kind of hung ourselves," Vern admitted.

"We signed so many contracts we didn't know which one to honour, and we just kind of got out of it for a while."
FLYING SOLO
"I put away the groceries/ and I take my daily bread/ I dream of your arms around me/ as I tuck the kids in bed/ I don't know what you're doin'/ and I don't know where you are/ but I look up at that great big sky/ and I hope you're wishin' on that same bright star." - Yesterday's Gone- Wayne Bradford.
Gosdin's faith in the strength of a song was later validated in a more fertile font.

"I cut two or three country records on the West coast but they didn't do anything," Gosdin recalled.

"I had recorded Hangin' On in 1967 with my brother Rex as The Gosdin Brothers. We ran that out for two or three years then we quit. I always thought Hangin' On was a hit record but never got a fair shake. I moved to Nashville and started having success in country music. I recorded Hangin' On with Emmylou Harris in 1976 and it was a hit so I was right. Emmylou helped do another song called Yesterday's Gone and it was a hit too. Both of them were Top 10 records."

Hangin' On and Yesterday's Gone, cut by the duo as demos, scored him his Elektra contract and became the first of his 41 Gosdin singles to hit the Billboard charts.

The Gosdin Brothers also played on the 1967 post Byrds album - Gene Clark With The Gosdin Brothers.

QUITTING TIME
"The years and miles may separate you from me/ the pain may lessen more as time goes by/ but as for me memories will never fade/ and I'll go on loving you till the end." - Till The End - Cathy Gosdin.
"I always knew there was a place for me in country music but I quit once in 1972," Gosdin confessed.

"I almost quit again just before I signed with CBS. I'm glad I didn't. I was once selling glassware in Atlanta, Georgia. I went into the glass window business, used to install glass and mirrors in bathrooms. I also installed shower enclosures, patio doors, all kind of glass doors - I did pretty good with it."

But it was the pain of heartbreak not panes of glass that inspired his best songs.
EDDIE TICKNER
"Do you believe me now? / I told you time and time again/ my heart and soul is your hands do you believe me now?/ do you believe me now?/ look at the living I endure/ I ain't nothing without you do you believe me now?" - Do You Believe Me Now - Vern Gosdin-Max D Barnes.
Max D Barnes & Vern Gosdin

The late Eddie Tickner, manager of The Byrds and Emmylou, was their conduit when he took on Gosdin in the mid seventies.

Tickner later shared Harris management with Coburn after her 1984 Australian tour for Coburn.

Gosdin scored 10 hits during his decade plus on a succession of independent labels.
He recorded for Elektra from 1976-79 before deals with Ovation, AMI and Compleat.

"I originally cut Till The End in 1968," Gosdin said of a song penned by sister Cathy.

"Then in 1978 I recorded an album in Nashville with Never My Love, Break My Mind and Till The End."
A new version of Till The End was a hit duet with Janie Fricke.

"I cut Yesterday's Gone for Elektra 12 years ago. Warner Bros, who own that old stuff, re-released it and it's doing real good. I also recorded for Ovation who had The Kendalls and Joe Sun. I did a couple on Ovation. One was Too Long Gone. The single Dream Of Me got up into the 30's and then the record label went bankrupt. That's my middle name but it did go into the Top 10.

"I then recorded for Compleat. I did If You Are Going To Do Me Wrong Do Me Right. That was my first release on Compleat. Max D Barnes and I wrote that song. I gave it to the Flying Burrito Brothers - they recorded it and didn't release it. I tried for a couple of years to get George Jones to record it. I finally cut it - that was the biggest record I had until Do You Believe Me Now on CBS. Jones got mad at me after I cut it. He said he was going to record that song. I said 'I waited on you for a year and a half."
CBS CAREER REBIRTH
"You don't know about sadness 'til you faced life alone/ you don't know about lonely 'til it's chiselled in stone." - Chiselled In Stone - Vern Gosdin-Max D Barnes.
Gosdin arose from the indie label ashes and signed with CBS in 1987.

"I'm now on CBS and my album Chiselled In Stone was up for CMA album of the year," Gosdin revealed.

"I was also nominated for male vocalist. Randy Travis was nominated and he deserved it and got it."

The single Chiselled In Stone later won CMA song of the year in 1989.

"I'm still in country and trying my best to get to Australia. I would like to come to Australia and stay 50 years. I released 17 albums and had 27 Billboard hit singles in a row on independent labels.
"A guy named Mark Wright at CBS gave me the song I Can Tell By The Way You Dance. He said you need to cut this song - it will be a hit. It sounded too rock ' roll for me. I took it around for two and a half years. Finally I was in the studio and told my producer 'let's try this song - if it don't sound like it's going to work we'll quit and do something else.' We got right into it and nobody mentioned stopping. We cut it and it was my first No 1 record."

The hits kept on flowing - with a little help from writing mates.

"What Would Your Memories Do was written by Dean Dillon," Vern recalled.

"He did that song for me one time at a guitar pull and I recorded it."

"Slow Burning Memory was written by Max D Barnes and myself. It's on the same album with If You Are Going To Be Me Wrong.

"Max was co-writer on Do You Believe Me Now and Chiselled In Stone - the title track. The record is my biggest single ever. We wrote and recorded it real fast. Nobody knows what you are doing in this business. Every time you have a big hit it's an accident. I haven't heard about the Randy Travis song Written In Stone. There's no confusion as it's not a single at the same time."
CABINS AND YACHTS
"They got a vintage Victrola 1951/ full of my favourite records that I grew up on/ they got ole Hank and Lefty and there's B24/ Set 'em up Joe, and play Walking The Floor." - Set Em Up Joe - Vern Gosdin-Dean Dillon-Hank Cochran-Buddy Cannon
Gosdin and his mates wrote many of their hits on retreats in a Tennessee cabin and a yacht in Key Largo, Florida.

"I wrote Set Em Up Joe with Dean Dillon, Hank Cochran and Buddy Cannon. It's a real honky tonk song. We spent three days and nights up in Gatlinburg in a cabin and wrote 12 songs.

"Hank and Dean wrote Tight As Twin Fiddles. The only reason I did that was because I thought it was well written and arranged tune. I never did much western swing but that was good enough to do.
"Nobody Calls From Vegas To Just Say Hello was given to me by Hank Cochran.

Someone else had written it - he said if you put a tune to it you can have a third of it. We were going to Key Largo, Florida, and took the bus down. We also wrote 10 songs on that trip. I put a new tune to it. I never heard the old tune. Hank liked it and said why don't we rewrite the whole song - we did. The only thing we used of the original was the title. We rewrote the whole thing. Hank, Dean and Buddy Cannon have a yacht down in Key Largo and we get on the yacht and write. Dean and Buddy also go on the road with me - we have written a lot of songs on the back of the bus."

"I've also done a lot of writing at home," Gosdin recalled.

"That's where we wrote Is It That Time Again, Chiselled In Stone and many other songs."
TOM JONES
"Would you mind another heart/ beating for you/ two ears that listen/ you can talk to/ kisses filled with feeling on your face
Now tell me/ would these arms be in your way?" - Would These Arms Be In Your Way - Vern Gosdin-Hank Cochran-Rudolph De Laughter.
Gosdin was particular about the songs he recorded.

"I hear Tom Jones say something one time that really had a lot to do with my singing career," Vern revealed.

"If the word's in a song that word needs singing, otherwise take it out. I always remembered that. If I can't get into a song I don't want to sing it. I do get into my songs and enjoy them. I work with David Allan Coe once in a while. He bounced into one of my shows down in Alabama. He just came on stage and we sang a couple of songs together - he's a fine fellow."
KEITH WHITLEY AND GEORGE STRAIT
"There's a closet full of dresses that I bought you/ here's the keys to the new car in the drive/ and before you leave our room/ put on your best perfume/ if you're gonna do me wrong, do it right." - If You're Gonna Do Me Wrong Do Me Right - Vern Gosdin-Max D Barnes.
Although Gosdin was a prolific writer he revealed why he was reluctant to write for other artists.

"I don't usually pitch my songs because I'm afraid they'll say they don't want to do it," Gosdin confied.

"With If You Are Gonna Do Me Wrong Do Me Right I tried to get George Jones to do it and the Burrito Brothers. Well, I just write for myself. Keith Whitley did one of my songs Would These Arms Be In Your Way. George Strait has a song on his new album Is It That Time Again. I'm not opposed to cuts. I just can't stand when they say no. I don't want to hear that."

Strait also recorded Gosdin 1982 hit Today My World Slipped Away in 1997.

In 2003 latter day chart topper and hotshot guitarist Brad Paisley recorded the Gosdin hit Is It Raining At Your House on his hit album Mud on the Tires.
AUSTRALIAN VISIT - TWO DECADES LATER
"I left the courtroom and went straight to the church/ I hit my knees and told God how much I hurt/ there's nothing left of my heart/ it's going to be so hard to make a new start/ Cause today my world slipped away." - Today My World Slipped Away - Vern Gosdin-Mark Wright.
Kimber Sparks

Five years later expatriate American Kimber Sparks released an Australian duet with Vern on Chiselled In Stone.

Gosdin finally visited Australia - 20 years after our interview - to record several duets with Sparks, a close friend and fellow Alabamian.

They recorded two duets, including a new version of Chiselled in Stone, which Vern asked Kimber to rearrange to, "suit a female", as well as the classic A Picture Of Me Without You.

Bill Chambers produced the new recording, featuring leading Australia musicians, such as Michel Rose, Rod McCormack, Chris Haigh, Mick Albeck and himself.

It was a belated visit but one of the last sessions for the legend.

Gosdin was enthused during our interview when I told him that I heard his studio pedal steel guitarist Jim Vest perform Set Em Up Joe the night before at Shoney's Hall Of Fame Inn.
"It's a good thing to walk into a bar and hear them doing one of your songs," Vern laughed.
Ironically, the CBS career rebirth of Gosdin to radio featured a decade being shaved from his age in their press biographies.
But that came unstuck when he had his quintuple coronary by-pass operation in October of 1990.
Although this slowed the live and recording career of Gosdin he became even more revered by peers and protégées.
Gosdin recorded many country, gospel and compilation albums for labels diverse as Music Mill, American Harvest, GoldRhyme and Beckett & Tharp after his CBS era.

JAMEY JOHNSON TRIBUTE
"Is it raining at your house/ like it's raining at mine/ do you miss me like/ I miss you, is it cloudy all the time/ do you tremble when the phone rings/ and do you think I'm on the line/ is it raining at your house/ like it's raining at mine." - Is It Raining At Your House -Vern Gosdin-Hank Cochran-Dean Dillon.
The death of Gosdin has ignited a flood of tributes - here are just a few.

Jamey Johnson sings the Gosdin ballad Do You Believe Me Now at every concert.

"I can't tell you how much his music meant to me," said Johnson, who was in Key West, Florida, for a recording session that included a version of Set 'Em Up Joe - a No. 1 song from Chiselled In Stone.

"If anyone wants to know, 'Was he really that good?' they can just listen to Chiselled In Stone or Do You Believe Me Now. He was really that good. The guy was a walking heartache."

Gosdin's favourite singer was embryonic duet hit partner Emmylou Harris.

"They called him The Voice, and they didn't call him that for nothing," Harris said.

"He had such restraint, and restraint intensifies emotion. He trusted the song and the melody.

People don't realise how difficult it is to put across a country song with a complete economy of notes and phrasing. Vern did that as well as anyone. A great, great singer."

"We will all miss Vern. He was one hell of a country singer and helped me out a lot on my very first tour," George Strait said.

"Our thoughts and prayers are with his family."

"You can't go into a bar room that plays real country music without hearing Vern Gosdin," Texan Jack Ingram said.

"Chiselled In Stone is as sad a country song as He Stopped Loving Her Today, and Set Em Up, Joe is a call to anyone who's ever had a reason to be in a bar like that to begin with. Vern Gosdin's voice was truth - the hardcore country kind - and any time I heard him on the jukebox, my car radio or my old tape of Chiselled in Stone, I knew there was a lot about life and loss and love left to learn."

"The news of Vern's death puts me beyond sad," Josh Turner said.

"He was one my unofficial vocal coaches. He taught me what country soul music was. Country music has lost one of its ambassadors. One of its soldiers - one of its fathers. His music will live on, but he will be greatly missed."

"We saw a man walk by our table at Cracker Barrel that looked like Vern." Rory Lee Feek, of Joey + Rory revealed.

"Both Joey and I were/are huge fans, so when he sat down, we walked over and said, 'Excuse me, but are you Vern Gosdin?' He looked up and with a big smile answered, 'No, I'm Charley Pride; pull up a chair, and sit for a while. We spent the next hour just visiting with him and hearing stories about some of our favourite songs that he'd recorded over the years. He was so funny, inspirational and full of life. We were just honored to meet him and get to spend some time with one of our heroes."
BOXED SET VALE
"Set 'em up Joe, and play Walking The Floor/ I'm gonna spend the night like every night before/ playin' ET and I'll play him some more/ I've gotta have a shot of them old troubadours." - Set Em Up Joe.
The singer's administrative assistant, Dawn Hall, said he had a history of strokes and suffered the latest a few weeks ago.

"We were quite hopeful there for a while because he was showing signs of coming back," Hall said.

"Until earlier this month he was independent and telling me what to do."

He released a boxed set 40 Years of the Voice in December and was renovating his tour bus for an appearance at the CMA festival in June.

The boxed set - his four-CD career retrospective - features 101 songs and includes 14 previously unreleased tracks recorded 35 years ago.

The collection has 11 newly recorded songs, as well as hits such as Chiselled in Stone, Set Em Up Joe, Today My World Slipped Away and I Can Tell by the Way You Dance.

Three times wed Gosdin is survived by a son.

Brother Rex died in May, 1983, at the age of 45.

Gosdin was buried at historic Mount Olivet Cemetery after a private service.

A public memorial service is expected later.