DAVE'S DIARY - 12 MARCH 2014 - JASON ISBELL INTERVIEW

JASON ISBELL - DILUTED DOWN UNDER COCAINE AND TEQUILA
"And the sand that they call cocaine cost you twice as much as gold/ you'd be better off to drink your coffee black/ but I swear, the land it listened to the stories that we told/ God bless the busted boat that brings us back/ and the piss they call tequila/ even Waylon wouldn't drink/ well I'd rather sip this Listerine I packed." - New South Wales - Jason Isbell.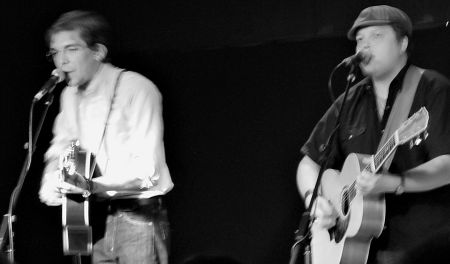 Justin Townes Earle & Jason Isbell live at The Studio Geelong 2010
Former Drive By Truckers singer-songwriter Jason Isbell has vivid memories of his tour here with Justin Townes Earle - son of seven times wed Steve.

So vivid he credits bad experiences with diluted cocaine and Tequila for aiding his latter day sobriety.

Isbell sings the cocaine was over-priced and tasted like sand and the Tequila was so inferior the late Texan outlaw Waylon Jennings wouldn't drink it.

The Alabama born artist included his down under travel advisory hints on New South Wales on fourth solo album Southeastern that he promotes on his April tour.

"It was not on my last tour there but the tour before with Justin Townes Earle," Jason told Nu Country TV of song sources in a call from the U.S.

"It was not Justin's influence in any way. I was trying to write a song in a different vein - more like Willie Nelson and Waylon Jennings. The song was inspired by a trip we were on together. The Tequila was bad over there, bad news. But we don't make good Vodka in the states. You have nothing to be ashamed of. The cocaine was bad everywhere I had it. You are a long way from Central America. I heard the heroin was pretty cheap and very strong but I was never really into that. Now I've been sober for a couple of years. The tour was not bad experiences - just in the daylight."

Isbell was born into a musical family in the tiny northern Alabama town of Greenhill that's so small there's no post office.

He studied creative writing at University of Memphis before joining The Drive By Truckers in 2001 and leaving in 2007 for a solo career.

Isbell credits his university course with inspiring his prolific writing.

"It made me read a lot, that's a very important part of the type of songs I write," Jason explained.

"It teaches you about words and how they work, the details, which ones are important, how to focus in and make the right type of setting, how to tell a story. I enjoyed it a whole lot. I had my nose in a book - it helped my song-writing. I had been a musician for a long time before that. I had been playing since I was a little kid. What I wanted to do was write songs, practising with words and learning how to focus - it helped me out a lot."

It enabled Isbell to till his passionate past for song sources - especially Elephant.

"I wrote it in Alabama when I was still drinking," Isbell explained.

"I knew a lot of other people who were drinking and a lot of those people died - most of them died from alcohol related illnesses. The girl I was dating at the time, I told her not to get too attached as she was young. I was talking to people who had dealt with alcohol and that situation. I came up with a story involving two people and their relationship."
SUPER 8 MOTELS
"Don't wanna die in a Super 8 motel/ just because somebody's evening didn't go so well/ if I ever get back to Bristol/ I'm better off sleeping in the county jail/ don't wanna die in a Super 8 motel." - Super 8 - Jason Isbell.
Isbell, 35, is no stranger to speaking his mind - his wry Super 8 song has not been adopted by the cut-rate motel chain as an advertising jingle.
But he steered clear of songs about accommodation shortfalls on his Australian trips.

"The worst times I had were small towns in the U.S.," Isbell said of the song that named Bristol as the scene of his sleepless nights.

"No, I was not approached by Super 8 to do an advertising jingle. I didn't paint them in the best light but it was mentioned on Twitter."
Isbell sparked a Twitter tornado when he accused Arizona born country star Dierks Bentley of plagiarising his song In A Razor Town from debut solo album Sirens of The Ditch for the title track of Bentley's seventh album Home.

The storm erupted as an ideological battle between a roots underdog who labours on his own in contrast to stars who write by committee.

Home has three writers including Bentley who toured here with Australian country music king Lee Kernaghan.

So what was the result of Jason's accusations?

"I can't talk about it anymore for legal reasons," Isbell replied as he batted the question to the keeper.
STOCKHOLM AND MOVIES
"I've heard love songs make a Georgia man cry/ on the shoulder of somebody's Saturday night/ read the good book studied it, too/ but nothing prepared me for living with you/ locked me up tight in these shackles I wear/ tied up the keys in the folds of your hair." - Stockholm - Jason Isbell.
Isbell is much happier with peers who credit him when they cover his songs and, of course, the publishing royalties.

But he is not an avid critic of the artists' versions.

"On Youtube I watch them but I don't keep up with them," Isbell confessed.

"That's really weird, I think that would involve Googling myself but the publishing royalties are great."

So what about his songs being used in movies and TV shows?
"I don't keep up with that either but I heard one when I was watching Sofia Vergara from Modern Family on a show she was producing," Isbell confided.

"There were female fighters. I only saw the last 10 minutes of the show. It was hilarious - she had one of my songs in it. I saw that.

The song was Stockholm. I wish I could remember the name of the show. It was cool. I liked it when I heard that."

And movies and soundtracks?
"I'm writing songs for a new movie, it's not out yet, it's not far in," Isbell revealed.

"I'm going to write a song for the closing credits. I have to get started on that soon. I don't know the working title. I shouldn't talk about it."

But the singer received a pleasant surprise on a top rating sports show.

"One night while watching Monday Night American Football I saw this montage featuring a song I wrote for the Truckers," Isbell recalled.

"It was really funny. I had written that song from the untrustworthy narrator point of view for the Truckers - the narrator is not painted in best light. Never Gonna Change is off The Dirty South. I had written it about 10 years ago. Hank Williams Jr also did the theme for the show."
YVETTE AND INCEST
"Saw your father last night, in the window the light made a silhouette/ saw him hold you that way, he won't hold you that way anymore." - Yvette - Jason Isbell.
Isbell paints on a broad tableau - he even touches on incest in the song Yvette.
But it's not drawn from his idyllic childhood at Greenhill.

"It didn't happen to me, I come from a good family," Isbell explained.

"A lot of people I meet had that experience, not the happiest subject matter but worth discussing. It probably happened to half the people I know but that's not how the song works. I build characters, I'm not going to write a song about one person I know."

But Live Oak has vastly different origins.

"That was an allegory," Isbell explained of a song where the narrator reforms after murdering two men in a great lakes freighter robbery.
"I took the feeling I had and my concerns. If I had known then what I know now I probably wouldn't have been able to write that song. Now I'm a different person. I'm not afraid of it - the change. I took that and made a story out of it and wrote that song. I'm not the first person - the narrator in that song."
COVER ME UP
"A heart on the run keeps a hand on the gun you can't trust anyone/ I was so sure what I needed was more tried to shoot out the sun/ days when we raged, we flew off the page such damage was done/ but I made it through, cause somebody knew I was meant for someone/ girl, leave your boots by the bed we ain't leaving this room/ till someone needs medical help or the magnolias bloom." - Cover Me Up - Jason Isbell.
Album entrée Cover Me Up has romantic roots.

"I wrote that song to my wife," says Isbell who wed fellow singer-fiddle player Amanda Shires, with whom he worked for a decade, in February 2013.

Isbell was previously wed to Drive By Truckers bassist Shonna Tucker who joined in 2003 and left in 2011 and formed her own band Eye Candy.

Jason recorded and wrote songs on three Truckers albums.

"I went to a wedding and a friend of mine had written a song to his wife," Isbell revealed.
"I thought it was a beautiful thing. When I got home I wrote that song for my wife. It was a difficult thing to do, write a song for somebody. I didn't know if it was any good or not.

She liked it a lot. She will be in Australia with us. She sings on Travelling Alone. Kim Richey sings on Stockholm - she's a good singer and songwriter."
SHOWER SONGS - NOT BRIDAL
"And the church bells are ringing for those who are easy to please/ and the frost on the ground probably envies the frost on the trees/ and the songs that she sang in the shower are stuck in my mind/ like Yesterday's Wine, like Yesterday's Wine/ and experience tells me that I'll never hear them again/ without thinking of then, without thinking of then." - Songs That She Sang In The Shower - Jason Isbell.
Not as specific is Songs That She Sang In The Shower.

"Some parts of it are based on a woman I know," Isbell confessed.

"It's usually a mixture of three or four different people, maybe sometimes 10 or 12 different people. The guy speaking is someone in particular and the person he is speaking to is someone in particular. They're all based on real people. It's funny. You know because someone acts in a movie or directs a movie the people in the audience don't assume it's about them. It's the same as when you write a song."

Isbell's new album was produced by Dave Cobb who worked with fellow Alabama born singer-songwriter Jamey Johnson and Shooter Jennings - son of Waylon.

"Shooter and I are friends," Isbell added.

"He does some interesting stuff with country music but not only country music. I like Shooter and I liked his dad. I also liked his song Outlaw You."
LOVE AND WAR
"What can you see from your window?/ I can't see anything from mine/ flags on the side of the highway/ and scripture on grocery store signs/ maybe eighteen was too early/ maybe thirty or forty is too/ did you get your chance to make peace with the man/ before He sent down his angels for you?" - Dress Blues - Jason Isbell.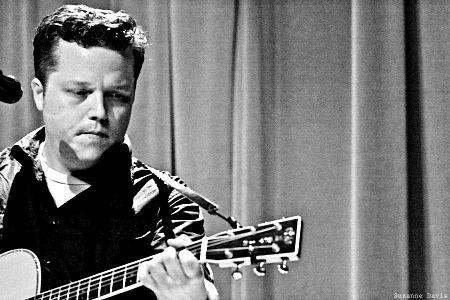 On earlier albums Isbell won acclaim for songs about impact of war on victims and their families.

"I had a lot of friends who came back from overseas conflicts," Isbell revealed.

"I try to pay close attention to that. I empathise with those folks."

But Dress Blues was inspired by a Marine corporal from Isbell's hometown who didn't make it home.

Matthew Conley died a week before his 22nd birthday and two days before he was due to return from Iraq for the birth of his daughter.

"I was on the road when it happened, I didn't go to his funeral," Isbell explained.

"When I got home they told me about it. He was from my hometown - he died over there two days before due to come back."

Isbell's vitriolic social comment in However Long on 2009 album Jason Isbell And The 400 Unit is clear.

He drives a stake into politics of fear of former President George Dubya Bush.

"See the man with the military mind/ trying to make us afraid all the time/ trying to make us all stay inside and lock our doors and windows."

It's a sibling of Soldiers Get Strange - satiric sting of a returned warrior drowning his post-traumatic stress in booze.

The other casualty is the character's partner - victim of his mood swings, reeling from the collateral damage.

"Maybe you'll re-enlist, it couldn't be worse than this/ but think of the things you'll miss/ if you're inside the wire again."

Isbell says songs he's written about young guys who sign up to go to war because they have no other way to get by - Dress Blues, Soldiers Get Strange and Tour of Duty.

"People assume that you're either writing a protest song or a jingoist song, because that's usually what you get, in all honesty," Isbell says.

"You either get, 'war is hell. There's no excuse for it.' Or you get, 'Put a boot up their ass.'

And there's so much middle ground. Those two things don't really exist. "The truth, I think, really lives in the individual stories, for me. Sometimes I do have a point that I want to make, and the best way to make that point is to tell a story about, 'OK, this is what happened to this person. You figure out how well it worked for them.' "
THE BAND AND DRIVE BY TRUCKERS
"Can you hear that singing? Sounds like gold/ maybe I can only hear it in my head/ Fifteen years ago we owned that road/ now it's rolling over us instead/ Richard Manuel is dead/ first they make you out to be/ the only pirate on the sea/ then they say Danko would have sounded just like me/ is that the man you want to be?" - Danko-Manuel - Jason Isbell.
The death of two musical heroes inspired Danko-Manuel from the 2004 Drive By Truckers album The Dirty South.

Richard Manuel and Rick Danko from The Band died prematurely after soaring to fame in the embryonic country rock group.

Canadian born multi-instrumentalist Manuel, aged just 42, hung himself in a motel in Winter Haven, Florida, on March 4, 1986.

In 1970 Manuel portrayed the "bearded composer" in Warner Bros movie Eliza's Horoscope - an indie Canadian drama written and directed by Gordon Sheppard.

He performed with Tommy Lee Jones, former Playboy Bunny Elizabeth Moorman and Lila Kedrova.

Fellow Canadian multi-instrumentalist Danko toured Australia in the eighties before dying at 56 of a heart attack on December 10, 1999, in Marble Town, New York.

"I had just read Levon Helm's book This Wheel's On Fire," Isbell recalled.

"After reading that I tried to put myself in that position - what would it be like to be like that, having seen better days. A couple of people with artistic gifts decided they didn't want to be in the world anymore and drank themselves to death. That affected me a lot - Levon's story. I wrote that song about Rick and Richard."

Isbell joined the Drive By Truckers after scoring a publishing deal with Fame Music in Muscle Shoals.

But the first time he played his own songs at a show there he wrote the entire set the night before.

"Muscle Shoals was half an hour away from where I grew up," Isbell recalled.

"A lot country and soul came out of Muscle Shoals in the sixties and seventies and still does. Even before I met Patterson Hood (Truckers singer-guitarist) his dad Dave was very kind to me. I was treated with respect even before I deserved it. He was a mentor - a lot of them took me under their wing."
TRAVELLING ALONE
"Mountain's rough this time of year/ they close the highway down/ they don't warn the town/ I've been fighting second gear for fifteen miles or so/ trying to beat the angry snow/ I know every town worth passing through." - Travelling Alone - Jason Isbell.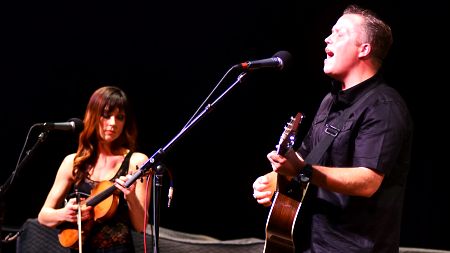 Isbell had to choose between song-writing artist or staff writer; niche or country mainstream.

"That was tempting to me," says Isbell.

"If I hadn't joined the Truckers when I did it could've been a possibility of something that I did in my 20s. My best friend from home time moved up here and became a country song-writer. He's done pretty well for himself."

After working as a songwriter Isbell joined Drive-By Truckers in 2003 as they toured in support of Southern Rock Opera.

He wrote Truckers standards - Decoration Day album title track, Danko/Manuel and Goddamn Lonely Love on The Dirty South and Daylight on A Blessing and a Curse.

On April 5, 2007, he announced he was no longer a member and released debut solo album Sirens of the Ditch on July 10.

He started cutting it while still in the Truckers.

Isbell is looking forward to his April tour.

"I had a lot of time to wander around on my last tour with Ryan Adams," Isbell recalled.

"I usually I take a walk from the hotel until I'm lost and then hail a cab driver."

Hopefully the driver can find the MCG and Northcote Social Club - April 16-17.
SOLO DISCOGRAPHY
Sirens of the Ditch (2007)
Jason Isbell and The 400 Unit (2009)
Here We Rest (2011)
Southeastern (2013)
Live Albums
Live at Twist & Shout 11.16.07 (2008)
Live from Alabama (2012)