DAVE'S DIARY - 4 JULY 2009 - WILLIE AND THE WHEEL
ASLEEP AT THE WHEEL AWAKE WITH WILLIE
"We're gonna boogie back to Texas, eight beats to the mile/ well, state line slammin' me/ Oklahoma city's just a memory/ Forth Worth, Dallas, I roll on by 50 miles/ clear the roads, I'm a-headin' that way/ gonna boogie back to Texas across the U S of A." - Boogie Back To Texas - Ray Benson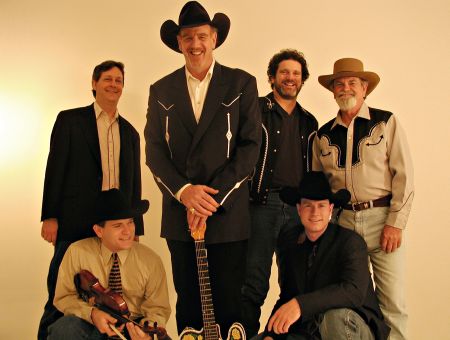 Timing is everything in the wondrous world of country music.

The first time I interviewed Asleep At The Wheel singer Ray Benson was in 1988 after I appeared on the Sam and Bob show on KVET-AM - Austin - featuring singing satirist Sammy Allred.

Willie Nelson's merchandising manager Bo Franks drove me to KVET and then to Benson's South Austin home studio.

Now, 21 years later, it's Ray via phone from home in the Texas capital to promote new album Willie & The Wheel with Shotgun Willie Nelson.

So how's old Sammy, now 71, and renowned for satiric country duo The Geezinslaw Brothers?

"He finally got fired for being too funny," Benson, 58, joked of incidents that ended the 35 year career of Allred on Halloween Eve in 2007.

Sammy was suspended in May for referring to Democratic Party candidate Barrack Obama as a "clean darkie" - five months later he was fired for an alleged on air obscenity.

So it's ironic that during an Austin campaign visit the latter day President joined Asleep At The Wheel for a vocal cameo on big hit Boogie Back To Texas.

"It's funny Obama went to college with our old bass player John Mitchell and our drummer Dave Sanger," Benson revealed.

"He knew them then but didn't know they were in Asleep At The Wheel. They were at Occidental College in LA. Dave was a year ahead and didn't know Barack but Obama was a good friend of John Mitchell and they used to hang out. We were doing a fund raiser for him. When he came over Dave said 'I went to college with you.' He said 'I remember you.' I don't know if that was just the politician in him. We were such big supporters of him - we put a lot of hope in him."

Asleep At The Wheel, winner of nine Grammys in its 40-year career, is no stranger to Presidential patronage.

"The former President - George Dubya Bush - was also a big fan of ours," Benson joked.

"We couldn't help that. We played five inauguration concerts - we played for Bill Clinton, George Bush 1 and George Bush 11."
MOVIES AND NOVELS
"Rollin' outta New York, Philadelphia/ Pittsburgh, Wheelin', West-Virginia all the way/ I'm gonna make it to Kentucky/ gonna make it by the mornin' if I'm fast and if I'm lucky/ hold on tight, I'm a-homeward bound/ gonna boogie back to Austin, back to my hometown." - Boogie Back to Texas - Ray Benson.
It's no surprise Ray features in crime novels by singing Texan Gubernatorial candidate Kinky Friedman - also a White House pest of Clinton and George Dubya as the "tallest Jew in Texas."

Benson and Gary Busey played the male leads opposite singing actress Dolly Parton in 1991 movie Wild Texas Wind.

West Texas Wind featured Allred - a character in The Kinkster's books - whose roles include three Nelson movies Honeysuckle Rose, Songwriter and Another Pair Of Aces (Three of A Kind.)

"It was a TV movie with Dolly Parton," Benson recalled.

"It's not available on DVD. She and I wrote six songs for it.
That was in the nineties. We have also had songs used in other movies. We have just finished filming the documentary on the Willie & The Wheel tour. It will come out next year."

Dolly also duetted with Benson on her song Leave That Cowboy Alone on his 2003 solo album Beyond Time on Audium-Koch Records.

Asleep At The Wheel appeared with Hank Williams Jr, late Roy Orbison, Alvin Crow & The Pleasant Valley Boys, Meatloaf, Ramblin Jack Elliott, Merle Kilgore, Blondie, Alice Cooper and Art Carney in 1980 movie Roadie.
LUCKY - OCEANS AWAY
"I woke up this morning looking for my shoes/ looked inside my trunk and found the Hesitation Blues." - Hesitation Blues - Scott Middleton-Billy Smythe.
That was the movie Benson offered Asleep At The Wheel co-founder Lucky Oceans an inducement to stay with the band.

Instead Lucky and wife Christine Haddow, whom he met on the set of the movie Dear Dead Delilah (financial flop for legendary Cowboy Jack Clement), moved to Fremantle.

Oceans, winner of two Grammys and The Planet host on ABC radio-TV, is a prolific writer for TV and commercials and leader of Dude Ranch and The Zydecats.

Benson, real name Raymond Seifert, Oceans (Reuben Gosfield) and Leroy Preston formed Asleep At The Wheel in Paw, Paw West Virginia in 1969.

The band moved to California a year later, released debut disc Comin' Right At Ya in 1973, and headed to Austin in 1974.

< Lucky Oceans
"Yes, we offered Lucky a role in Roadie when we were doing the movie," Benson confessed.

"Of course we wanted him to stay but he made a good choice. He went to Australia at a great time. Christine is from Perth, no better place than Fremantle. It's just a beautiful place to raise a family. We grew up together. He thought up the name Asleep At The Wheel - he was my musical compatriot from when we were six years old. We were sorry to see him go but it was best thing for him - we're still great friends."

Not just great friends but the musical conduit to an Australian tour to promote the album.

Oceans, host of ABC TV and national radio shows, has fronted a vast cast of bands since his arrival including a stint as pedal steel player for country comedian Kev "Bloody" Wilson.
AUSTRALIAN TOUR
"Sweet Jennie Lee from sunny Tennessee/ you'll love her when you see/ sweet Jennie Lee/ each little bird is singing merrily/ just getting set to see." - Sweet Jennie Lee - Walter Donaldson
"We've been trying for ever to tour Australia," Benson added.

"I've been calling Lucky to organise it. Hopefully the Willie & The Wheel record will do it.

Hopefully we'll come over for one or two festivals and hit the five or six cities we need to play."

Lucky recovered from a debilitating nerve condition that landed him in Abington Memorial Hospital in Pennsylvania on a trip to the U.S. last year.

Oceans had Guillain-Barre Syndrome - a rare disorder with no known cause that affects the nervous system.

The multi-instrumentalist returned to air to host The Planet.

Oceans released two solo CDS Lucky Steels the Wheel - 1982 - and Secret Steel - 2005.
He also released albums with Dude Ranch in 1991, Zydecats in 1998, a live disc and scored music for Tim Winton movie Dirt Music in 2001.
JERRY WEXLER

"Shotgun Willie sits around in his underwear/ bitin' a bullet, pullin' out all of his hair/ Shotgun Willie has got all of his family there/ you can't make a record if you ain't got nothin' to say/ you can't play music if you don't know nothin' to play." - Shotgun Willie - Willie Nelson.

Legendary R & B producer Jerry Wexler sowed seeds for Willie & The Wheel 36 years ago when he signed Nelson to Atlantic Records.

Nelson cut two albums Shotgun Willie (1973) and Phases And Stages (1974).

Wexler produced Phases And Stages and shared production with Arif Mardin on Bob Wills standards Stay All Night and Bubbles in My Beer on Shotgun Willie.

In 2003 Wexler offered his vast collection of western swing albums to Benson, whom he'd known since the 1970s.

"A few weeks later, a box arrived with 20 or so LPs from Jerry,"
Benson explained.

"It was songs originally on 78 RPM records reissued on albums, cult collections from the 1970s. I had a few of them already."

Benson found two handwritten letters next to some song titles - he asked Wexler about the letters the next time the two of them talked.

The initials were W. N.

"When I called Jerry to thank him for records I asked what they were," Benson said.

"He said W. N. stood for Willie Nelson."

But it wasn't until five years later the project was finished.

"Wexler and I had become friends over years and when he called me about this thing he said 'now is the time to do that album I had been wanting to do for 35 years," Benson said.

"I was so honoured. He mentioned all these songs. It was really amazing. I feel so blessed that Jerry thought of me."
DEATH AND BIRTH
"Well, John T. Floores was workin' with the Klu Klux Klan/ the six foot five John T was a hell of a man/ made a lot of money sellin' sheets on the family plan." - Shotgun Willie - Willie Nelson.
Wexler died, aged 91, in August 2008 at his home in Sarasota, Florida, just as the disc was born.

"We finished it about a week before he died," says Benson.

"I sent him seven of the cuts that were pretty much finished.

They weren't mastered, but they were pretty much finished. I would send him the songs, and he would tell me that I could put horns on some of these things.

"He got to hear seven of the final cuts and said it was perfect. He loved what I was doing. He was totally coherent and together until week that he died. That was a blessing."
Benson and Wexler narrowed 40 songs to 12 for the album that credited Jerry as executive producer.

"I really wanted to show the progression of western swing and the stuff that fitted well and fitted us," said Benson who has also produced two Wills' tribute discs and directed stage show Ride With Bob.

Benson said Wexler was deeply involved - he suggested horns for certain songs and fiddles and steel guitars on others for the traditional western swing sound.
DEPRESSION SONG SOURCES
"My mamma's in the kitchen, I just heard that back door slam/ come out of that kitchen honey, quit scorching that ham/ and let's just fan it, fan it, you gotta fan it and cool it/ honey till the cows come home/ well, I got six months in jail, my back turned to the wall/ fannin' that thing was the cause of it all/ so fan it, fan it, gotta fan it and cool it/ honey till the cows come home." - Fan It - Frankie Jaxon-Dan Howell.

Ironically, the album featuring songs from the Great Depression of the twenties - was released just after our recession kicked in.

"Yes, many of the songs date back to the twenties and thirties," Benson confessed.

"Jimmie Rodgers sold millions of records in the Depression. Music is one of those little things people turn to in tough times. This is all Depression-era music. Yet it's timeless. We said at least we made an album of depression music, maybe we'll get some airplay out of it - funny how that panned out."

Equally funny were the roots of Fan It - one of two bawdy tunes on the disc.

I Ain't Gonna Give You None of My Jelly Roll is the other.

"Fan It was a Frankie Half Pint Jaxon song - one that Wexler really wanted," Benson said.

"It was one of those great old double entendre songs - kind of a New Orleans blues song."

So was old Half Pint the Barry Humphries of his era or a female impersonator?

"That's what Wexler told me, you've done your research," Ray joked.
"I didn't know that. I knew the song because Bob Wills had recorded it early on. Mrs Wills - Bob's widow - played it for me 35 years ago. That was great. Jeff Healey was meant to play on the album but died the month before that (on March 2, 2008.)

He's the one that played me the Half Pint Jaxon version."

Benson and Wheel members visited Wills shortly before he had a stroke and went into a coma.

He died more than a year later from pneumonia aged 70 on May 13, 1975.
"We visited Bob the day he had a stroke," Benson recalled.

"The whole band including Lucky Oceans and Tony Garnier. He was very sick. We said Mr Wills 'why don't you go to the hotel and we'll talk to you tomorrow.' They took him back and he had a stroke that night, went into a coma and died a year later but we got to meet him and say hello."

That meeting inspired Benson's two all-star tribute Wills tribute discs and the stage show Ride With Bob.

"That's how the stage show starts out, the story I just told you," Benson explained.

"We do it one more time this year in New Mexico and it's been just great."
LETTERMAN, SHAFFER & VINCE GILL
"Won't you ride in my little red wagon/ I'd love to pull you down the street/ and I know all the kids will be jealous/ when they see my playmate so sweet/ hold tight till we come to the hilltop/ gonna coast down the hill, you and me." - Won't You Ride In My Little Red Wagon - Rex Griffin.
Asleep At The Wheel, frequent guests on the David Letterman show, scored a coup when the TV host visited Austin for a wildlife benefit.

"Paul Shaffer was in town with Letterman who came down to do that benefit," Benson added.

"I said to Paul 'get your arse in here - we'll make a star out of you.' We needed an instrumental. Bob Wills had done a version of South - he would open up a lot of his shows with it. It was an old Benny Moten standard from 1927. It was just chance Paul was in town when we were changing piano players so we could choose any piano players we wanted."

Benson scored a second coup for South - superstar Vince Gill.

"It was so cool, I've known Vince from day one," Benson said.

"He's not only a great singer-songwriter but an amazing guitar player. He's from Oklahoma City - he walked into the studio with this Gibson guitar. He said 'you know whose guitar this was - Benny Garcia - one of Bob Wills great guitar players from Oklahoma City.' Vince grew up with Benny's son who had worked with Vince for years. He gave Vince his guitar that he played on stage with Bob Wills. Benny performed with it on many shows with him."

Willie and The Wheel revive Right or Wrong, a modern hit for fellow Texan George Strait, Corrine Corrina and pop standards like Won't You Ride in My Little Red Wagon.

They also explore the Wills' trove for Bring It on Down to My House, Shame On You, Oh You Pretty Woman on a disc kicked off by the Dixieland swing of Hesitation Blues.
WILLIE NEW DUET PARTNER
"Was all the summer and all the fall, just trying to find my little Lenore/ But now she's gone, I don't worry/ I'm sitting on top of the world/ was in the spring one summer day/ just when she left me, she's gone to stay." - Sitting On Top Of The World - Lonnie Carter-Walter Jacobs.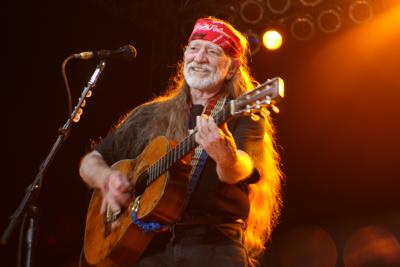 Photo by Carol Taylor
Benson didn't have to pull a shotgun on Willie, 76, to agree to a joint venture.

"Willie's a good pal first of all," Benson explained.

"He agrees to do nearly everything I asked him - even some of the illegal stuff. He was great - the hardest thing was after we finished it because Jerry had passed away and Willie had seven other record projects with famous people. I told his manager 'I'll put it out on my own label.' We've done very well with this, it helped set up our label (Bismeaux.)"

Benson's studio of the same name was also scene of the rhyme for recordings by Asleep At The Wheel, Kelly Willis, Charlie Robison, Pam Tillis, Trace Adkins, Sir George Martin, Suzy Bogguss, The Chieftains, Aaron Watson and two Wills tribute discs Ride With Bob and All The Voice.

It also hosted the duet with Willie and Wheel singer Elizabeth McQueen on Top Of The World.

McClean is the singing spouse of Wheel drummer Dave Sanger - owner of Lazy SOB Records that released the classic cheating songs album Wandering Eyes.

"The duet was my idea," Benson confessed.

"Willie sang it all the way through first. I said 'Willie I want Elizabeth come in and answer you like a duet type thing.'"

Benson also praised Nelson's duet with Manhattan Transfer on Goin' Away Party on Ride With Bob.

But Benson is bemused when I ask about Asleep At The Wheel compilation 23 Country Classics featuring Willie doing a dance mix of Still Water Runs The Deepest.

"We were so pissed off - that wasn't even supposed to be on the record," Benson remarked.

"That was just a dance mix we did. Capitol Records took the dance mix we made for the dance clubs and put it on. That was strictly for dancers."

Then there was Ray's Arista Records solo single Four Score And Seven Beers Away.

"That was a fun one," Benson quipped.

"This guy in Nashville said 'I've got a hit song, I've got a hit song.' It got played for a week and was then forgotten."

JOHNNY GIMBLE TRIBUTE
"Bring it on down to my house honey, there ain't nobody home but me/ bring it on down to my house honey, I need your company/ Tom cat sittin' on the railroad track/ well he hollered at the Mama cat, she answered back/ bring it on down to my house, honey, ain't nobody home but me." - Bring It On Down To My House - Jimmie O'Neal.
Benson is keen to preserve the past with famous western swing musicians before they go to God.

One involves hotshot fiddler Johnny Gimble, now 82, for CMH Records.

"I just finished this Johnny Gimble record," Ray revealed.

"I guess it'll come out on some stupid label in L.A. I got Merle Haggard, Willie, Vince Gill, Dale Watson, Emily Gimble and myself all doing stuff with Johnny Gimble. I was hired to do it."

Benson is equally proud of production for Texan honky tonker Dale Watson and Suzy Bogguss.

"I would work with Dale any day, he's one of the great singers and songwriters," Benson added.

"Suzy Bogguss was great, too."

So what about another former client Wayne The Train Hancock who followed Watson down under for tours?

"I discovered the little shit-head," Benson joked.

"He's an awful person but a great talent - too bad."
LEON RAUSCH
"Dear, John, please, Johnny please come home/ I need your love and the kids, they gotta be fed/ and John, if you don't hurry back, I'll be gone/ yes, that's what the letter said." - The Letter That Johnny Walker Read - Ray Benson-Chris Frayne-Leroy Preston
Benson has also preserved vocal prowess of Missouri born Leon Rausch, now 81, on the new Wheel album in progress.

"I'm glad you asked, we started a new record with Leon Rausch - the last great vocalist from the Wills band. We're about half way through that. We'll probably get it done by next year some time. A couple of guys have passed away recently. You have to do it quick right now."

Rausch released four solo CDS, a three-CD Bob Wills tribute disc with Tommy Allsup and several Wills and Texas Playboys compilations.

Meanwhile the Asleep At The Wheel discography includes more than 20 studio albums, four live discs and diverse compilations.

So which songs are the biggest publishing royalties earners for Benson?
"I lose track but I guess The Letter Johnny Walker Read and Boogie Back To Texas," Benson guessed.

Asleep at the Wheel played Washington, D.C. in presidential inauguration festivities in January.

His performance during The Black Tie and Boots Ball hosted by the Texas Society was Benson's fifth inauguration performance - his first was 1993 and the first Clinton administration.

The all-Texas lineup included Kevin Fowler, Jack Ingram and Cross Canadian Ragweed.

CLICK HERE for a Willie Nelson July 3 Festival report from The Diary on August 9, 2006.
CLICK HERE to win a Willie Nelson book on our membership page.