DAVE'S DIARY - 8 FEBRUARY 2014 - DOLLY PARTON FEATURE

DOLLY BLOWS BLUE SMOKE ON EVE OF LATEST AUSTRALIAN TOUR
"Blue smoke climbing up the mountain/ blue smoke winding around the bend/ blue smoke is the name of the heartbreak train that I'm riding in/ I left a note I wrote and I ain't coming back." - Blue Smoke - Dolly Parton.
When Tennessean singing superstar and actor Dolly Parton chooses duet partners for her albums she doesn't have to look far.

Well, there's Texan born Kenny Rogers with whom she topped charts on consecutive weeks 30 years ago on the Barry Gibb song Islands In The Stream, and many others.

Then there's Octogenarian Texan Shotgun Willie Nelson, who turns 81 on April 29 and is a generous voice for hire and genre jumper, at the drop of a hat.

And, of course, there's bluegrass icons The Grascals, The Isaacs and Carl Jackson.

They're all on Dolly's 42nd album Blue Smoke that she's touring here this month to promote.

The title of Parton's album comes from the title cut - a train that winds around a mountain and a passenger leaving heartaches behind.
But the title also refers to the "blue smoke" that rises off the Smoky Mountains.

Dolly, 68 and holding, wrote seven of the 12 tunes and borrows others from recent tourists Bon Jovi, Bob Dylan and Olivia Newton-John.

With her longevity and success she can afford to record what she likes and share her talents without having to worry about mainstream support.

"It does fly," Parton says of the time that has passed since she and Kenny topped the charts.

"It flies more when you get older, trust me. I hear you say 30 years now and go, Oh, my gosh! And 30 years from now, I'll be way over the hill."

The album includes some bluegrass but also features a couple of covers with Parton-esque twists.

"We do some pretty rockin' stuff as well," she says.

"Some Keith Urban-type, with rolling banjos. But we did a cover of Bon Jovi's Lay Your Hands on Me as a gospel song, and it's absolutely great. We did a cover of Bob Dylan's Don't Think Twice, which has always been a favourite of mine. We did it the Americana way, with plucking guitars and finger-picking and bluegrass harmonies."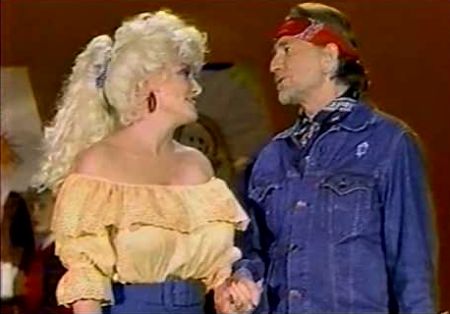 The album includes You Can't Make Old Friends - a reunion duet she recorded with Rogers in 2013.

It already appears as the title cut of a recent Rogers' album.

"Working with Kenny is like being with a soul-mate," Dolly says.

"Even if we don't see each other for months, it's like we never separated. We're just attached at the soul.

Dolly also included From Here to the Moon and Back that she recorded with Shotgun Willie for Nelson's To All the Girls duets album.

"The crowds are always so responsive and so right into it, but they're always so respectful," Parton says.

"We can rock and have a party when we're doing Two Doors Down or something like that, but when I bring it on down and get to that home section where I talk about home and do songs like Coat of Many Colours, Tennessee Mountain Home, Appalachian Memories, they're so quiet and so respectful. And when we're ready to go again, they're right there with me."
MOVIES KEEP ON ROLLING
"Like the phoenix from the ash and dirt I rose up from the pain and hurt/ when I was at my very worst I found you/ thought I could never love again when a spark of light came beaming in/ a thread of hope for me to spin around you." - Unlikely Angel - Dolly Parton.
Dolly isn't slowing down.

She appeared as herself in a TV movie, A Country Christmas Story, on the eve of her Blue Smoke world tour.

"I've been at this for way up into 40 years now, and I've always had a real good following overseas," Parton says.

"I think people relate to my upbringing. A lot of folks kind of relate to songs like Tennessee Mountain Home or Coat of Many Colors, just kinda the rags-to-riches story."

But in places like England, Ireland and Scotland, there's an even more emotional, historical connection, because people from those countries were among the early settlers in the eastern Tennessee area where she grew up.

"That Appalachian sound is kind of in my Smoky Mountain DNA," Parton says.

"Fans in the U.K. swear that I sound just like them. So I think that's one of the keys to my success is that they just kind of claim me as a home-girl. There's just kind of a sadness and a longing in the voice that they have and in the voice that I have and grew up with."

A Country Christmas Story addresses another piece of the heritage of Parton's music.

The movie is about a young bi-racial Appalachian girl (Desiree Ross) who, against the wishes of her single mother (Rules of Engagement's Megyn Price), pursues a dream of becoming a country star.

She heads to a singing competition hosted by Parton at Dollywood - Parton's Tennessee theme park, and reunites with her father (R&B singer Brian McKnight).

The movie promises to examine African-Americans' contributions to the history of country music.

"They talk about that in the movie a lot, about how many blacks are linked to the roots of country music," Parton says. "A lot people don't realise that even at the Grand Ole Opry, some of our finer, bigger acts were black. It's also a story about bringing this family together, a sweet story that does address a lot of things."

Despite successful forays into Hollywood in the '80s - playing a hot-blooded Southern secretary in 9 to 5 (1980), feisty madam in The Best Little Whorehouse in Texas (1982) salon owner in Steel Magnolias (1989) and with Queen Latifah in Joyful Noise (2012) - Parton continues to write, perform and flourish on stage.
THE SONG CATALOGUE
"If I had wings I would fly away from all my troubles, all my pain/ and I would fly to a place of comfort/ heaven knows I need a change/ if I had wings, Lord give me wings." - If I Had Wings - Dolly Parton.
Dolly excels as entertainer, actor, business woman, philanthropist, multi-instrumentalist and humorist.

But first she is one of pop and country music's great songwriters.

The hits - 9 to 5, I Will Always Love You, Jolene, Coat of Many Colors and Here You Come Again - are a tiny sample of her output.

Parton has written more than 3000 songs traversing country, pop, folk and bluegrass.

She is showing no signs of slowing - despite being injured in a car accident late last year.

She was trapped in her SUV when it was T-boned at a Nashville intersection.

"Oh I'm fine," she says.
"The media made it out to be bigger than it was. But actually, it could have been much worse - thank God it wasn't. Anything could have happened, but we're back in business now. I'm just a little swollen right here," she says, waving at her buxom chest, before bursting into the heartiest of laughs.

Shortly after her crash Dolly tweeted to fans, saying: "I was in a fender bender this morning here in Nashville, but I am all good. Just a little tired and sore. Resting at home now!"

Parton elaborated further on the accident.

"I'm fine. As you can see!" Dolly joked.

"Judy, my best friend, and I were heading to the studio to finish up Blue Smoke, my record, and this lady just pulled out in front of us and we hit her. It wasn't that hard.

Thank goodness we weren't going that fast."

Parton known for her large breasts, even took the time to joke about herself, saying:
"Nobody's airbags inflated or deflated - mine or Nissan's!"

Still, it was a good thing that Parton was wearing her seat belt, she added:

"We were fine. Just a little sore and bruised where the seatbelt went across. I've never been in anything like this. All of a sudden, you just feel the pressure in your chest. But we're good, we're fine, thanks for the concern. As far as I know, if I die, it'll be from something besides that!"

Dolly and her Mighty Fine Band mix classics with organic songs and tracks from Blue Smoke on her tour.

"We put together a show that's different, certainly different enough," Parton revealed.

"There's enough of the hits but we've got some new comedy stuff, some new gospel stuff, new country/family things and, in addition to that, the new medleys of some of the hits that people miss," she says.

Parton is excited about her latest visit to Australia - she enjoyed a warm reception here in 2011.

"We had such wonderful crowds and when we got back home, everybody wanted us to come back. We thought, 'Why not? Let's just go back, if they love us that much and we're still hot'.''

Parton is still hot - few entertainers enjoy careers that run into the decades, and few play arena shows around the world at the age of 68.

The decision to dedicate her life to showbiz came early.

Growing up on a farm in Tennessee's Great Smoky Mountains, she was fourth of 12 children.

She had other siblings who liked to sing but her uncle, Bill Owen, realised she had something special.

He took her to perform in churches and county fairs before hitting Nashville.

"He was always impressed with my songwriting," Parton says.

"So we were kind of like a little team and he encouraged me a great deal."

She remembers one spot on a television show in the city.

"I was little. I was about 10 years old - and I got, like, an encore,'' says Dolly also celebrating the 75th anniversary of the Great Smoky Mountains National Park that she eulogised on her 1973 album, My Tennessee Mountain Home.

''They kept making me sing the same song over and over again. When I left that day, I said to my uncle, 'They liked me, didn't they? They liked me?' I think I just knew then. I said, 'This is what I'm gonna do. I'm just always gonna do this'."
REJECTING ELVIS
"If I should stay/ well, I would only be in your way/ and so I'll go, and yet I know/ that I'll think of you each step of my way/ and I will always love you." - I Will Always Love You - Dolly Parton.
Unlike fellow Tennessee resident Elvis Presley, who almost became a prisoner to making movies, Hollywood helped propel her music to new heights.

In 1980 she had three No. 1 hits in a row - Starting Over Again, Old Flames Can't Hold a Candle to You and 9 to 5.

Although she is quick to joke about her famous breasts (she quipped on Ellen if she had a wardrobe malfunction like Janet Jackson's she'd ''take out the first three rows"), Parton is a smart businesswoman, not afraid to make hard decisions.

When Elvis asked to sing I Will Always Love You, she refused his manager, Colonel Tom Parker, who was demanding a 50 % share of the royalties.

"I couldn't do that to my publishing company, to the copyright but I still would have loved to have Elvis sing it," she says.

Whitney Houston later scored with the song on The Bodyguard soundtrack in 1992 - that version and her own have netted Parton millions.

Parton expanded on rejecting Elvis and the Colonel.

"Well, my songs are my children, as I say, and I expect them to support me when I'm old," Dolly explained.

"And, you know, it's like my publishing and my songs is what I'm going to leave for my family. And to me, I was building a company. I'd already recorded that song, and I already had it published. I had 100% of the publishing.

"And for Colonel Tom to ask to give me up half of a song - they waited, though, 'til the last day, when they were recording, then just sprang that one on me after I told everybody Elvis was going to record my song, and I cried. I cried all night about that. And I - you know, and it was such a disappointment, but I thought, no, I'm not giving you people half of my song. I know, it's like when - well, I had the record of it, but it was when, you know, Whitney made it like a world-known song. Thank God for Whitney. And it was a great, great record. But I made a ton of money, you know, for myself and for my family, and I thought well, Priscilla and Lisa didn't need that money. They got plenty of money. It's great. I love how God works. I love how those things come to be."
DOLLYWOOD HOME
"Lookin' outta my windowpane/ tears mingling with the rain/ I'm so lonesome I could cry, just like old Hank/ staring down on the street/ feeling empty and incomplete/ there's a place I need to fill my tank/ a place I can go when I can be free/ where I can be happy and be just me." - Home - Dolly Parton-Kent Wells.
Her business ventures stretch from a restaurant in Honolulu to a line of wigs for Revlon.

She owns her own label, Dolly Records.

Then there's the theme park, Dollywood, in the foothills of the Great Smoky Mountains that employs 3000 people and is undergoing a $300 million expansion.

She says it's a way of giving back to the place where she grew up.

"I felt that, if I make it, I needed to have something up here to honour my father and my mother, my father's name, to do something for my people, to provide jobs," Parton says proudly.
"I knew it would be a good business venture for myself so it is a win-win. We're all prospering."
Parton maintains monetary success and fame can be turned into philanthropic ventures.

"Well, you can be decent, and you can be successful," Dolly added.

"That's not to say that people don't get on your nerves. You know, I'm one of those kind of people. I'm - you know, I've got my own thoughts and my own mind, and I'm definitely one of those people that can tell you where to put it if I don't like where you got it.

"Like I say, the reason it's never gone to my head is because this is a way of life with me.

This is who I am. This is what I do. I mean, I'm not a star to me. I'm a working girl, and I want to make the money because I want to be able to be there. I want to do the job, first of all, because I love that. But I, of course, want the money, and I'll spend plenty of it on myself. But I want to be able to have money, too. If somebody I love or my family needs me, that I'll have things for them, too. I spend money on myself."
BOOKS AND POVERTY
"I've chased after rainbows/ I've captured one or two/ I've reached for the stars/ I've even held a few/ I've walked that lonesome valley/ topped the mountains/ soared the sky/ I've laughed and l have cried/ but I've always tried." - Try - Dolly Parton.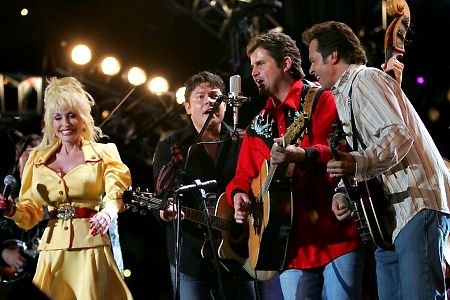 Her family and community also inspired the Imagination Library - a project that aims to promote early childhood literacy by supplying free books every month to children under five.

Parton's father was illiterate and, she says, could not even write his children's names.

''I grew up in, as you know, a very poor family,'' she says.

''A lot of my relatives did not get a chance to go to school.''

From its roots in Tennessee, the charity expanded to Canada and the UK.

''And now,'' says Parton, ''we're coming to Australia 50 million books we've mailed out so far, and that's just starting."

"I actually came up with the idea because my own family, being brought up from such a poor family. A lot of my people didn't get an education. My own dad couldn't read nor write, but he was a smart man in spite of that, and I just saw how crippling that was to so many of my relatives, thinking what great minds they had, but they didn't have the chance to do a lot of things they would have had they had an education."

So were there any books in Dolly's home when she was growing up?

"No, because there were so many children," she recalled.

"The Bible was our main book. My mama used to read from that. But we couldn't bring books home from school because of all the kids. We couldn't, you know, they'd just tear them up and, you know, chew them up and whatever else.

So it was because of my love for my family and the great need that I saw that, you know, they had, you know, for that, and so it started as a small thing in my hometown, and it grew and it grew and it grew and before I lost my parents, they were both so very proud of the success of the Imagination Library."

Parton is also proud of her religious beliefs.

"Well, you've got to keep your faith, first of all," she confessed.

"I pray every day, I always have. I always believed that God would provide. But I think people are going to have to just really keep the faith. They're going to have to concentrate on what's going on. Be aware, maybe more aware than what they've had to be. We all are having to really pay attention now. We've been so spoiled so long, those of us who do have money.

But I have been very poor, and I know a lot of poor people or, you know, that were having hard times before and now they're having worse times. So, more than anything, just pay attention, keep the faith, and we'll just pray for our president, we'll pray for our country and do the best we can. And hopefully, we can all pull together, and pull ourselves out of this mess and be prosperous again. If not, we'll still have to hang in there together. Even if we go down the tubes, let's go hand in hand trying to do something about it."
LOVE LONGEVITY FROM HERE TO THE MOON AND BACK
"I could hold out my arms and say I love you this much/ I could tell you how long, I will long for your touch/ how much and how far, would I go to prove the depth and breadth of my love for you." - From Here To The Moon And Back - Dolly Parton.
Dolly has a simple success recipe for marriage - especially for Carl Thomas Dean whom she met 50 years ago at the Wishy-Washy launderette and wed three years later.
Dean, stays well away from the business empire, sticking to the farm they share outside Nashville.

"We're together more than people think but he is not involved in the business,'' she says.

''He doesn't care about that. But he is a good guy, we're good friends and the fact that we're not both in the same business has worked out really well."

Parton is a songwriter first.

"It is pure love," she says.

"No matter what business things I've done it was always born out of the song. It was because of me wanting to write songs, sing songs, record songs, try to be an entertainer.''

Writing is still a daily habit.
"In my mind, there is always a rhyme going on,'' she says.

''I write down something almost every day. If I don't write a song or piece of a song, I write a title or an idea. I've just got notes everywhere. Everything inspires me. I've always got instruments all around. There is always a piano, whatever house I'm in.

"You never know what is going to be a hit. If everybody knew what was going to be the hit, we'd all be rich. We'd all be writers, too. I've been fortunate, but I write all the time and some of my favourites will probably never be heard."

Despite the pressures of life on the road the singer is still a prolific writer.

"I don't just sit down and write songs every day but every day, a song comes to my mind," she explained.

"And I can be cooking, I can be taking a bath, I can be putting on my make-up. I always keep a tape recorder so I don't lose a melody that comes to me, or I keep a notepad where I'll write down a great idea, a great title. And then when I do get a chance, I, you know, sit down and finish it up. But so many times when I write, stuff just comes to me; I have no choice in the matter. It's a way of life with me. It's how I express my feelings."
GOD DAUGHTER MILEY CYRUS
"Miss me, don't you miss and want to hold me now and then/ and kiss me and tell me I'm your little girl again/ Daddy, when you left did you remove yourself from every sweet remembrance of me/ I'm always missing you/ I hope you miss me too/ and everything we were and still could be." - Miss You Miss Me - Dolly Parton.
Parton has traded on her sex appeal for decades.

She posed fully clothed for the cover of Playboy in 1978 as a buxom bunny.

Parton fully understands the power of sexual magnetism.

She still remembers the startling impact of Johnny Cash when she first saw him perform.

''I saw him on stage and I was just a girl," she recalled.

"I realise now he was probably doped up on drugs, but he had that charm and that charisma. I didn't know what I wanted to do to him but it was something."

For her, sex sold.

But it's a strategy that can be fraught with peril for performers.
Parton's goddaughter Miley Cyrus' rapid transition from wholesome Disney Channel character Hannah Montana to scantily clad, ''twerking'' singer at MTV Video Music Awards received a wave of criticism.

"I'm her fairy godmother," Parton says.

"You'll never hear Billy Ray Cyrus - her dad - or me ever say anything bad about Miley because, first of all, we've known her ever since she was a baby. We both know how smart she is and how talented she is.

"Of course, you don't want them to cross a line but, in Miley's case people are never going to let her break the mould of Hannah Montana. So I believe she felt like she had to just kill her off. Like she said, she had to murder Hannah Montana. And she did. She made a smart move for her."

Music, she says, is an increasingly tough business for young performers.

"I have to honestly say I do not understand a lot of what the business is in this day and time. I'm still an old-timer enough to kind of remember the old days. I would really hate to be starting out right now. Chances are, I would never have made it.

"You see all the shows like the The Voice and American Idol and America's Got Talent.

You don't know how hard it is for those that didn't get on those shows to still be out there workin' it."

For Parton, though, ''working it'' is her life.
SMOKY MOUNTAINS ROOTS
"Oh I know I'm gonna miss you/ but I hope it ain't for long/ and I wonder if you're even gonna notice that I'm gone/ of it hurts to know you cheated and it hurts to know you lied/ but it hurts me even worse to know you never even tried/ I packed my suitcase full of heartaches/ heading for the train depot/ and I bought a one way ticket on the train they call the blue smoke." - Blue Smoke - Dolly Parton.
"I will never stop writing and performing 'cause everything I am today was based on a song.

It was a song that brought me out of the Smoky Mountains and it will be a song that will lay me back down in the ground in the Smoky Mountains. I'm sure they'll be singing one of my songs when I lay back down."

"I do have a lot of places in different parts of the world, but I love the Smoky Mountains, and I was so honored when they asked me to be the international ambassador for the 75th anniversary of the park. But it's a beautiful part of the world.

I loved my childhood there. We had hard times. We were very poor people. But there was nothing more beautiful than the mountains and all the things that, you know, just the beauty, just being surrounded by that and anytime I can go back - when we were doing, you know, Dollywood, I spend as much time as I can. But even when I'm in other places of the world, all I have to do is just close my eyes, and I'm back in the Smokys because the Smokys are in my heart and on my mind.

Parton is also celebrating a new musical at Dollywood.

"It's called Shaconage - Yeah, and that is a Cherokee word meaning land of the blue smoke. There are spirits in these hills Home of the wind and the wiper wills. Stories carried through the years Warriors, chiefs turn to tears You see beauty when the blue smoke's rising You can feel it when the eagle's flying Every blossom rock and brook Looking like a picture angels took. It's about the people, and when they had to be rooted out of the Smoky Mountains for the park to take over. So, it's a lot of heart, lot of emotion. Well, that wasn't hard to do because I hear all the stories myself, and we were - like I say, just mountain people, and we moved around a lot. In my early life, my dad was just a farmer because, like I say, he couldn't read and write, and that's all he knew. But I knew those people, you know, in my heart and in my mind, they're part of my DNA. It's all in - you know, these were my people. These were my - you know, in one of the songs, its like, these are my people, these are my mountains, these are my memories, this is my home. You know, it's like all of that is just part of who and what I am. So, it was not hard at all for me to know how those people felt, having to leave what they knew, what they loved and try to, you know, be uprooted from everything that they were."

Dolly Parton plays Rod Laver Arena, Melbourne, on Tuesday February 11 and Wednesday February 12.

CLICK HERE for Tonk-girl's Gig Guide for all dates.