DAVE'S DIARY - 14/8/12 - OLD CROW MEDICINE SHOW CD REVIEW
OLD CROWS FLY BACK TO VIRGINIA
"Died in the ditches, died in the fields/ in the belly of the wagon before our wounds were healed/ died in the wards, starved in the camps/ locked in the prison so mean and rank/ spilled our blood in the fight to defend/ and they buried us all over Dixieland." - Carry Me Back To Virginia - Ketch Secor-Kevin Hayes-Willie Watson.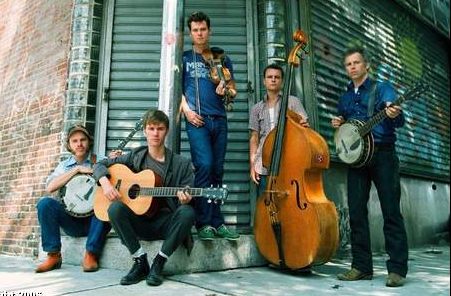 Country music is a vibrant vehicle for time travel when the Dixie pilots have the genre bending skills for a soft but creative landing.

Old Crow Medicine Show hit rapid reverse from electrified backwoods bandidos on sixth album Tennessee Pusher to the Civil War on latest disc Carry Me Back.

It may have only been four years between projects but the subject matter of the title tracks is centuries apart.

And back in mission control they bid adieu to guitarist-banjo ace Willie Watson as accordionist Critter Fuqua boomeranged to the band after a battle with the bottle.

Critter, co-founder of the band with singing fiddler Ketch Secor, earned a degree in Texas in his five-year hiatus.

They graduated from roots music buskers on southern street corners 15 years ago to the thriving Americana festival circuit.

It was a journey catalysed by their Australian debut at 2009 CMC Rocks The Snowys festival at Thredbo to Golden Plains and the historic Forum in the heart of Melbourne.

Their arrival down under was apt - a joyous trip to the mountains akin to the source of their music in the Deep South.

Our towering Alps may have a different historic soundtrack to coalmines and battlefields of old Virginia but this was an existential exit.

Meanwhile back to time travel of the modern medicine show minstrels.

"We've been making circles all along in this band and after a certain point a certain number of years of performance you find you come back around again," Secor recently revealed.

"And that's happened more than a few times. In this incarnation of our band, Critter and I are making a 20-year circle. Maybe Old Crow on this record made a 10-year circle or something. But everybody who's an artist is making this orbit, around the muse, around inspiration. I think in losing Willie, that question certainly came up for everybody. I wasn't sure if we wanted to keep rocking or not. It'll be exciting to go out there in a new form and see what we can do."

Carry Me Back exploits a kaleidoscopic galaxy of joyous old-timey string sounds updated for the 21st century.

The title song opens the album with a mirthful metaphor in the chorus of Carry me back to Virginia - the locale Secor and Fuqua grew up together and fell in love with roots music.

"The record to me is as close as that original inspiration to be in a band as when we first got started," Secor said with a dose of self-deprecation.

"It's very much the root of our sound. This record sounds like we would have if we were any good 14 years ago."
RIVERS FLOW TO OCEANS
"Show me a river/ I'll show you an ocean/ I'll show you a castle turn into sand/ for we rise and fall/ and we crash on the coastline/ and only our love will last to the end/ fortune is fleeting/ and time is deceiving/ our bodies are weak and they all turn into dust." - Ain't It Enough - Ketch Secor-Jason White-Willie Watson.
British folk quartet Mumford & Sons took Old Crow Medicine Show on tour after performing at last year's Grammy Awards.
Marcus Mumford and pals invited Old Crow on a vintage train tour that landed them in Emmett Malloy's documentary Big Easy Express.

Mumford acknowledged in the film the band inspired them to pick up the banjo and start their famous country nights in London.

They also took Secor's sextet to Europe.
"Those boys took the message and ran with it," Secor said.

< Willy Watson - photo by Carol Taylor
Carry Me Back, released on July 17, debuted at #1 on Billboard folk and bluegrass charts, #4 on the country chart & #22 on the all-genre Top 200.

It was a belated rags-to riches ascent.

"We were sleeping in potato fields before it was cool to sleep in potato fields," Secor jokes.

After more than 15 years they just weren't sure the band would survive 2011.

Exhaustion from three years on the road, fighting and creative differences was a salient signpost to premature oblivion.

Watson was one of the four original members and quit to pursue a solo career in Los Angeles.

"We didn't know if there was going to be a future of Old Crow about a year ago," said Norm Parenteau band manager for 10 years.

"It was just hard. But Critter just revived it."

Secor and Fuqua were friends from childhood - Fuqua returned but it was too soon as he tried to sober up.

He aimed his creative energy at college in Texas and delayed thoughts of rejoining the band permanently.

"For me personally, I mean, I had to get sober," Critter confessed.

"I was just a mess in 2007. I missed Ketch a lot. I missed the music. But at the same time I never really doubted I would play with Ketch again."

They formed a Tejano duo and visited as often as they could.

But Fuqua wasn't ready to return until recently.

He made the decision after two days with the group as they finished the new album late last year.

Fuqua added his harmony vocals and picking skills to the mix upon his return to rehearsals with Watson's replacement - West Virginian Chance McCoy.

"They seemed renewed," Parenteau said.

"They seemed like friends again. There's a different energy. They're hanging around together even when they're not on tour and you walk in the dressing room and they're laughing. Somehow we survived it and it does feel like it's gone to another level."
BOOTLEGGER'S BOY
"I was born and raised a bootlegger's boy in the Cherokee Hills/ I plied my trade in Mountain City/ I had me a time just making money on moonshine/ so I hauled my load into Knoxville town/ I met me a gal and we knocked around/ but them Knoxville girls can't leave me alone." - Bootlegger's Boy - Ketch Secor.
Old Medicine Show ascended to a higher plain with former Hootie & The Blowfish singer and North Carolina country star Darius Rucker recording their embryonic gold certified hit - Wagon Wheel.

But Secor, who wrote Wagon Wheel when he was 17, is conscious of the band's busking roots and how it helps them stay focussed on riding the roots roller coaster with being thrown off.

"People are fickle and people have short attention spans," Secor asserts.

"Especially in 2012. So if you can get 'em to stop, if you can get 'em to think about something, if you can get 'em to listen with a song, then you've got yourself a keeper. And that's the street-corner test."
Not only do Secor's songs reach back into an era where folks came down from the remote mountains of Appalachia with banjos on their knees and amplification was a nightmare they rarely rode.

"I learned a lot about making music on the street corner, because we just played there so much," says Secor.

"It was a great place to get started. One of the reasons that I played the kind of music that I played is that the street was so inviting to a fiddler. You almost felt like you were onstage, being a fiddler on the street. I mean you played to a much bigger crowd than you were going to in a club. And there's just something about playing acoustic music as loud as you can and using your energy and excitement to get people to stop and to form a little horseshoe around you."

Nostalgia is a potent weapon.

"I wish that I was born about 75 years ago. Then I could have made my debut on the Opry in 1935," Secor added.

"But that is not the case, and there is a country music story being told in these times. It's worth telling, maybe even more so than ever before. People are being displaced and their jobs are being moved far away. The cultural epitome is disappearing. When grandpa dies, it's sort of like when Porter Wagoner died. That breed of American man, they don't make them anymore."
LEVI - RIGHT GENES - WRONG DESERT DEATH
"Born up on the Blue Ridge, at the Carolina line/ baptised on the banks of the New River/ brought up on bluegrass/ in the clear moonshine/ tough as iron, but a heart as soft as leather." - Levi - Ketch Secor.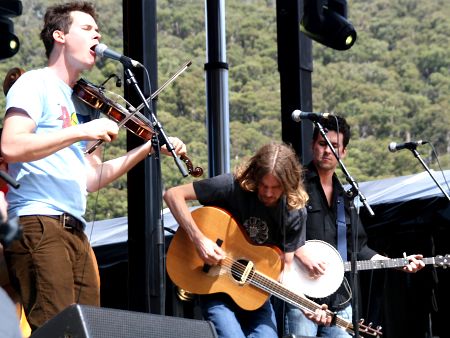 Photo by Carol Taylor
The band digs deep into its organic roots with powerful songs about rural hardship.

We Don't Grow Tobacco is a personalised portrait of seasoned sons of the soil toiling in fields since 1810 through drought, pestilence and war to grow a crop whose allure has been snuffed out.

Not just by lack of demand and cost of agriculture but corporatisation of family farms by the multi-nationals.

Secor's moonshine musing on Bootlegger's Boy - replete with pay offs to judges and mayors - ends in bloodshed and violence.

But it doesn't take that extra step into the present with the substitute crops exploited in Virginian born but Texas raised Steve Earle's modern classic Copperhead Road.

Country Gal - the Secor-banjo player Kevin Hayes song that borrows the hook from Hank Williams Hey Good Looking - revisits the theme of the hardship of farming being rewarded by the joys of rolling in the hay and Grand Ole Opry on Saturday nights.

But Secor's dramatisation of the true story of a Virginian farm boy blown into the arms of Allah in a foreign war.

"On this record I wrote a lot of songs for people," Secor revealed.

"For example the song Levi is a true story. It's about a soldier who grew up in the wild hillbilly woods of Virginia and in a last minute decision joined the United States Army. He went over and spent a few months before he was killed by a suicide bomber. I have been in correspondence with his family, and he was a fan of Old Crow, so he's got a song now. He really loved that song Wagon Wheel and they sang it at his funeral."

Secor expanded on the theme.

"Country music has always been a voice for people who have committed their lives to sacrifice, whether it's picking cotton or holding cover and fighting in a war," Secor added.

"But some of the songs that are on the radio today that address the story of the soldiers are just so damn rah-rah-rah. I wanted to be more intimate for the guys because I know them. I get letters from Afghanistan. It's really meaningful to them to a get a letter back with a bumper sticker in it that they can put on their pack. And I always tell them what the weather is, or if I saw a pretty girl at a red light, because that's the stuff you miss. It's not all that talk about all the eagles soaring. I don't like that kind of song, and I am out to undo that kind of song."
HALF MILE DOWN
"They come down from Washington City/ to our Blue Ridge Mountain home/ and across that crooked river to the valley down below/ I was swimming in the water/ when they came up to the shore/ saying sorry son this won't be dry land no more/ yes and my hometown is a half mile down/ it's a half mile of water, all around." - Half Mile Down - Ketch Secor-Jim Lauderdale.

Prolific Americana star Jim Lauderdale, who first toured here in 2002 and returned for CMC Rocks The Hunter festivals, also joins the band on Half Way Down that he wrote with Secor.

On 2008 album Tennessee Pusher the band electrified their sound and explore social issues on the dark side of the new south.

This time there are still social issues like the town and its history being bulldozed and flooded for a new dam in Half Mile Down.

Yes, shades of Goanna classic Let The Franklin Flow.

A country-rock-style rhythm section amplified the previous album and dragged down the tempos and energy level.

"Well, I guess we went down that road," says Secor.

"On our tour we started having a bigger band. I started playing keyboards. The boys would bring out electric guitars. It was a lot of fun, but we were just blowing off steam. It's hard to be in a rock 'n' roll string band and face your fiddle every day and say, 'All right, what can we do that we've never done before?' I feel like we know what we're good at. We know what we are. We're an old-time string band. So let's be the best damn one that we can be, and let's make a real fine record using what we've got - a record that we could play on the street corner, instead of a record that would take a semi truck to get in place, to get all the light wedges and all the monitors in the right spot. We could go play this record out on the curb right now, and it would move ya."
The band may have stripped back its sound but not the power of its songs - Ain't It Enough wonders when people will appreciate what they have.

Maybe a descendant of Ral Donna hit You Don't What You've Got Until You Lose It.

And Gill Landry's Genevieve is an evocative eulogy of a Creole queen who steals a young man's heart.
MISSISSIPPI SATURDAY NIGHT
"Old Mr Deville from up in Clarksdale/ shot his brother with a pop, pop, pop/ spent twenty years of hard time/ before he saw the light/ now he's preaching on the corner/ of a Mississippi Saturday night." - Mississippi Saturday Night - Gill Landry-Ketch Secor.
Secor has no qualms about reverting to the band's roots - especially rollicking murder and redemption tales like Mississippi Saturday Night.

"One thing that's exciting to me, during the 14 years that we have been making music together, we have seen a tremendous growth and awareness of our kind of music - American roots music," Secor says.

"It's an exciting time as a songwriter to have something to say and a growing audience of listeners. I don't think there has been a better time to blow a harmonica in America since Roy Acuff joined the Opry. To me the credit is due to a generation previous to us.

Especially with the passing of Doc Watson, his legacy is more important than ever. I have always been interested in the history of the music. I am college-educated and I grew up with a range of options at my feet and opportunity. I certainly didn't grow up picking cotton, like Johnny Cash. But I heard Johnny Cash, and something spoke to me deeply and profoundly. To play traditional music connects you with a force much bigger than yourself, it's a force that is not of these times. The headlines and the papers, they don't matter. The music has headlines from 100 and 300 years ago written into the fabric of the sound. To arm yourself with reverberating strings and a folk song, oh man, it's a hell of a suit of armor to wear."
STEPPIN' OUT
"All the while you been steppin' out/ somebody's been easin' in/ every time you paint the town/ drunk on women and gin/ while you hold to the hair, run with the hounds/ somebody's tearin' your doghouse down." - Steppin' Out - Gill Landry-Hatfield.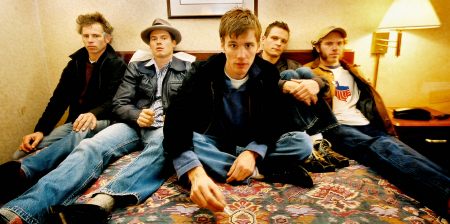 Critter Fuqua, unlike media trained air brushed mainstream minstrels, doesn't resile from talking about his journey to hell and back.

"No, I don't mind talking about it at all," he revealed recently.

"I mean, I left the band, I guess, in '07 after our European tour. You know, I'm a recovered alcoholic now. Back in the day I couldn't stop drinking. I needed help. So I got into this treatment centre in Texas, and my parents live in San Antonio. When I got out of treatment, I knew I couldn't go back doing what I was doing right then because I had priorities, which No. 1 was to stay in recovery and stay sober. So I moved to a halfway house in Kerrville, then got my own place, then liked Kerrville, liked being near my family, applied to college, got in - 'Oh, I'll do an English degree.' Really healed myself in that four years."

This was a perfect reunion appetiser.

"This past November when Ketch and I started talking about playing again it wasn't like I was trying to get back in the band and wasn't well," Fuqua added.

"It was like, 'This is what I want to do again.' The opportunity's still there, and Ketch and I still wanted to play together. Ketch and I got back and really focused on just a little duo for a while, then brought Morgan Jahnig along and this new guy Chance McCoy, then the other members Kevin Hayes and Gill Landry. So it kinda grew back organically."

Secor also credits the Ketch and Critter duo tour that included a stop at the pair's old Harrisonburg, Virginia haunt.

"There's a magnetism between the two of us that is where the heart of the band lies," says Secor.

"And for anybody that was affected by the music we made in the past decade, that's really where it's coming from. Willie had a lot to do with it too, with Willie having a fire and a real passion. But really, it starts with Critter and Ketch coming together."

Carry Me Back (ATO-Shock) was produced by Ted Hutt.
http://www.braindumps.com/C4090-451.htm
http://www.test-king.com/exams/642-732.htm
http://www.harvard.edu/
http://www.actualtests.com/exam-NS0-155.htm
http://www.certkiller.com/exam-70-486.htm
http://www.eccouncil.org/