DAVE'S DIARY - 30 AUGUST 2011 - MELINDA DOES DORIS
DORIS - SO MUCH MORE THAN THE GIRL NEXT DOOR
MELINDA SCHNEIDER, ROHAN BROWNE, SAM LUDEMAN, ROSIE & DAISY (Labrador-Kelpies of impeccable cross breeding.)
HER MAJESTY'S THEATRE

ROSIE AND DAISY - THE MUSIC IN SCHNEIDER
Melinda Schneider long ago mastered cross genre pollination with music and dance.

But she made a huge leap to the mainstream with her writing, narrating and performing in this energised Doris Day tribute show.

And the dynamic diva also disproved the adage about dangers of working with animals.

Schneider's rapport with her teenage Labrador-Kelpie crosses Rosie and Daisy was also a stroke of magic.

They were all ears and eyes when she serenaded them on the stage front couch with Your Eyes Don't Lie.

It was fitting that she returned to the scene of the rhyme - Mike Walsh's Melbourne mecca Her Majesty's - to premiere her show.
Seven years ago in the Yarra city the seeds for the show were sown when the singer was a guest artist on a Doris tribute concert.

So it was no surprise there was a capacity crowd for the premiere of a fast paced trip through the back pages of the octogenarian Hollywood legend.

When Schneider bumped Canadian balladeer Michael Buble from ARIA chart tops with her 12-song disc Melinda Does Doris she was thawing out that metaphorical iceberg.

This time, in collaboration with co-writer David Mitchell, Melinda tapped a deep well.

"I used to sing The Black Hills Of Dakota with my mum (yodelling icon Mary) and my Aunt Rita when I was a little girl," Melinda revealed as she romped through one of many songs from 1953 movie Calamity Jane and its successors.

"We'd do the three-part harmony at family get-togethers."
She accentuated the family flavour with a shout out to her duet partner at ground zero who responded with a yodel - her unique GPS beacon.

"I could never lose mum in the dark," she joked.

Melinda also tickled the family tree when she revealed how her late sire - Sgt Keith Bean - greeted her decision to revert to her mama's name after cruel Kogarah schoolyard taunts ranging from "string been to les been."

"Dad said I was now a has-been," she joked.

This was a winner with the ageing audience, daubed with dowagers and duchesses from the demographic that 3AW and Magic leg-ropes to the wireless.

Despite the acrid aroma of mothballs from stoles and furs liberated from suburban closets (not those that once housed much younger opening night au pair boys) the wearers knew most of 26 songs from a Golden era when lyrics reigned supreme.

Just like roots country - the genre banished from commercial radio here.

Not for these Day devotees grunge or techno trash that energises ecstasy bunnies down on King, Queen and William Streets.

This was a gramophone-generated posse waltzing down memory lane to the refined refrains of his or her majesty's voice.

You know the songs - Everybody Loves A Lover, Perhaps, Perhaps, Perhaps, Sentimental Journey, I'll See You In My Dreams, Secret Love and Teacher's Pet before the latter two became a trigger for the Victorian court name suppression industry.

Schneider, enhanced by her 14-piece orchestra, also revived romance in Love Somebody, Put Em In A Box, The Deadwood Stage and It's Magic.
CANINE COMFORT IN CARMEL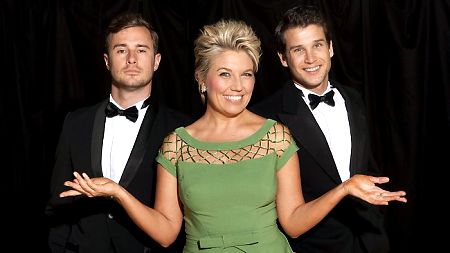 OK that's a snapshot of the music of the singer, born Doris Mary Ann Kappelhof in Cincinatti, Ohio, on April 3, 1924.

Schneider traced Doris's career from a big band singer who released 28 solo albums and became an acclaimed actress in 39 movies to a latter day animal rights activist.

But the real roughage was the off screen drama where she was cheated of love and $66 million by liars and lawyers.

Let's get to the ruptured romance (four marriages) and marital pilfering that drove Doris to find solace on 11 acres near Carmel - the northern California city where fellow actor Clint Eastwood once reigned as Mayor.

Yes, the same city that now houses the radio station replica where Clint was behind the microphone for dastardly deeds in Play Misty For Me.

Schneider's research, retention and delivery of the intimate details of the mental cruelty suffered by Day during her acting and singing career was a treat.

The singer also exploited Day's time travel from maternity at 19 to canine comfort in her latter years.

She resurrected Doris's leading on-screen men - Howard Keel, James Stewart, Jack Lemmon, Cary Grant, David Niven, Rock Hudson, James Garner, Clark Gable, Frank Sinatra and others in great detail.

Melinda also detailed marriages in chronological order - trombonist Al Jorden - 1941-43, saxophonist George Weidler 1946-1949, swindler-manager Marty Melcher 1951-68 and maitre-d Barry Comden 1976-81.

It was the adoption of Terry - her only child from the union with her first spouse - by Melcher that enabled Schneider to defer to her own leading men Rohan Browne and Sam Ludeman for Byrds hit Turn, Turn, Turn.
MELINDA, MANSON, MELCHER AND MURDER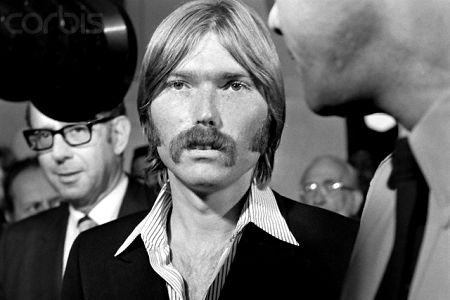 Melcher, producer of Doris's TV show and artists diverse as Beach Boys, Frankie Laine, Jimmy Boyd, Pat Boone, Glen Campbell and The Mamas & the Papas.

In the early 1960s, Melcher and Bruce Johnston formed vocal duet Bruce & Terry who had hits Custom Machine and Summer Means Fun.

They also created another group, The Rip Chords, who had a Top 10 hit with Hey, Little Cobra before Johnston joined The Beach Boys.

Melcher also introduced Brian Wilson to Van Dyke Parks - former child actor, songwriter and session supremo who toured here in August with singing Texan crime novelist Kinky Friedman.

But it was Brian's long deceased brother Dennis who enabled Schneider to flesh out the Day drama with another introduction.

In 1968 Wilson introduced Melcher to infamous ex-convict musician Charles Manson and his murderous family while living in the Beach Boy's home on Sunset Boulevard.

Wilson recorded two Manson songs with The Beach Boys but it was Melcher whom Manson wanted to produce him.

Schneider revealed Melcher's refusal ignited death threats by Manson to the producer.

It was Melcher's former home he shared with actress Candice Bergen that became the Manson killing fields for fellow actress Sharon Tate and four fellow tenants.

Manson earlier visited the house searching for Melcher but, luckily for him, he had moved.

But, as Schneider revealed, Melcher pre-deceased his mother Doris when he died of melanoma at 62 in 2004.

Producing Manson was not a panacea - especially for famed tour manager Phil Kaufman whom Schneider met when she was a guest at Texan singer Nanci Griffith's Sydney concert in 2010.

Kaufman, famed for stealing Gram Parsons body for a cut rate cremation in 1973, produced Manson's 1971 album Lie after meeting him in prison.

But, as Kaufman revealed in 1993 autobiography Road Mangler Deluxe, Manson threatened to kill him anyway.

And like the Melcher mistake the Manson family killed other neighbours instead.

Doris Day - So Much More Than The Girl Next Door - is not long enough for that twist of fate to be added.

Her Majesty's Theatre - 219 Exhibition St - Melbourne 3000
Telephone 03 8643 3300
Prices - $20.00-$55.00
Dates - August 23-September 4.
Open Wednesday - Saturday 7.30 pm; Saturday - 2 pm; Sunday - 3 pm
Director: Tom Healey
Cast: Rohan Browne & Sam Ludeman and 14 piece orchestra.