DAVE'S DIARY - 20 APRIL 2004 - RHONDA VINCENT
RHONDA BURIES NAVEL IN BLUEGRASS
"I'm caught in the crossfire of a war that can't be won/ mom calls me her little man and dad his only son/ I love em both but I can choose which one to leave behind." - Caught In The Crossfire - Terry Herd-Rhonda Vincent.

Bluegrass queen Rhonda Vincent has a bizarre barometer of the power of country music - her 14-year-old daughter Tensel.

"She says Keith Urban is so hot, it makes her teeth sweat," Vincent revealed recently.

"And where she got that, I'll never know!"
The steamy singer bares her navel beneath her red halter-top on the cover of 11th album One Step Ahead (Rounder-Shock.)

"That's something we make it a point to do, because the stereotype for bluegrass is overalls, bare feet, missing teeth and sitting on a hay bale playing a banjo," she says.

"And that's what having teenage daughters has allowed me. They got me these jeans with a stripe of clear rhinestones running along the side for Christmas."

A complete contrast to mountain music on O Brother that sold more than eight million without airplay.

"It's a known fact, no matter what genre of music, that if you want to appeal to more people, you've got to appeal to them visually first, hopefully," says Vincent, "the ideal thing would be for them to hear the music, and it wouldn't matter what you wear. But that's not the case."

Do we have any bluegrass belles ready to ring with such clarity and clout as Vincent?

"I probably stepped really out on a limb with this cover, with the cleavage and the belly button," she confesses. "And some people have said, 'Ooh, that's a rock and roll cover.' But that's the whole thing. We do in-your-face bluegrass. It's aggressive."

At 41 the multi-awarded Missouri minstrel can afford to bare her soul on a dynamic disc destined to leave her paddocks ahead of most peers.

The singer and two daughters live in a tiny town, Kirksville.

But she is on the road 300 days a year capitalising on her 30-year career that included a mid nineties stint as a country act on Giant where the oft-arrested Carlene Carter sang for her supper.


Ironically, Rhonda gave Alison Krauss a break in 1985 when she joined Jim Ed Brown's band and her 13-year-old protégé joined the Vincent family group.

"She wore my clothes and her hair colour was the same," Vincent recalls. "I saw a picture and I said, 'That's not me, that's Alison in there!'"
Krauss sings harmony on the title track, one of five songs Rhonda wrote with Terry Herd - her prolific partner in rhyme.

After leaving Brown's band Rhonda went home to Missouri but tried Nashville where her two country discs failed to impact charts.

She returned to bluegrass with bassist brother Darrin who plays on her albums and works in Ricky Skaggs band Kentucky Thunder.
It's no surprise Vincent kicks off this with rollicking road anthem Kentucky Borderline - a salient signpost to sibling road song Ridin' The Red Line - and an alternative to the sterile mainstream country fodder.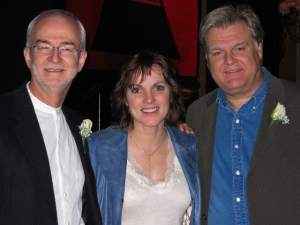 Carl Jackson - Rhonda Vincent - Ricky Skaggs
Vincent and her hot pickers long ago dusted off the corpse of bluegrass with a makeover that broadened its appeal without poisoning its roots.

Rhonda and Darrin harmonise on You Can't Take It With When You Go but her peak is the ruptured romance tune Caught In The Crossfire where a son has to choose between parents.

Vincent caters for traditional fans with ballads - Webb Pierce-June Hazelwood-Wayne Walker cut Pathway Of Teardrops, Melba Montgomery-Jerry Salley An Old Memory Found Its Way Back and Jennifer Strickland's Missouri Moon.

They segue into gospel tunes Walking My Lord Up Calvary's Hill and Fishers of Men that herald a real surprise.

Frankie Belle is an instrumental penned by 10 year-old fiddler Molly Cherryholmes - a home schooled tyke from a Branson family band.

"She's a left-handed fiddle player," says Vincent. "I have not heard anyone so talented since I heard Alison Krauss when she was 12."

Vincent says she learned from Cherryholmes' mother that Molly was given an assignment to write a song.

"I was floored when I found out she had written a song," says Vincent, 'I said, 'oh man, what's that tune?' She said, "Molly wrote that.' I said, "no way.'"

And, for her tour sponsor, she reprises the self-raising cut of The Martha White Theme.

Martha was a major radio sponsor long before Rhonda chanced her voice at the age of 3 in her family band - the Sally Mountain Show, named after a local landmark.

Vincent duets with Joe Nichols on Cash On The Barrelhead on Louvin Brothers tribute disc Livin' Lovin' Losin' and performed with Marty Stuart and Merle Haggard's Electric Barnyard tour.