DAVE'S DIARY - 20 APRIL 2004 - DAVE KIRBY RIP
DAVE KIRBY RIP AT 65
BORN BRADY, TEXAS, JULY 10, 1938.
DIED BRANSON, MISSOURI, SATURDAY APRIL 17, 2004

DAVE KIRBY DIES IN BRANSON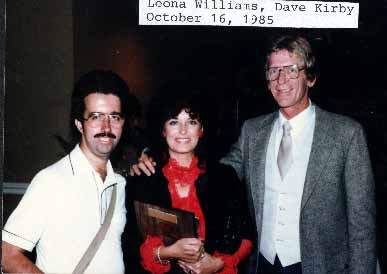 Dave Kirby (right) Leona Williams (centre)
photo credit Ron Newcomer
When Texan troubadour Dave Kirby died at 65 from multimyloma cancer, diagnosed on March 20, he left a legacy of 307 songs.

He was also a prolific session musician for artists diverse as Merle Haggard, Ringo Starr, Emmylou Harris, Neil Young, Waylon and Willie.

The albums included Nelson's Yesterday's Wine, Jennings' Ladies Love Outlaws, George Strait's Strait Country and Neil Young's Old Ways.

Kirby was best known for writing the oft-covered Is Anybody Goin' To San Antone?

But, like many prolific peers, he wrote a companion song - Is Anybody Leavin' San Antone?

The Kirby-Glenn Martin tune was a #1 hit for fellow Texan Charley Pride in 1970 but another Lone Star legend Doug Sahm's version won more airplay here on community radio.

Sahm, who died 12 days after his 58th birthday on November 18, 1999, cut the song as a solo artist and with the Sir Douglas Quintet and the Texas Tornadoes.

It was also recorded by Texan veteran Ray Price and Floridian Mel Tillis.
THE HITS
Kirby was the nephew of Big Bill Lister, who often opened shows for Hank Williams.
Dave moved to Albuquerque, New Mexico in 1955 and landed a job at a local radio station playing country music.

He was influenced by the music of Carl Smith, Mac Wiseman, Ernest Tubb and the guitar playing of Merle Travis.

Buck Owens recorded Kirby's first song Down By the River.

Rose Maddox cut the same song and shortly after Owens and Maddox recorded it as a duet.

Johnny and Jonie Mosby and Porter Wagoner also added their vocals to Kirby tunes while he was living in New Mexico.

"During the 1960's, Willie Nelson used to come out to Albuquerque and he got me to go and play in the band," Kirby said in a 2000 interview. "Willie got to liking my songs, and I don't remember how, but Hank Cochran got to liking them too. They both wrote me saying 'Come to Nashville' so in 1967, I made the big move."

Kirby began writing for Pamper Music publishing, owned in part by Ray Price.

Other writers for Pamper at this time included Roger Miller, Harlan Howard, Nelson and Cochran.

"I got a few things cut, and then I wrote Is Anybody Going To San Antone?," Kirby said. "It has become my biggest hit, but it just lay there at the Pamper shelf for three years before it ever got cut."
MERLE HAGGARD

His best-known compositions include Haggard hits Back To The Barrooms, Sidewalks of Chicago and What Have You Got Planned Tonight Diana?

Kirby tunes There Ain't No Good Chain Gang (with Hal Bynum) was a #2 hit for Johnny Cash and Waylon in 1978.

And God's Gonna Getcha (For That) (with Red Lane) was Top 25 for George Jones and Tammy Wynette in 1975.

He also wrote Where Are You Going Billy Boy? for Bill Anderson and Mary Lou Turner, Leavin's Been Coming For A Long Long Time for George Strait and I'll Go To A Stranger for Johnny Bush.

Others included Wish I Didn't Have To Miss You by Jack Greene and Jeannie Seely, April's Fool and You Wouldn't Know Love by Price.

Ray Charles, Moe Bandy, Norma Jean, Porter Wagoner, Johnny Russell, Faron Young, Charley Walker, Johnny Rodriguez, Cal Smith, John Anderson, Kitty Wells, Razzy Bailey, Jo-El Sonnier, Curtis Potter, Hank Thompson and others have recorded Kirby compositions,


SOLO CAREER
Kirby became the third singing spouse of Leona Williams whom he wed in 1985 - they lived in Branson, Missouri.
He was survived by Leona, now 61, his sons, Wade and Paul Kirby and Ron and Brady Williams; daughters, Janice Ross and Kathy Lee; and 10 grandchildren.

Kirby was also a solo artist - he charted his first single, Her and the Car and the Mobile Home, in 1969 on Monument Records.
In 1981, he returned to the charts with North Alabama and Moccasin Man on Dimension.

The highest-ranking of these efforts, however, rose only to the No. 37 spot.
In 1974, Dot Records released his album This Is Dave Kirby - Singer, Picker, Writer.

His singles included Cantaloupe Jones, The Rumor, Cowboy Connection and Better Off When I Was Hungry for Boone, Capitol, Dimension and Monument Records.

Kirby just completed work on his first solo album in 20 years.

Mr. Songwriter contains 10 of Kirby's biggest writing successes and is released on Heart of Texas Records on May 15.

THE SESSIONS
Kirby began session work in Nashville during the early 1970's.

His first session was with Country Music Hall of Famer Granpa Jones.

"Granpa walked in the studio and looked at me," Kirby said. "I had kind of long hair and the first thing he said was 'Son, don't play any of those hippie licks on my record'."

Kirby successful session career includes playing lead guitar for Dolly Parton, Merle Haggard, Janie Fricke, Ringo Star, Emmylou Harris, Don Williams, Kenny Rogers, Willie Nelson, Crystal Gayle, Wynn Stewart, Ray Price, Moe Bandy, Ronnie Milsap, Connie Smith and Kenny Price.

STONE COUNTRY
Kirby, like late peer Max D Barnes, had a deep catalogue of stone country songs.

Leona, Ray Price, Gene Watson and Billy Taylor also recorded his tune Memories To Burn.
Kirby wrote Alice In Dallas with Haggard - former singing spouse of Williams - and Dixie Dynamite with son Wade Kirby.

Song titles give a hint to his humour - Even A Wino Has A Home, Waylaid in Waycross, Georgia, Hefty Women and Holly Would for Leona's publishing company.

Kirby also liked to hedge his bets - he penned Going To California and Going To St Louis, Heaven Bound, Heaven For The Weekend, Heaven High, Texas In Me, Texas Saturday Night, Midnight Cowboy and Midnight Cowboy Rides Again.

LEONA WILLIAMS
Williams was born Leona Belle Helton in Vienna, Missouri, in a large family - all of whom were musicians.

At 15, KWOS in Jefferson City gave Helton her own radio show, Leona Sings.

The following year she married her first husband, a drummer named Ron Williams, and the moved to St. Louis and later Nashville where Leona joined Loretta Lynn's band.

Loretta recorded the Williams' composition Get What 'Cha Got and Go in 1967 on her Don't Come Home a Drinkin' album.

Leona only had one major hit as a vocalist The Bull and the Beaver - a duet with then-husband Merle Haggard - reached #8.

But she was a regular mid-level chart fixture from the late '60s until the mid-'80s.
Just as importantly, Williams' compositions appeared regularly on other artists' albums in those days, most notably on records by Merle.

George Jones, Gene Watson, Johnny Bush, Moe Bandy, Tammy Wynette, Connie Smith, Hank Thompson, Willie Nelson, Randy Travis, Lynn and others cut her songs.

Williams has just released her first new album of new music in about a decade, Honorary Texan, on Texas-based Heart of Texas Label.
LORETTA LYNN

"I moved to Nashville in 1966 to be a musician" Williams revealed in a recent interview. "I knew I wanted to sing. And I played upright bass and sang with Loretta Lynn on the road for almost a year. Then I was wanting to do something myself, so I got with Hickory Records. I also signed with them as a writer, and I wrote several songs, including Connie Smith's Dallas and Tammy Wynette's version of Broadminded.

Williams scored minor hits on Hickory, including 1969's Once More and 1971's Country Girl With Hot Pants On.

"I cried for two weeks when they were getting ready for me to record that," Leona said. "Because I thought, 'Oh my God, I'm gonna have to wear those old hot pants.' I didn't like that because I'm pretty countrified. But I learned to love that song after we'd done it a
little bit. I'd wear a little skirt where you could maybe see hot pants on the side. I was kind of bashful, but it did real good for me. I stayed with Hickory for about six years, and then I moved over to RCA. I had a couple of singles over there that really didn't do anything. I had just joined with Merle and I asked if Merle could produce me, and they said no. I was getting nowhere on that label, so I asked to be released."
LEONA AND MERLE
For nearly a decade - from 1975 to 1984 - Leona and Merle worked together closely and were married from 1978 to 1984.

Williams was a vocalist in Haggard's band during that period and was also an important source of songs for Haggard.

Well-known numbers such as You Take Me For Granted and Someday When Things Are Good came from Williams' pen, either in collaboration with Haggard or by herself. Haggard produced Williams' solo albums and recorded a number of duets with Williams.

One of the highlights of Williams' early career was San Quentin's First Lady, which appeared on MCA in 1976.

Reportedly the first live album recorded by a female artist at a men's prison Leona was backed by Merle Haggard's Strangers, with whom she was touring at the time.

"I'd thought for a long time that it'd be a great idea for a lady to go to a prison and do an album," says Williams. "So I got to be that lady."

Haggard had served nearly three years in San Quentin in the late '50s for armed robbery and accompanied Williams on the trip to the penitentiary.
BONNIE OWENS

Williams also wrote with another of Haggard's wives Bonnie Owens - former singing spouse of Buck Owens.

"Merle showed me around. He showed me where his old cell was. Then we all played prison songs. I did that song I'm Just Here to Get My Baby Out of Jail. Bonnie Owens and I had written a song called San Quentin, You've Taken the One and Only Man I'll Ever Love. There are several on there that talk about prison."

Williams also chanced her voice on war zones - more dangerous than prisons.

"I was a little bit nervous," Williams said. "You can tell that when I sing - I can, anyway. I don't mean to compare it to anything else in my life, but in 1968 I went overseas to Vietnam and Japan. For nine weeks, I spent my time in Far East entertaining servicemen. And I don't know what it was, but that day it all came back, so many people applauding and hollering and screaming and rooting you on. It took my mind back to when I was overseas and how they appreciated me."
HONORARY TEXAN
Williams combined with Kirby to write new songs for her latest Justin Trevino produced album Honorary Texan.

She recorded Kirby's song Memories To Burn - a hit for Texan Gene Watson.

They collaborated on Things I Almost Had With You and Dance Till The Cows Come Home.

Also included was Don't Sing Me No Songs About Texas, a song she wrote with Merle.

Johnny Bush, Hank Thompson and Charlie Walker recorded the song but neither Leona or Merle had cut it before though it's been a staple of Williams' live act for years.

Leona also covered You'd Be Home By Now- also recently recorded by Trevino.

Others include classics from the Jimmie Davis, Lefty Frizzell, Jimmie Rodgers and Bob Wills hit catalogues.
HOUSE OF MEMORIES
In Haggard's 1999 autobiography, My House of Memories, he never referred to Leona by name, but always as "my third wife".

Williams says that today she and Haggard are friends again and she might tour with him again in 2004 as Bonnie Owens retired from touring early in 2002.

"As a matter of fact, I hadn't seen Merle for 18 years. I'd talked to him once or twice on the phone, but a while back he called my husband, Dave Kirby.

"He wrote Merle's song What Have You Got Planned Tonight, Diana, and he'd written a song called Colorado that Merle had also recorded. Merle called Dave because he was going to re-record Colorado, and he needed the words to it. Then later on, they were fixing to work down here in Branson at the Grand Palace and he wanted Dave and me to come to the show. So I said, 'Let's go.'"

"We went to the Grand Palace, he was waiting for us, and the first thing I said to him was, 'Well, there's Merle Haggard!' That broke the ice, and we laughed and hugged. He's had his life, and I've had mine. He said, 'I'm going to get a microphone fixed - I want you to sing with me.' And I said, 'Okay. I know my parts.' So we went out there, and I did the show with him. Then when he came through here again about a month later, he wanted me to sing with him again, so I did. And he's even asked me to work some dates on the road with him next year. I told him I might like to do that. That might be really fun."
THE FUTURE
Williams performs a few days a week at the Grand Country Theatre in Branson.

"The show I'm doing right now is called Down Home Country, and it's real classic country,' says Williams.

"They feature me through the show doing my own songs and then at the end of the show we do some of the duets that Merle and I had."
http://www.braindumps.com/300-209.htm
http://www.test-king.com/exams/HP2-E58.htm
http://www.dean.edu/
http://www.actualtests.com/exam-HP0-J73.htm
http://www.certkiller.com/exam-642-467.htm
http://www.citrix.com/